A University of Southern California student who was a star player on the school's tennis team said she felt "misled, harassed, threatened and discriminated against" by USC's Title IX office after she insisted her football-player boyfriend didn't abuse her following a third-party accusation against him.
Zoe Katz — a 22-year-old senior and a nationally ranked singles player — released a statement Sunday saying the six-month Title IX investigation of her boyfriend and former USC kicker Matt Boermeester was "horrible and unjust" to him and her.
Katz's attorney, Kerry L. Steigerwalt, told the Los Angeles Times that the investigation began after a neighbor saw Boermeester and Katz roughhousing. The neighbor told his roommate, who told a coach in USC's athletic department that Boermeester was abusing Katz, the paper said, adding that the coach then reported the incident to the Title IX office.
"Terrible and untrue things have been said about Matt by people who don't even know him, including apparently the third party who contacted Title IX, and these bizarre assertions have been treated as fact in this investigation," according to Katz's statement, via the College Fix. "Words, including mine, have been incompetently or intentionally misrepresented, misquoted and taken out of context, which should not be that surprising since no statements were recorded or verified."
Both Katz and Boermeester denied any abuse occurred.
"I have never been abused, assaulted or otherwise mistreated by Matt," Katz's statement said. "He is an incredible person, and I am and have been 100% behind him. Nothing happened that warranted an investigation, much less the unfair, biased and drawn out process that we have been forced to endure quietly."
When Katz repeated her assertions to Title IX officials, she said they told her she "must be afraid of Matt."
"When I told the truth about Matt, in repeated interrogations, I was stereotyped and was told I must be a 'battered' woman, and that made me feel demeaned and absurdly profiled," Katz said in her statement. "I understand that domestic violence is a terrible problem, but in no way does that apply to Matt and me."
Katz said the couple has been dating for over a year. Boermeester has not been arrested or charged with a crime, the Times reported.
Still, Boermeester — who kicked the game-winning field goal in this year's Rose Bowl — was suspended from USC, barred from campus and from meeting with USC's athletic trainers and teammates, the Times said.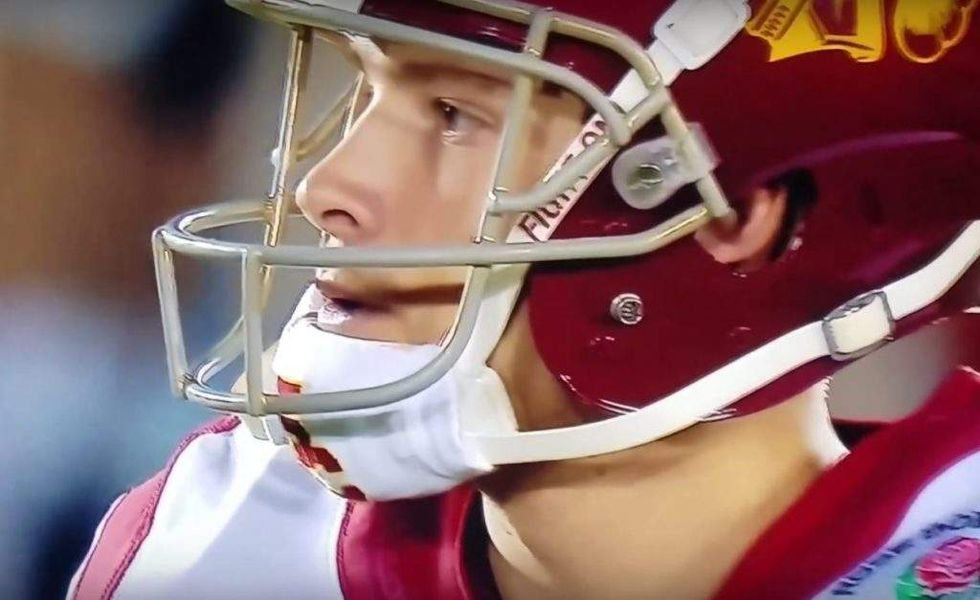 Matt Boermeester had the game-winning field goal in the 2017 Rose Bowl game. (Image source: YouTube screenshot)
USC also barred Boermeester from contacting Katz, she said in her statement.
"I was told that if I contacted Matt, 'things would not go well for him,'" she said. "I was also told that I could be charged and investigated if I spoke to anyone who they decided to call in as possible 'witnesses.'"
One day after USC announced Boermeester's indefinite suspension, The College Fix said Katz tweeted that the investigation was "false."
And after that tweet — or one like it, the College Fix said — the Title IX office put the clamp down on Katz, telling her not to tweet again about the investigation, Steigerwalt told the outlet.
"You're talking about a sophisticated woman who's captain of the best tennis team in the country … and they are treating her like some little know-nothing," Steigerwalt told the College Fix.
"I am afraid of USC's Title IX office," Katz said in her statement. "I hope that my comments will not cause USC's Title IX office to further retaliate against me in any way."
Katz is expected to graduate this fall, the Orange County Register reported. She is not listed on the 2017-18 tennis team roster.
Katz's statement concluded:
The USC I know and really love upholds values like family, trust and excellence. Facts and fairness are supposed to govern Title IX and not agendas, intimidation and falsehoods. I am so sad that a rogue group like the Title IX office can bring down this amazing school. On behalf of all Trojans, I have to speak up. But more importantly, I am speaking up for myself and for Matt. I will not permit anyone to portray me as a victim, I am not. Nor will I stand by silently and watch a good person like Matt be railroaded by a rigged system.

Matt Boermeester did nothing improper against me, ever. I would not stand for it. Nor will I stand for watching him be maligned and lied about, and I implore the USC community to stand together to stop this from happening to Matt or anyone else.
A USC spokesman told the Times that "the university has concluded its investigation" and that Boermeester is no longer enrolled at USC.
A follow-up statement from the school said, "USC stands by its investigation and the accounts provided by multiple witnesses. As previously stated, student disciplinary records are confidential. If the students involved waive their confidentiality rights, the university will offer a detailed response."