In a dramatic and harrowing surveillance video released by police, an attempted armed robbery on an Arlington, Texas, cellphone store Tuesday was halted when the owner and his son spring into action.
Two men walked into Khurrum Monga's cellphone store with backpacks.
"You could see the backpacks and instead of pulling a phone out, he pulled a gun," he said.
One of the suspects kept his gun pointed at Monga as he jumped over the counter, but Monga's son pounced on him, and the Pakistani immigrant followed suit.
"When my son jumped in, I just followed him," Monga said.
The altercation was caught on tape, with various angles of the struggle.
As they beat the perpetrator, his accomplice also pulled out a gun and waved it at them. Luckily, he didn't pull the trigger.
They eventually push both of them out of the store without a shot being fired.
At first they believed the guns were fake. Police confirmed differently.
"The second person also came in and pointed a gun, lucky, it did not shoot or do anything. That was by the Grace of God," he said.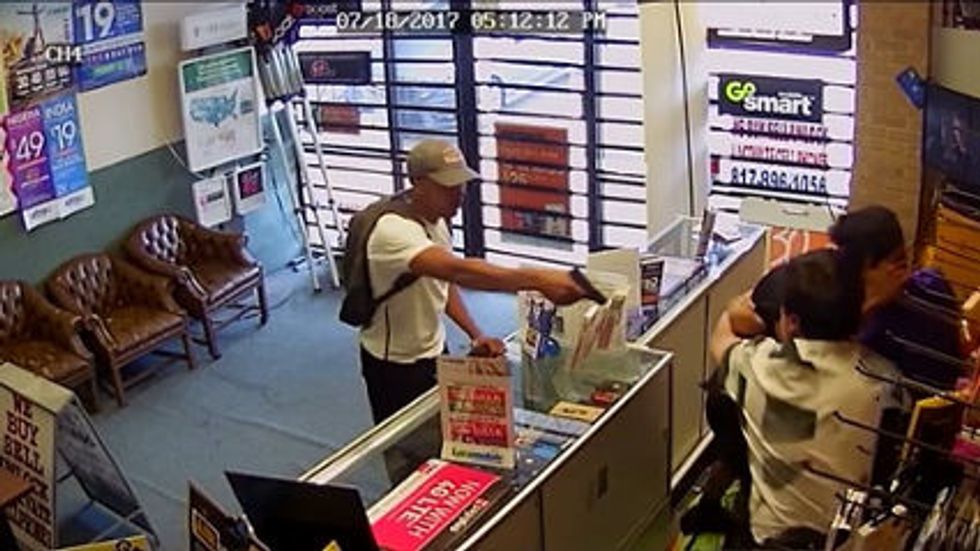 One of the thugs dropped his gun, and police say it was real, and loaded.
In a statement to the media, Arlington police said that although what the Mongas did was brave, they do not recommend others do the same.
Monga, however, said that he would do it again, because he would not give up what he has worked so hard to build up at his Arlington store after immigrating from Pakistan 14 years ago.
The suspects are still at large and police ask for tips from the public to aid in their capture and arrest.