It was one of those rare moments caught on cellphone video: A group of construction workers grabbing an alleged would-be thief and detaining him — in their own inventive way — until police arrive.
Their detention method? Tying and taping his body to scaffolding in uptown Charlotte, North Carolina, after they said they saw him messing with one of their trucks, WJZY-TV reported.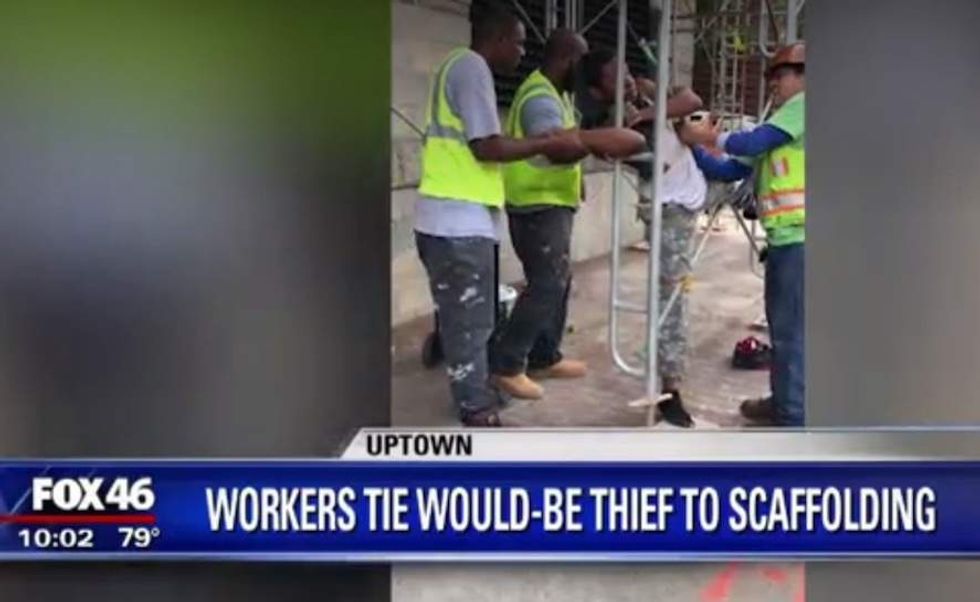 Image source: WJZY-TV video screenshot
"Breaking into my s**t, yo," one construction worker was heard saying on the clip recorded Wednesday.
"I wasn't breaking into it," the man answered, his body fastened securely to the scaffolding bars.
"You was!" the construction worker answered.
"You got my jays and my wallet, I wasn't in it!" the man pleaded. "I was just checking it out." ("Jays" may be slang for Michael Jordan-brand sneakers — indeed his footwear is off.)
"You're lucky we didn't beat you down," the construction worker told the detainee, adding "I gotta do what I gotta do to hold you. You got no business in my truck."
The action was caught by Tina Quizon, a user of the station's Fresco app that lets viewers assist in reporting the news.
"You don't stumble into those things, but there I was," Quizon told WJZY. "The leg is taped to the scaffolding, they put a rope around his waist. I mean, it was pretty extreme."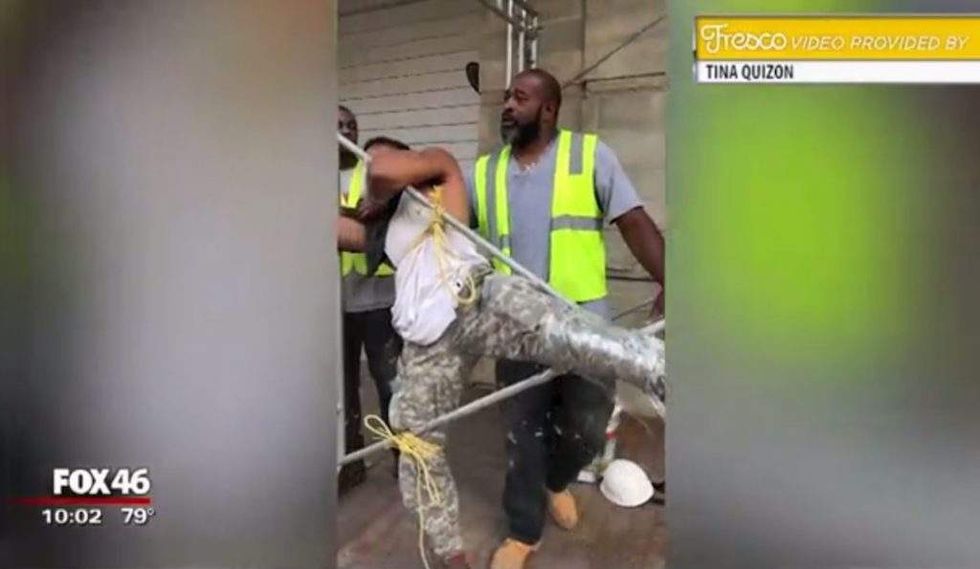 Image source: WJZY-TV video screenshot
She added to the station, "I was like, nobody is going to believe this."
Here's the initial raw video. (Content warning: Rough language):
Here's raw video after an officer arrives:
Police arrived minutes later and took the man into custody, WJZY reported. One officer is heard asking, "Do you need a medic or anything?"
The station reported that there was no word on charges against the man.