As TheBlaze previously reported, the mainstream media dutifully beat its drum about how "peaceful" the protest was against the "free speech" gathering in Boston over the weekend, but police had quite a different story to tell.
With hardly any folks showing up to rally for "free speech," the counterprotesters — which included Antifa, Black Lives Matter and other radical groups — had to vent their anger somehow. So more than a few targeted police by throwing rocks, bottles of urine and "other harmful projectiles."
#BPD is asking individuals to refrain from throwing urine, bottles and other harmful projectiles at our officers.

— Boston Police Dept. (@Boston Police Dept.) 1503171149.0
Boston police officers "were hit with a lot of stuff today," the city's police commissioner William Evans said at a news conference.
Philip Crowther, White House correspondent for France24, took video of police in riot gear trying to hold off angry mobs of counterprotesters — some wearing bandanas over their faces indicative of the violent Antifa group.
In one segment, a group of officers — some of them black and some of them white — used their batons to push back against the angry crowd. After a black female counterprotester is pushed backward, she starts screaming at a black officer — or maybe all of them.
"You stupid a** b***h!" she yelled, soon adding, "Black b***h! You're supposed to be on our side!"
Here's the video. (Content warning: Strong language):
My footage from Boston: violent clashes between the police and protesters. pic.twitter.com/S1vWB0hDV0

— Philip Crowther (@PhilipinDC) August 20, 2017
The left's ideology
The fact that black police officers were present in Boston to help keep the peace seemed to do little to quell this woman's anger, who clearly believed black police shouldn't be standing in the way of her "side" — in fact, she believed they should be fighting like her.
Such a display underscores what has been a longtime left-wing belief — that ideology stands head and shoulders above all other factors, including race.
Indeed, a white female Antifa member was caught on camera assaulting a black conservative college student attending a vigil for a victim of the deadly Charlottesville demonstrations. To the left, race isn't a factor in comparison to ideology.
Some comments about the clip were none too kind toward the counterprotesters:

Image source: Twitter screenshot

Image source: Twitter screenshot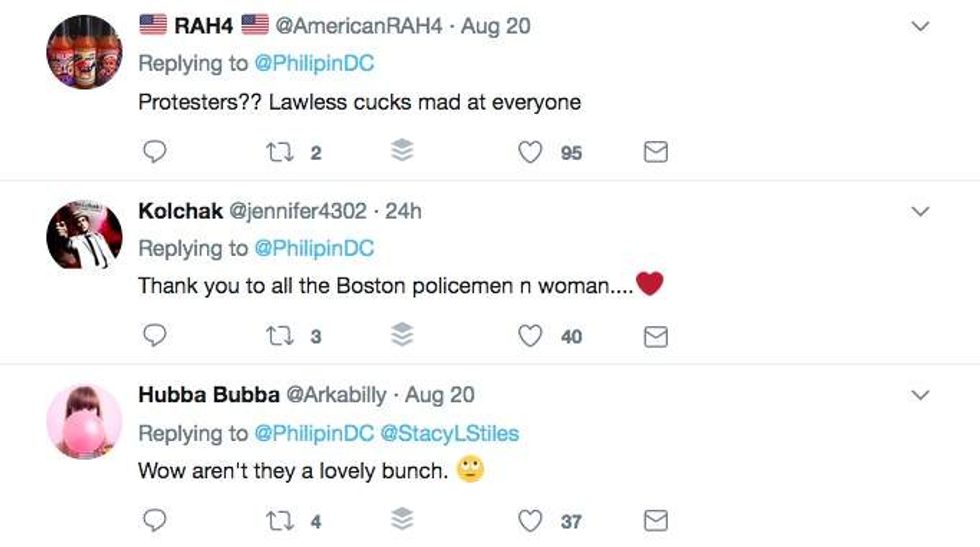 Image source: Twitter screenshot