A kindergarten student was reintroduced to classmates as transgender in a California public school recently — and the teacher followed up the student's new gender reveal by reading a pair of books about transgenderism to the class, KTXL-TV reported.
As you might expect, the whole episode at Rocklin Academy Schools has more than a few parents upset.
"These kids who had never struggled with their gender identity before are all of a sudden scared they could be turned into a boy," Greg Burt, director of capitol engagement with the California Family Council, told the station.
The 5-year-old student — born a male — was reintroduced to the class as a girl one day earlier this summer, just a few days before the end of school year, KTXL said. Parents told KHTK-TV the student also changed clothes at some point during class.
The teacher followed that up by reading two books to the students on transgenderism geared specifically toward kids — one of them the well-known "I Am Jazz," about the real life gender transition of Jazz Jennings from a boy to a girl.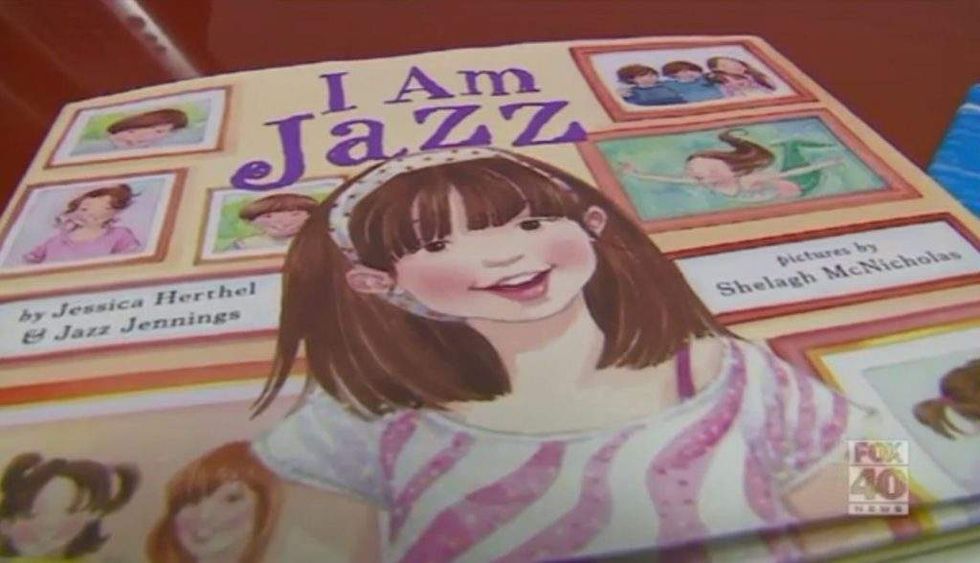 Image source: KTXL-TV video screenshot
Things came to a head at a packed school board meeting Monday where parents on both sides of the issue — as well as the teacher in question — spoke out.
"I'm so proud of my students," the tearful teacher said during the meeting, defending her actions, KHTK reported. "It was never my intent to harm any students but to help them through a difficult situation."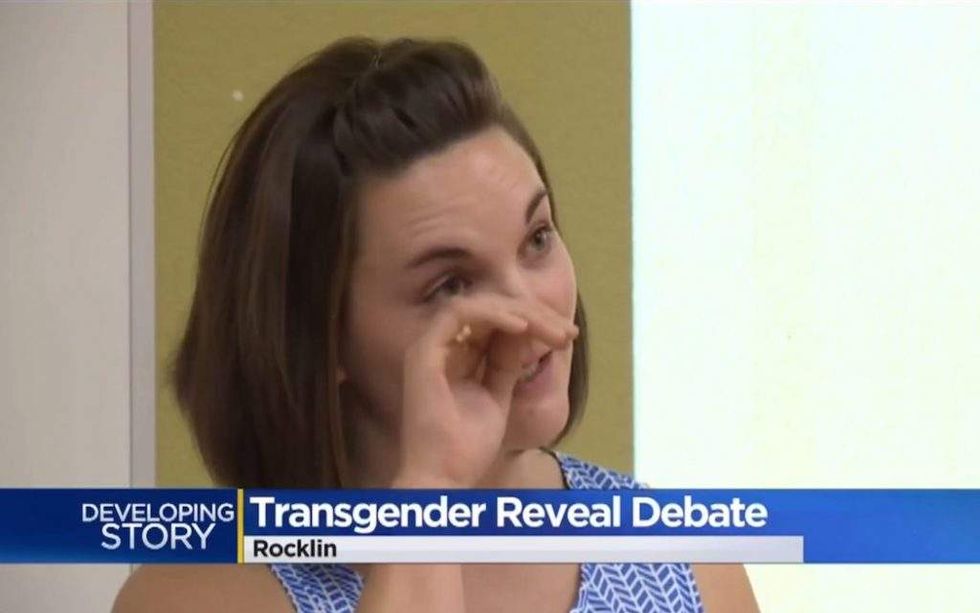 The teacher who read the transgenderism books to her students speaks Monday at the board meeting. (Image source: KHTK-TV video screenshot)
She said that the two books she read to the students were given to her by a child going through a gender transition, the station said. It isn't clear if the child in question is the transgender student who was in her class.
Also at issue is that parents weren't notified in advance that the books would be read in class, which would have given parents the opportunity to opt-out of having their children present during the reading.
But District Superintendent Robin Stout told KTXL that parents weren't notified because the books weren't sex-education material.
Jo Michael — legislative manager at Equality California and a transgender male — told KTXL that "most people have a sense of their gender identity at age 3 or 4."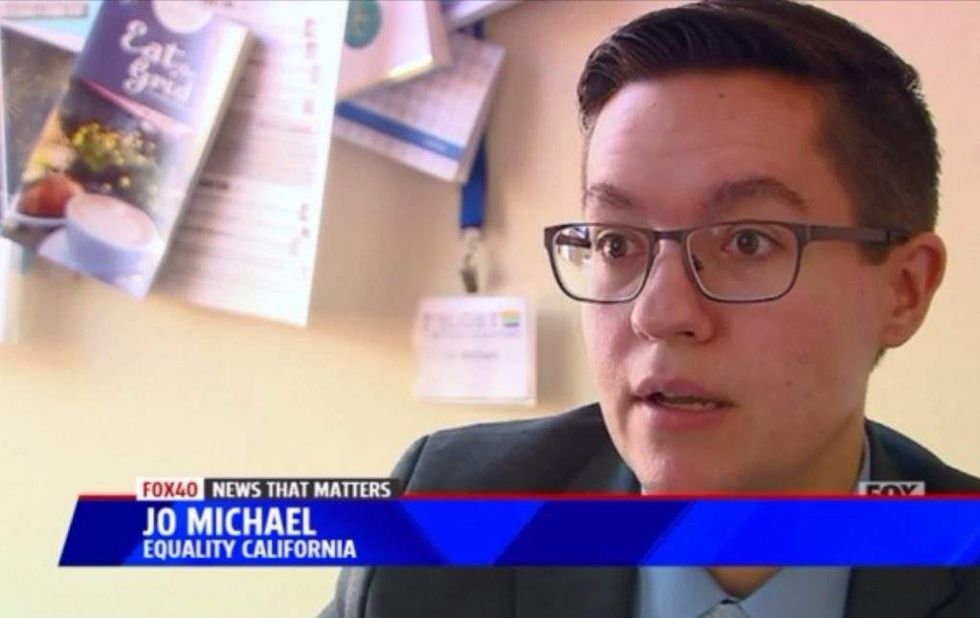 Image source: KTXL-TV video screenshot
Michael told the station that "the other students really do need to have that opportunity to engage and hear from the transgender student."
But American College of Pediatricians President Michelle Cretella disagreed, telling KTXL that "having an authority figure teach the myth that a child can be trapped in the wrong body will potentially lead to fear that they aren't the sex their bodies clearly indicate."
Indeed, Karen England with the Capitol Resource Institute told KHTK the "kindergartners came home very confused, about whether or not you can pick your gender, whether or not they really were a boy or a girl."
"I want her to hear from me as a parent what her gender identity means to her and our family, not from a book that may be controversial," one parent said at the board meeting, KHTK noted, adding that another shared that "my daughter came home crying and shaking so afraid she could turn into a boy."
But as did many of her colleagues at the board meeting, seventh-grade teacher Kelly Bryson disagreed that the books shouldn't have been read. "When we head in the direction of banned books or book lists, or selective literature that should only be read inside or outside the classroom, I think that's a very dangerous direction to go," she said, KHTK reported.
One parent told KHTK that her son reacted positively: "It was so precious to see that he had absolutely no prejudice in his body. My child just went in there and listened to the story, and didn't relate it to anything malicious, or didn't question his own body."
KTXL spoke with the mother of the transgender student in question who declined to speak on camera for fear of backlash but did say she's unsure of what to expect as the school year begins.
When will public schools straighten up?
It would seem transgenderism only will intensify and broaden among children as more of them are taught such lessons in the classroom — and parents are left without warning or notice.
When you have the president of the American College of Pediatricians saying it's a "myth" that a child "can be trapped in the wrong body" — and that it's dangerous for a teacher to propagate that — some public school officials clearly aren't listening.
The American classroom is increasingly becoming a place where kids are more or less indoctrinated with values decided by authority figures other than their own parents — and at younger and younger ages — all while mastering academics falls by the wayside.
When will public schools straighten up?