Liberal political commentator Keith Olbermann aired his displeasure with Education Secretary Betsy DeVos on social media Saturday and labeled her a horrible word.
What he said
Olbermann's tweet came in response to tweet from DeVos, who offered her prayers to those affected by Hurricane Harvey.
"The hurricane is going to do less damage to schools than you are, Motherf****r," Olbermann wrote.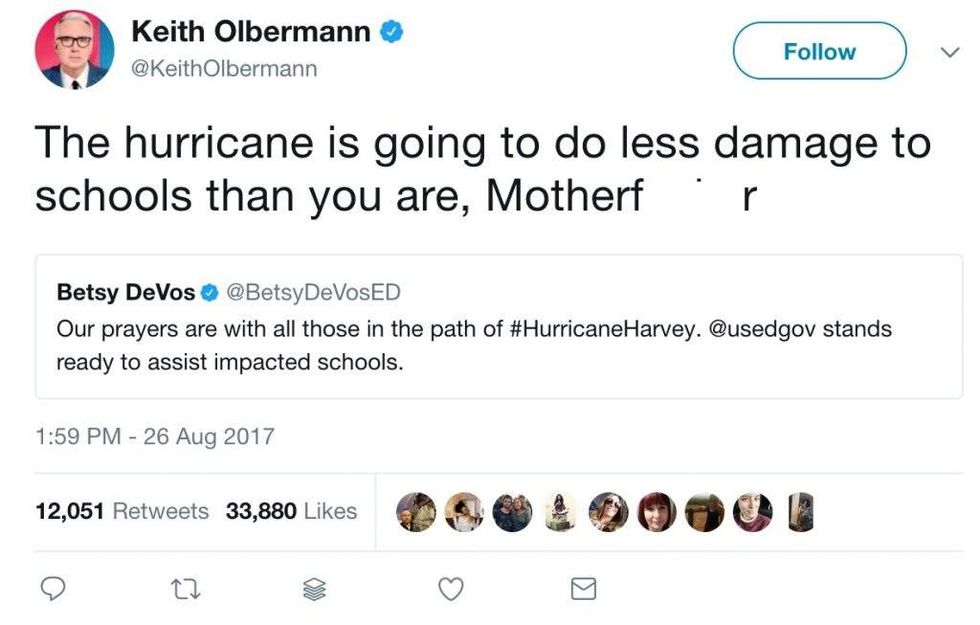 Image source: screenshot
The response
Rightly so, Olbermann was raked over the coals for the tweet, which seemingly came out of nowhere and was for no apparent reason.
You are such a complete pig. No winder you can't keep a good job.

— Neal Boortz (@Talkmaster) August 26, 2017
This is the kind of commentary that inspires the left? More seats for the GOP in 2108!

— Billy Parham (@texicanbadman) August 26, 2017
I think Olbermann might be want to consider anger management help. He's become vile & unhinged. He's always been a little testy but....

— D (@confusedabout) August 26, 2017
Tough guy Keyboard warrior Keith Olberman
Ladies and Gents

— ❌DeFrank❌ (@DeFrankJoe) August 26, 2017
Completely unhinged. What a fall from grace you've experienced. Can't keep a job, now you're on what looks like a cable access set. Pitiful.

— Michael Paul Clark (@UKDad21) August 27, 2017
Maybe you need to go back to school and learn the proper way to talk in public

— Todd Wills (@wtwills09) August 27, 2017
You know when people have lost an argument or have nothing good to say when they start name calling. Nothing good comes from name calling

— David Hibbard (@KyWildcats10) August 27, 2017
KO didn't lose every great job he had for nuthin. #coocooforcocoapuffs

— Imnotmygovernment (@IMNOTMYGOV) August 26, 2017
What is WRONG with you? You seriously need help.

— George Gootee (@Bluecatbug) August 26, 2017
Dude, seek help. You're unhinged. In a bad way.

— bobby_o (@bobby_o) August 26, 2017
Double standard city
Olbermann's tweet perfectly exemplifies the double standard that exists between Republicans and Democrats in politics — especially the disparity between Democratic women and GOP women. Could you imagine the outrage if a conservative commentator would have labeled an Obama administration cabinet woman a "motherf****r?"
Yeah, neither can I, because no one ever dared thinking of doing such a thing due to the wave of backlash that would have uprooted their career.