It seems Rocori High School in St. Cloud, Minnesota, had enough of students who adorned their vehicles with Confederate flags and parked them in the school lot last spring.
So school officials banned all flags on vehicles — and that didn't sit well with some students and parents.
To demonstrate they weren't taking the flag ban lying down, about 30 folks protested at the school Wednesday, KARE-TV reported.
But they didn't do so flying Confederate flags. Instead they showed the administration that a one-size-fits-all ban on flags can have embarrassing consequences.
With that, school officials said about 25 vehicles flying American flags were parked in the school lot, the Star Tribune added.
Don Ihrke told KARE his son "came home from school and told me that they weren't allowed to fly the American flag on their vehicles anymore."
So Ihrke attended the protest to support his son who was "making a stand," he told the station.
"This is his truck and he's proud of his truck, and he's proud of his American flag," he added to KARE. "He has a sister who's a sergeant in the Marine Corps and he's proud of his sister."
"We just didn't think that was right," Ihrke told the station, regarding the ban, "by no means at all."
But Superintendent Scott Staska said the issue surrounding the ban "wasn't with the American flag. The issue was with people being disrespectful to other people," KARE reported.
As it happens, Staska told the station that students protested "very respectfully, were well organized, very peaceful, positive and appropriate" — and it didn't take long for their demonstration to elicit its desired effect.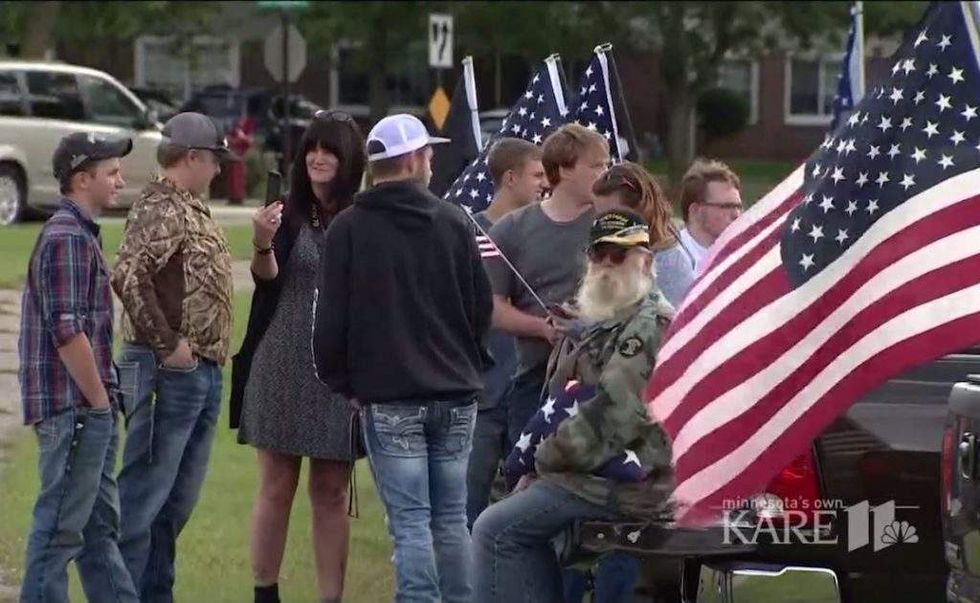 Image source: KARE-TV video screenshot
Turns out administrators met with protest leaders Wednesday and agreed to withdraw the flag ban if students agreed to approach the flag issue respectfully, the station said.
In other words, displaying disrespectful flags and symbols — including the Confederate flag and swastikas — won't be tolerated, Staska told KARE.
Notch yet another victory for Old Glory. And the whole episode didn't even have to go to this length.
If school officials had taken a brief look at recent history, they perhaps would've concluded that when the American flag is part of a school ban, American students don't react very favorably.