All it took was one person's complaint.
Toward the end of last year's football season at West Virginia's Clay County High School, someone apparently didn't like the tradition of a prayer said over the loudspeakers before games — and told the school board so.
With that, the district decided that a moment of silence would be observed instead.
"This is a situation that is unfortunately out of our hands," Clay County Schools Superintendent Joe Paxton told WSAZ-TV, citing the unconstitutionality of school prayer. "The U.S. Supreme Court is the supreme law of the land."
And the Sept. 1 game between Clay County High School and Braxton County High School marked the first time the ban on prayer over the loudspeakers was in effect, the station said.
Of course, if students decide they want to pray, that's a totally different story.
And that's exactly what players — from both teams — had in mind.
When the moment of silence was announced, the opposing teams rushed to the center of the field, took a knee and prayed aloud, joined by many in the bleachers, WSAZ said.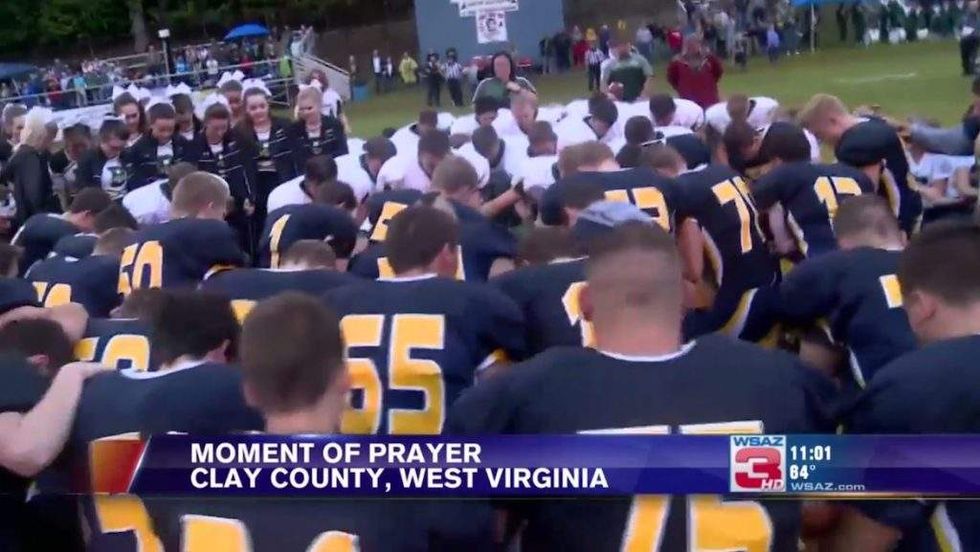 Image source: WSAZ-TV video screenshot
Some fans even wore "I'm gonna pray anyway" T-shirts.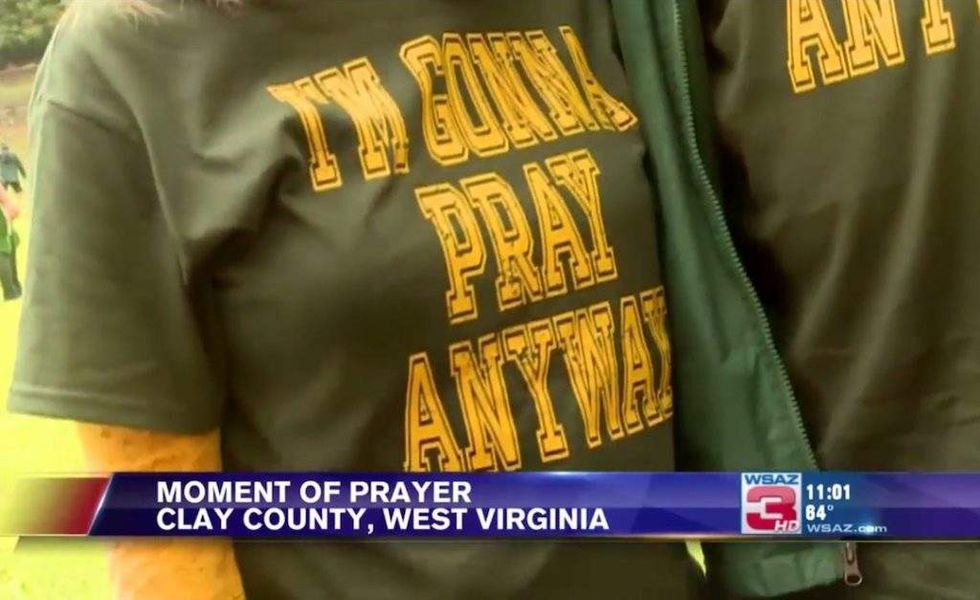 Image source: WSAZ-TV video screenshot
Clay County High School Principal Crystal Gibson told WSAZ "during that moment of silence, if anyone wishes to pray ... by all means I wish that they would. That's their right to do so, and I'll be doing so at that same time."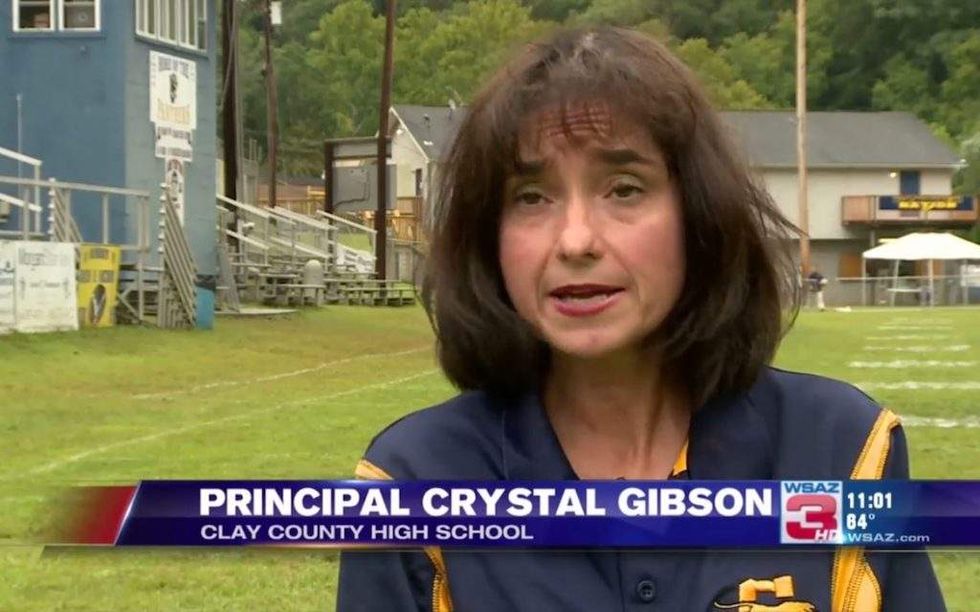 Image source: WSAZ-TV video screenshot
She told the station that "most of the community I do believe supports prayer."
The key words? Most of.
Certainly the person who raised the issue about prayer over the loudspeakers has the right to voice that opinion, and it can be a sticky legal issue when it appears a public school is endorsing or encouraging prayer.
But there was nothing that a detractor could do to prevent the student-athletes from expressing their faith.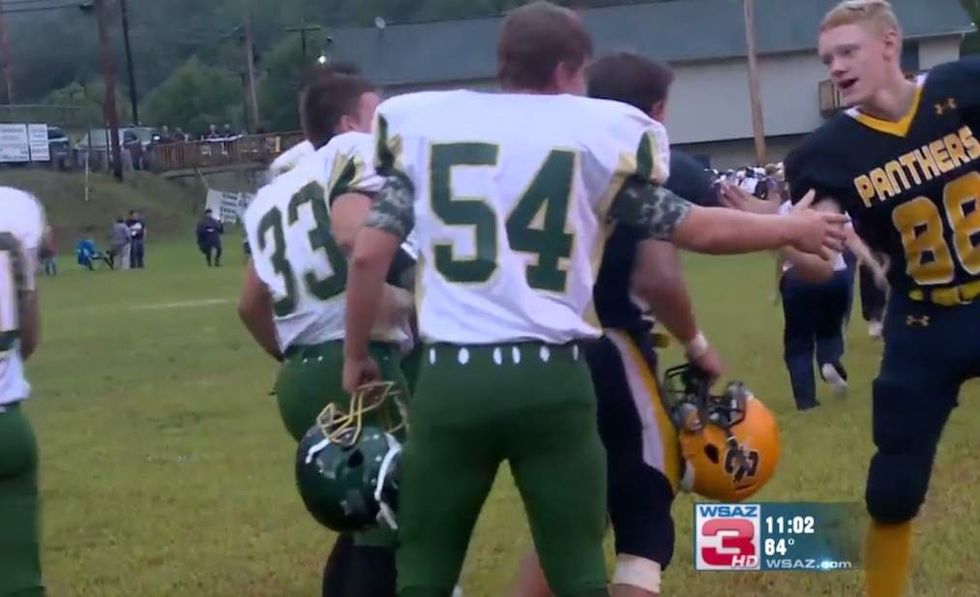 Image source: WSAZ-TV video screenshot
Ironically, the ban on prayer over the PA system only bolstered the desire of many in Clay County to pray in public — and given how far-reaching their reaction to the ban has been, you might say prayer is more popular than ever.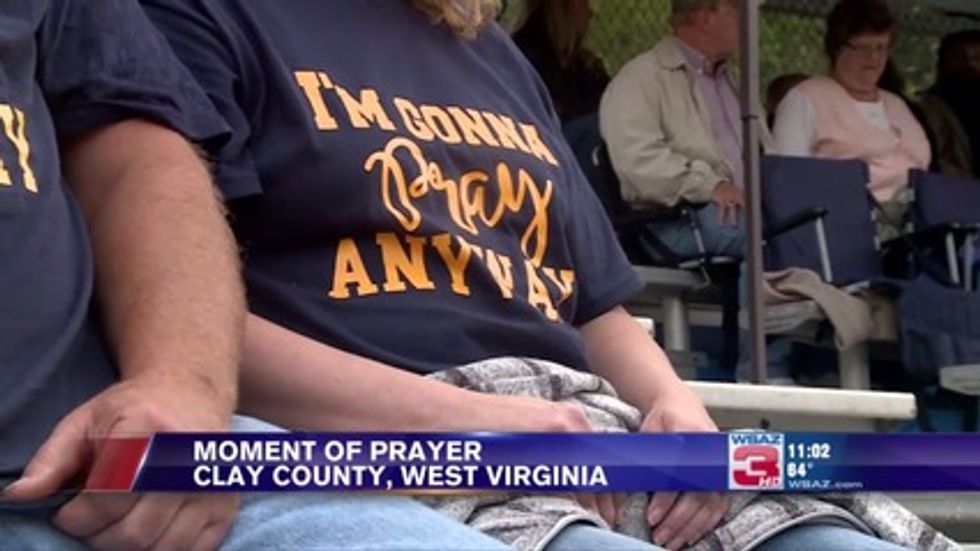 (H/T: Young Conservatives)