Jamele Hill was suspended in 2008 after writing in a column that rooting for the Boston Celtics is like saying Hitler was a victim
When ESPN slapped Jemele Hill's wrist after she called Republican President Donald Trump a "white supremacist" during a Twitter tirade Monday, it wasn't the first time the network took issue with the outspoken anchor.
ESPN suspended Hill in 2008 after she invoked Adolf Hitler in a column about the Boston Celtics.
"Rooting for the Celtics is like saying Hitler was a victim," Hill wrote, although the offending text was later deleted from the piece. "It's like hoping Gorbachev would get to the blinking red button before Reagan."
In her apology piece about her Hitler quip, Hill acknowledged that she isn't above making wrong turns when it comes to racial issues:
"I got too comfortable with my own knowledge and history of dealing with racial issues. I forgot to ask questions, perhaps subconsciously thinking I knew it all. I've served on numerous diversity panels, and regularly work with the University of Central Florida's Institute for Diversity and Ethics in Sports. I had a this-would-never-happen-to-me attitude, instead of a let-me-make-sure-this-doesn't happen-to-me attitude. I dropped my guard. I got caught up in being cutesy and wrote something stupid."
She added, "This is about my living up to a standard I expect of everyone else — respect, awareness, honesty and accountability."
Some might ask, "Is Hill's assertion that Trump is a white supremacist also considered a stupid statement?" What she posted Wednesday night about the issue seems to answer that question.
"My comments on Twitter expressed my personal beliefs," Hill wrote. "My regret is that my comments and the public way I made them painted ESPN in an unfair light. My respect for the company and my colleagues remains unconditional."
So, to address the elephant in the room ... #Facts https://t.co/RTrIDD87ut

— Jemele Hill (@Jemele Hill) 1505360327.0
Hill doesn't say her comments about Trump are stupid, unfounded, untrue — none of those things. Instead she asserts they're her "personal beliefs." In short, she's not backing down from her point of view.
What should happen now?
ESPN said in a statement that it "addressed" Hill's tweets with her, adding that "she recognizes her actions were inappropriate" and that her "comments do not represent the position of ESPN." After Hill addressed her comments, ESPN added late Wednesday night that Hill has a right to her personal beliefs, but not to share them on a public platform that implies she is speaking for the network, the Associated Press said.
All of which presents an interesting discussion point: Hill was suspended for invoking Hitler in a column inappropriately. She didn't praise the Nazi dictator — far from it. While flippantly presented, the context of her comment correctly casts Hitler in an unfavorable light.
Fast forward nine years later and she calls Trump a "white supremacist," as well as a "bigot" — and ESPN more or less has a chat with her.
White House press secretary Sarah Huckabee Sanders called the ESPN anchor's comment a "fireable offense" — and lots of folks disagree with that sentiment, including Al Sharpton and Colin Kaepernick. While firing Hill is overreach and isn't likely to happen, is a slap on the wrist enough?
Would ESPN treat a conservative the same? 
You might recall Curt Schilling losing his commentator gig at ESPN after a number of incidents that ticked off the network.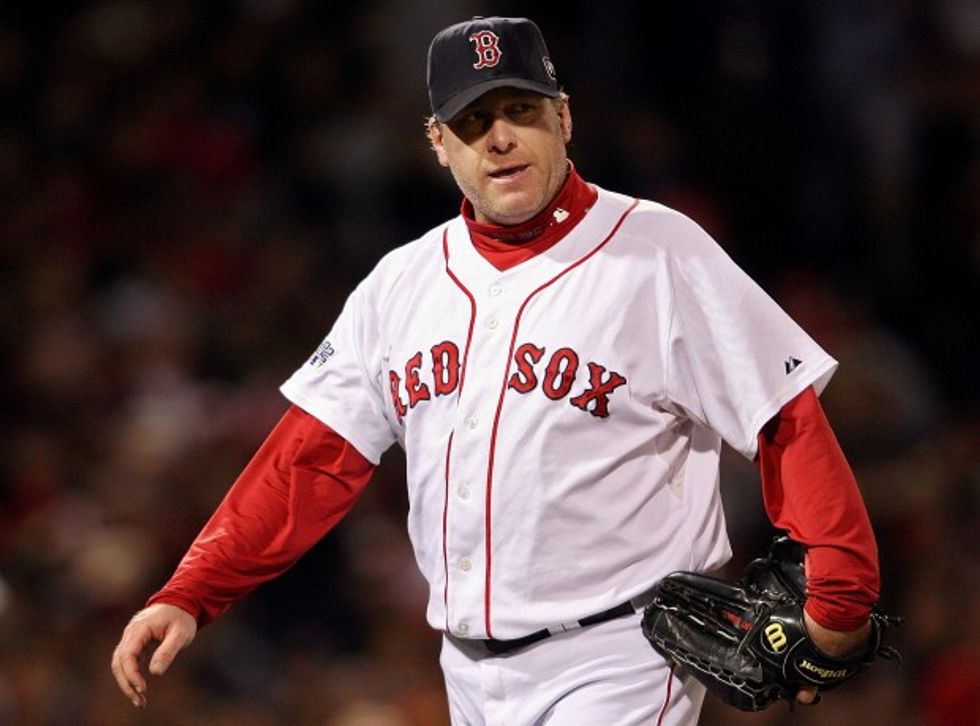 Boston Red Sox pitcher Curt Schilling walks off the mound during Game 2 of the 2007  World Series against the Colorado Rockies at Fenway Park in Boston. Schilling was fired by ESPN in 2016 after posting a controversial meme.  (Getty Images/Nick Laham)
ESPN pulled Schilling for the rest of the baseball season two years ago after he issued a tweet against radical Islam. In March 2016, he said then-Democratic presidential candidate Hillary Clinton should be in jail over her email scandal. Then a month later, ESPN fired Schilling after he posted a meme against transgender bathroom accommodations.
If the latest Jemele Hill controversy stays as is and she faces no more repercussions for her Trump comments, one question to keep in mind is this: How will the network respond if somewhere down the line one of its anchors tears into a left-wing politician or public official?