Actress Julienne Davis, who appeared alongside Tom Cruise in "Eyes Wide Shut," penned a Sept. 1 op-ed for Fox News titled, "I came out as a conservative in Hollywood. Here's the incredible story of what happened next."
In the op-ed, she details the fallout after telling her industry peers nearly a year ago about her political leanings.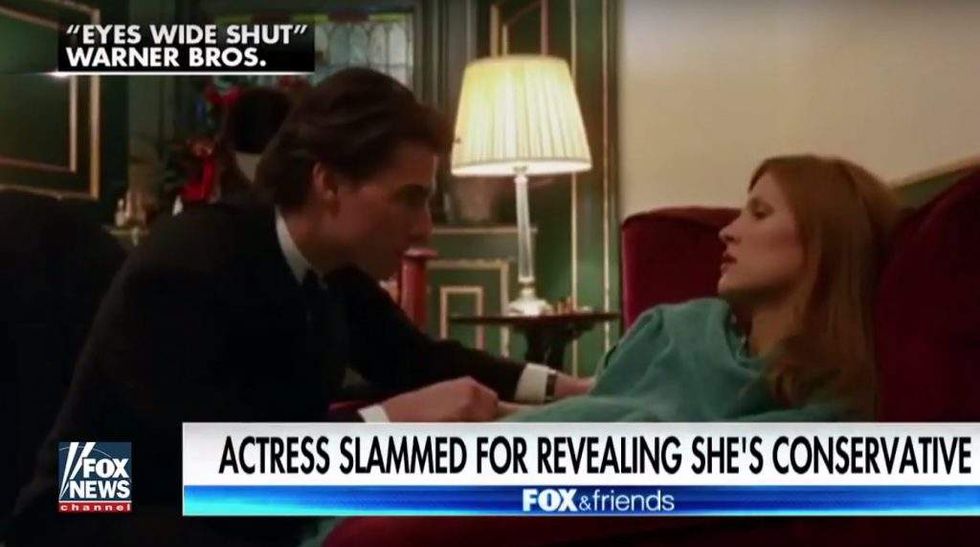 Image source: YouTube screenshot
As you might imagine, it wasn't fun — starting with lots of insults on social media and unfriendings on Facebook.
"I've been attacked with obscenities, called a racist, and had one person tell me he hoped I would die," Davis added.
"Members of the Hollywood left don't want to listen, discuss, or even see a dissenting viewpoint that challenges their own comfortable echo chamber," she noted. "It's ironic that an industry that constantly talks about diversity is so judgmental, hateful and utterly rigid in its groupthink."
Not that all of Davis' liberal friends have dropped her. In fact, for the ones in her life who've stuck around, Davis said she hopes they can join her conservative friends to help jump-start a more civil societal discourse.
"It is they and maybe conservatives like me who will hopefully help to bring people together again and end this insane polarization we are all witnessing," she wrote.
'Absolutely shocking'
Davis didn't stop with her Sept. 1 coming-out-as-a-conservative op-ed. She penned a follow-up piece Monday that described reaction to that essay — and revealed in the headline that it was "absolutely shocking."
"As people started reading and commenting in greater and greater numbers and thousands of personal messages started pouring in to me, one thing became abundantly clear: my experience of being attacked for holding conservative beliefs resonated with many people," Davis wrote.
She added that conservatives are "shunned, unfriended, shamed, vilified, ridiculed and sometimes we even lose work. It seems we are considered part of a new Axis of Evil."
Davis said many readers from around the world contacted her, sharing similar experiences and "offering their prayers and support. I was humbled to know I was clearly not alone."
As you might expect, Davis said plenty of folks on the left attacked her initial op-ed, frequently mocking Davis' lack of celebrity stature. She said she even received a dishonorable mention on "Real Time with Bill Maher" that included "cutaways to others laughing at my 'lack of fame' and my 'irrelevance.'"
'How are you using your voice?'
Davis returned fire, of sorts, in her newest piece by asking those in Hollywood, "How are you using your voice?" She wondered if they're harnessing their platforms to "end the hate and the polarization in our country or increase it?"
She added:
The sad truth is that so many who mount hysterical, hateful and almost nonstop attacks on conservatives and President Trump are fanning the flames of division that pit Americans against each other. Instead of seeking to bridge differences, they seek to accentuate them.

Our great country is called the United States of America — but so many are trying to make us the Divided States of America, filled with citizens who reject cooperation and embrace confrontation.

People with some measure of fame — whether from appearing in films or on TV — have the power to change minds and hearts. Yet instead, too many look lovingly at their bank balance and huge estates, and ignore the hypocritical monsters they have made of themselves and cater to the groupthink trolls they've created. It's so ugly.
Her advice to conservatives
Davis also noted that progressives who've attacked her rarely if ever engaged in thoughtful discourse — and suggested that conservatives stop the cycle of nastiness and not "play dirty and return ad hominem insults with the same snarky smugness. This accomplishes nothing."
"Instead, we need to bypass the insults, engage in rational discussion and serious debate, and not allow our egos to get in the way," Davis concluded. "And we need to invite our progressive critics to join us on the high road – if they are willing to act like mature adults. After all, what is the alternative?"
Check out Davis' chat with Fox News' "Fox & Friends":
(H/T: Truth Revolt)