Her side
After Hurricane Harvey, Carmen Hix told KPRC-TV she felt compelled to help with disaster relief. So the U.S. Navy veteran — who served in Vietnam and retired after Desert Storm and Desert Shield — told the station she took a 10-day leave of absence from her part-time job to volunteer to help hurricane victims.
And Hix chose a food pantry run by Calvary Houston Church in Friendswood.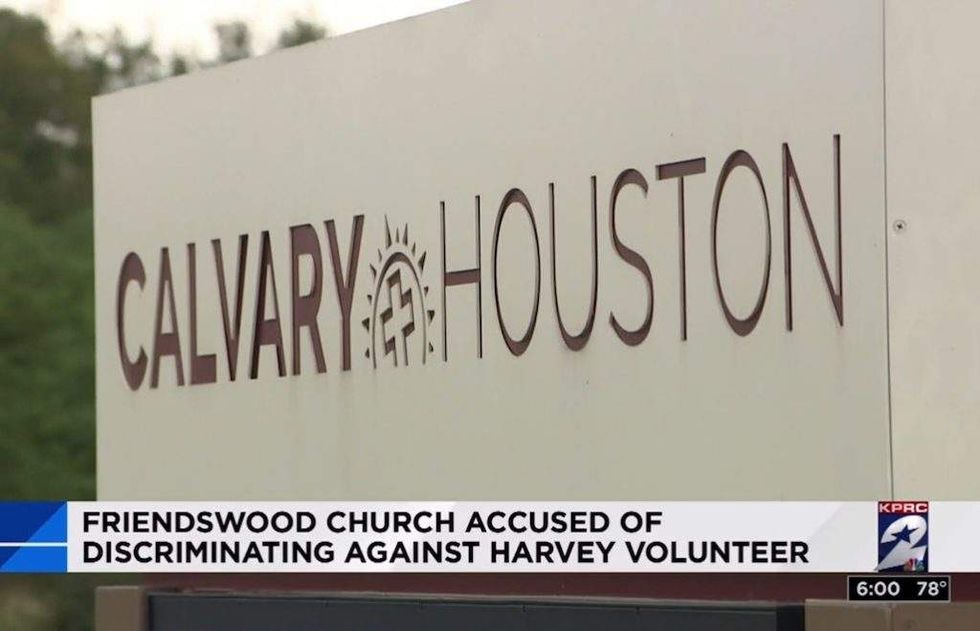 Image source: KPRC-TV video screenshot
But each day after the workers prayed together, Hix told KPRC she would quietly say "shalom." The following day she said additional details about her personal life that came up shocked other volunteers.
"I've been with a wonderful woman for 20 years," Hix told the station. "We've raised two great children."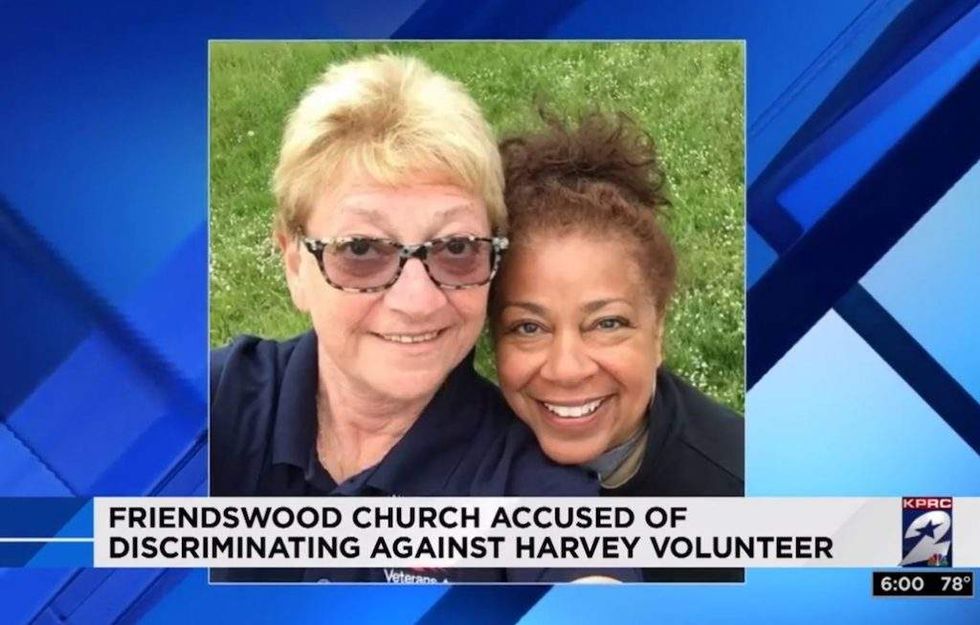 Image source: KPRC-TV video screenshot
She added to KPRC that later on the head of the food pantry "looked me in the eye, and says, 'Are you a Christian?' And I said, 'No, I identify as being Jewish,' and he said then you can no longer volunteer for Calvary."
So Hix met with church pastor and founder Ron Hindt.
"I told him, 'I understand I'm being fired because I'm Jewish, and I can no longer volunteer with your church,'" she told the station. "He said, 'No, it's also a rumor that you're a lesbian.'"
Hix added to KPRC: "All I wanted to do was help those less fortunate than myself, and not being able to do that because of my lifestyle and because I'm Jewish was just very hurtful."
His side
"At no time did I ever say you couldn't serve here," Hindt told the station. "I told her I have Jewish friends. I go to Israel all the time. And we have had people in our church that come that are gay, lesbian."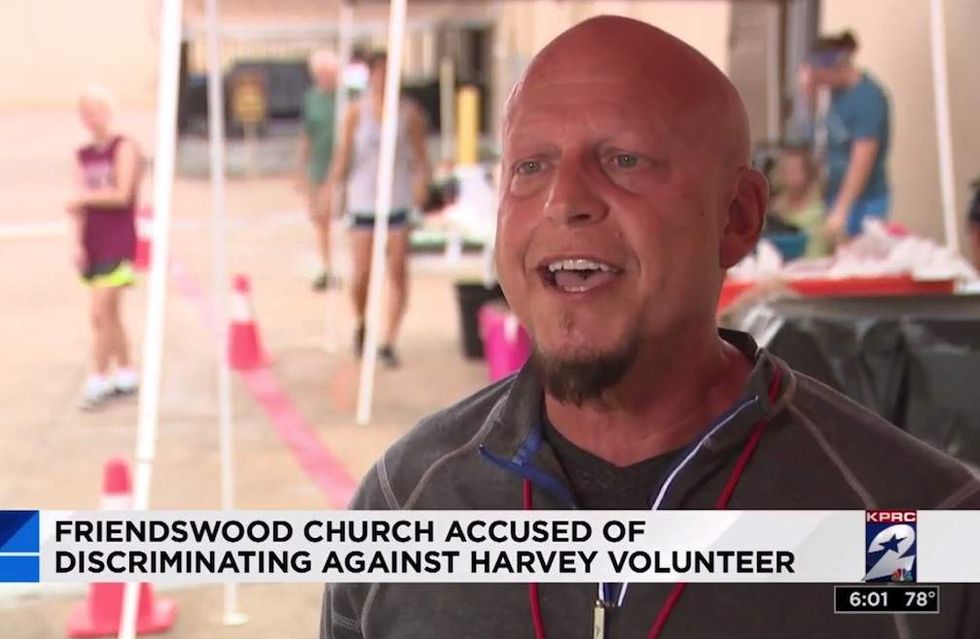 Pastor Ron Hindt (Image source: KPRC-TV video screenshot)
As to Hix's claim that she couldn't volunteer, the pastor, who founded Calvary Houston 26 years ago, told KPRC that "we would never do that."
In a Facebook post, the church wrote that it's "deeply saddened that one volunteer has called into question our love for those of different sexual orientation and beliefs."
More from the post:
For the last twenty-six years, the heart of Calvary Houston has been to reach out and share the love of Christ to all people, regardless of race, sexual orientation, religion, etc.

We believe this love has been visually demonstrated to our community over the last three weeks as we have sought to meet the physical and spiritual needs of our community through a disaster relief effort on our campus. Our desire has been and always will be to share the love of Jesus Christ.

I personally met with this individual to try and clear up any misconceptions. I invited her and her partner to sit with my wife and me in church so that she could see the love of Christ and the love of our church.
But Hix rejected his invitation, KPRC reported.
"He said when God strikes your heart and brings to light the sinfulness of your ways, you'll be able to walk away from that relationship and you'll be good with God," she told the station.
Hindt insisted to KPRC that it's not his place to judge others and that he loves all people. He also told Hix that she's welcome to volunteer, the station said, adding that Hix has found a new place to volunteer.