Remember her?
TheBlaze has previously written about Yvette Felarca, a well-known "anti-Trump fighter" and left-wing activist who openly endorses violence to "shut down" those she believes are "fascists."
A member of leftist group By Any Means Necessary, Felarca also is a middle school teacher in Berkeley.
Felarca described violent protests at the University of California, Berkeley, in February as "stunningly successful" and called for more "militant" action.
Think she was done?
Nope. She was arrested in July on three felony charges — inciting a riot, participating in a riot and assault — after Sacramento authorities said she was caught on camera last year hitting a member of the Traditionalist Worker Party, which KTVU-TV called a "white nationalist group."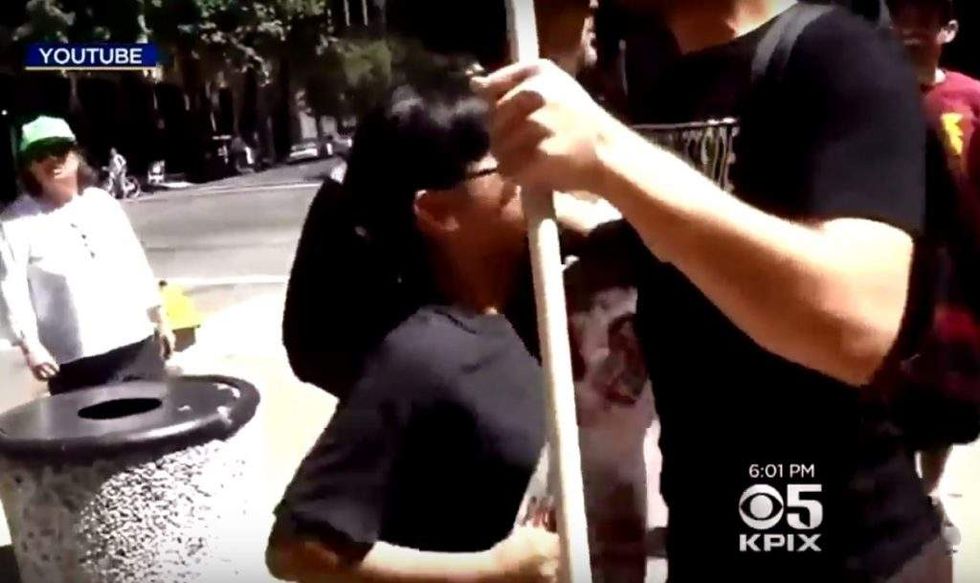 Image source: YouTube screenshot
What's she charged with this time?
Felarca was being held on $20,000 bail on suspicion of three misdemeanors — rioting, obstruction and battery — after a Tuesday counterprotest against conservative activist group Patriot Prayer in Berkeley, Berkeleyside reported.
Yvonne Felarca, 47, of Oakland, was arrested near Telegraph Ave and Channing Way for battery and resisting arrest. https://t.co/AsZlCsdLC7

— Berkeley Police (@Berkeley Police) 1506463162.0
A peaceful, controlled dialogue had been taking place between Patriot Prayer leader Joey Gibson and another individual when scuffles broke out, KPIX-TV reported.
As police led Felarca away in handcuffs, her protesting allies were chanting, "Let her go! Let her go!"
On Monday, KPIX interviewed Felarca, who said if Gibson is "trying to come here in order to terrorize people in this community, then definitely BAMN is calling for everyone who stands up against racism and misogyny and immigrant-bashing to come out and to protest and shut him down."
What is the school district saying?
The Berkeley Unified School District told Berkelyside regarding Felarca that it's "monitoring developments in this case. Should an occasion arise for the District to take action, we will respond in an appropriate manner, in keeping with federal law, the California Education Code and the BUSD collective bargaining agreement with our teachers."
The district added Tuesday that Felarca is a part-time employee who "worked her normal hours today," Berkeleyside reported.
(H/T: Campus Reform)