A middle school teacher in Berkeley, California — who's also a well-known "anti-Trump fighter" and left-wing activist — was arrested this week on three felony charges over her alleged participation in a violent protest last year in Sacramento.
Yvette Felarca, aka Yvonne Felarca — who teaches at Martin Luther King Middle School — is charged with inciting a riot, participating in a riot and assault, KTVU-TV reported, citing prosecutors. She was arrested after boarding a plane at Los Angeles International Airport on Tuesday night, the Sacramento County District Attorney's Office told the station.
Authorities said the 47-year-old — who has made frequent appearances on news shows and is with the leftist group By Any Means Necessary — was caught on camera hitting a member of the Traditionalist Worker Party, which KTVU called a "white nationalist group" that had taken out permits for a rally in the California capitol on June 26, 2016.
Felarca and other counterprotesters blocked the rally by chasing and hitting and even stabbing members of the Traditionalist Worker Party, the station said.
The Berkeley Unified School District placed Felarca on paid administrative leave after the rally but reinstated her last fall, KTVU reported.
District spokesman Charles Burress told the station Thursday that school officials are gathering information about Felarca's case and that she's still employed there.
By Any Means Necessary member Hoku Jeffery told KTVU that "Yvette is the most known anti-Trump fighter in the movement. Now she is brought up on baseless charges as an attempt to intimidate" the anti-fascist movement.
Felarca's attorney, Shanta Driver, told the station that her client is innocent.
"She was stabbed and hit in the head," Driver told KTVU. "To accuse her of doing something when police could have stopped it, it's wrong."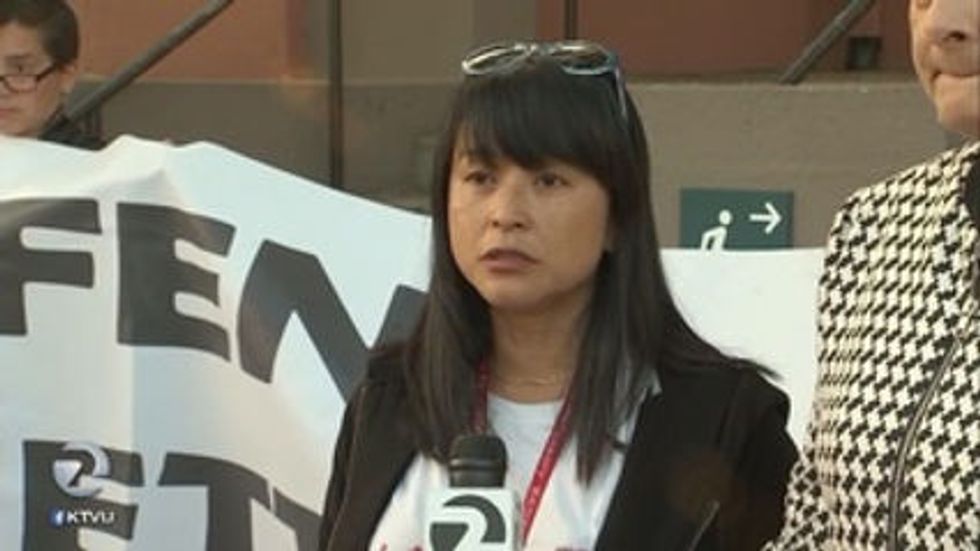 TheBlaze noted Felarca's interview with Tucker Carlson in February after she helped organize what turned out to be violent protests at the University of California, Berkeley, against Milo Yiannopoulos' planned speech. Felarca made no apologies to Carlson for her desire to use violence to "shut down" those she believes are "fascists."
In a KTVU interview that same month, Felarca said she had no regrets about the riots on campus — which she called "stunningly successful" in furthering the leftist cause — and called for more "militant" protests.
"A few broken windows are nothing compared to the lives that are at stake," she said.