A complaint letter from the Freedom from Religion Foundation — an atheist activist group — led to a ban on student-led prayer over the loudspeaker before football games at Alabama's Smiths Station High School.
So, deprived of amplification before the Central High School game last Friday night, defiant students from both sides of the field raised their voices the old-fashioned way — and together recited the Lord's Prayer during a moment of silence, WAGA-TV reported.
Katie Johnson — a student who wrote a personal prayer and read it before a game prior to the ban — told the station that, while she understands Lee County Schools' prayer ban, the decision hurt.
"It shook me so bad," she told WAGA. "I never imagined that God could be taken out of our community."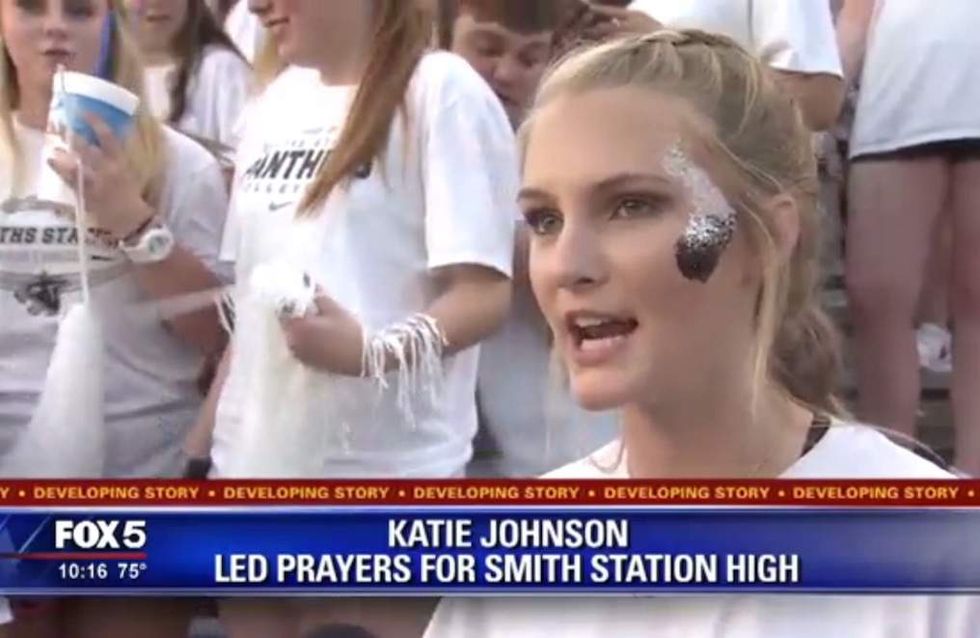 Image source: WAGA-TV video screenshot
How did the loudspeaker prayer ban come to pass?
A spectator at a Smiths Station game last month heard the loudspeaker prayer and "was offended," the FFRF wrote in a complaint letter to the district that demanded it end the tradition.
Superintendent Mac McCoy said the letter cited a U.S. Supreme Court ruling that even student-led, student-initiated prayer over a public loudspeaker at football games violates the Constitution's Establishment Clause, WTVM-TV reported. McCoy added that litigation didn't look favorable to the district if the loudspeaker prayers continued.
"It's sad," McCoy told WRBL-TV. "It really is, that a small group of individuals can dictate to a community something that the community as a whole does not want. That's hard to swallow, but I know that's the world we live in."
This writer's perspective
As with the aftermath of a similar ban at a West Virginia high school to start off this year's football season, the well-known atheist group indeed managed to get loudspeaker prayer stopped at Smiths Station — but it couldn't prevent students from praying out loud anyway and in a very public manner.
And it ain't over yet. Smiths Station High School students intend to pray before kickoff at its Oct. 13 home game.
So once again, a prayer-related tradition is banned — only to resume in a different manner. And with arguably as much volume and certainly accompanied by many more voices — and with a national spotlight on the battle to boot.