In the aftermath of the Las Vegas mass shooting that claimed the lives of nearly 60 people Sunday night, stories are emerging about those who helped the wounded and did everything they could to save them.
An ABC News reporter said he found one of those heroes, Mike Cronk, sitting on a curb "with his head in his hands." Cronk was shirtless at the time — having used the article of clothing to put pressure on bullet wounds — and gave a short interview describing the terrifying scene.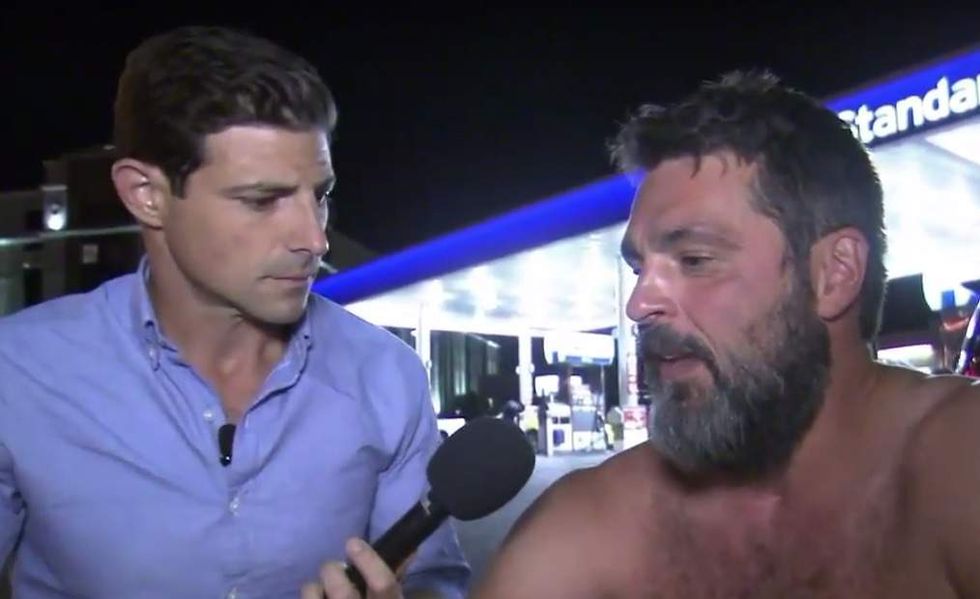 Las Vegas concertgoer Mike Cronk speaks to ABC News after the deadly shooting. (Image source: YouTube screenshot)
In a second interview with ABC News, Cronk offered more details about what happened after his best friend was shot in the chest three times.
He told the reporter that after the shots rang out "my buddy is like, 'I got hit.'"
"It seemed like forever," he recalled, noting that many people were "selfless" and stayed with the wounded.
When the reporter added that Cronk is a retired teacher who came to Las Vegas for his 48th birthday — and that his seriously wounded friend Rob was standing just inches away when the shooting started — Cronk paused and teared up.
"It was hard," he said.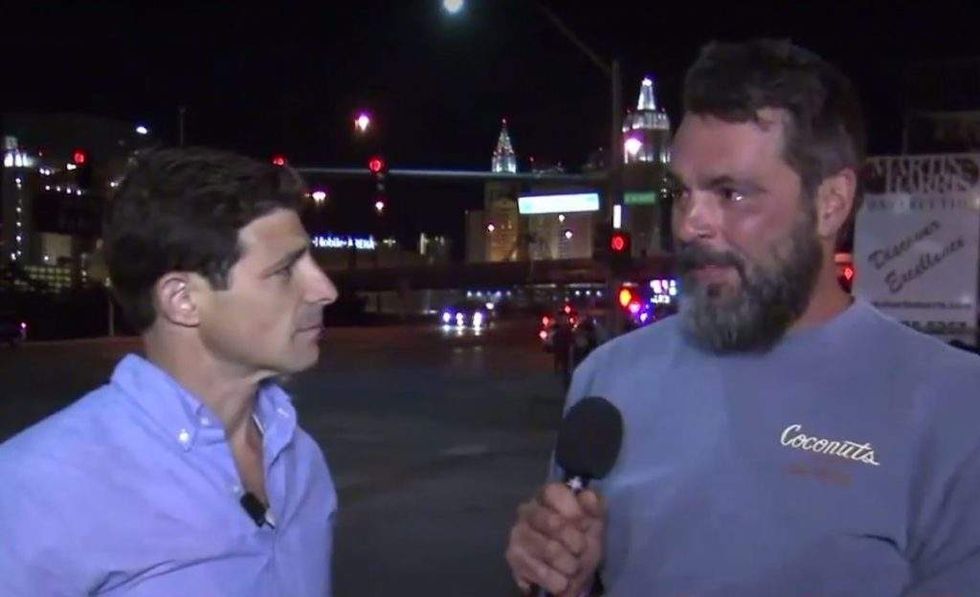 Las Vegas concertgoer Mike Cronk speaks during a second interview with an ABC News reporter about his friend Rob, who was shot in the chest. (Image source: YouTube screenshot)
"Everybody pretty much dove on top of each other," he continued, adding that it was "chaos" and that there were "people trampling each other, trying to get away."
Cronk, who's a hunter, told ABC News he realized the gunfire was "fully automatic."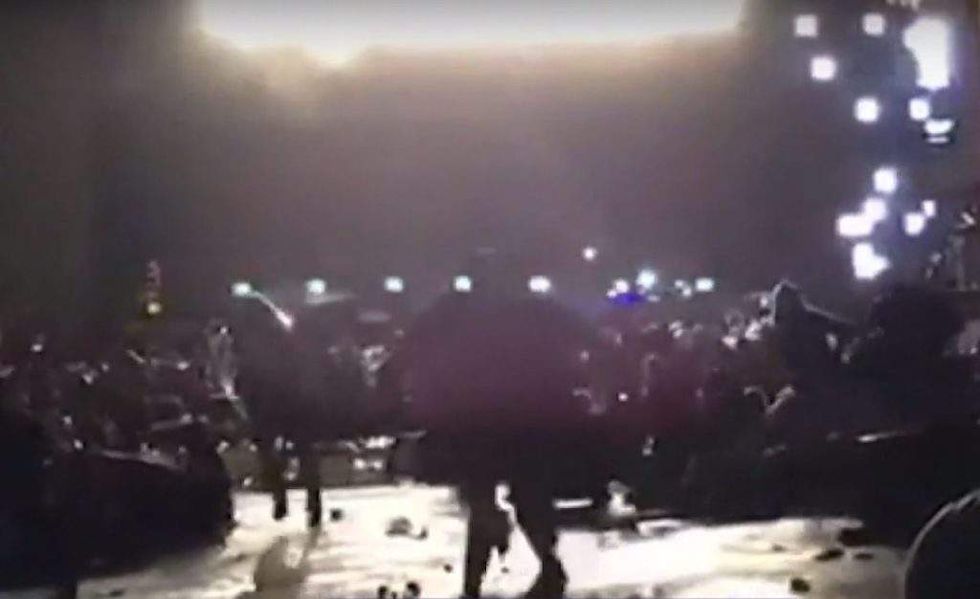 Image source: YouTube screenshot
But Cronk's face brightened when he noted an EMT and trained, ex-military people jumped right in to help compress his friend's wounds — and they actually had their fingers in the bullet holes to help stop the bleeding, Cronk recalled.
Even his wounded friend Rob had his own finger in one of the holes: "He was like, 'Don't take it out ... leave your finger there, we'll compress over the top of it."
He said that he and three other men hauled his friend over a fence and then they all got under the stage for protection — and that's where "another awesome lady came over and helped compress," Cronk said.
"I'm no hero," he said before praising the "tons of heroes" who helped.
But once they got his friend out from under the stage and into a pickup truck — along with other wounded people — they got turned right back around because it was an active shooter situation. Eventually, they found an ambulance and helped get the wounded inside.
And that's when another tragedy struck Cronk: Another shooting victim whom he did not know but was helping died in his arms.
Describing that moment, Cronk teared up again and paused for several moments before saying, "It's been a tough night ... So many people died and are wounded. It's very sad. ... It's a terrible tragedy. I don't know what other words you can use for it."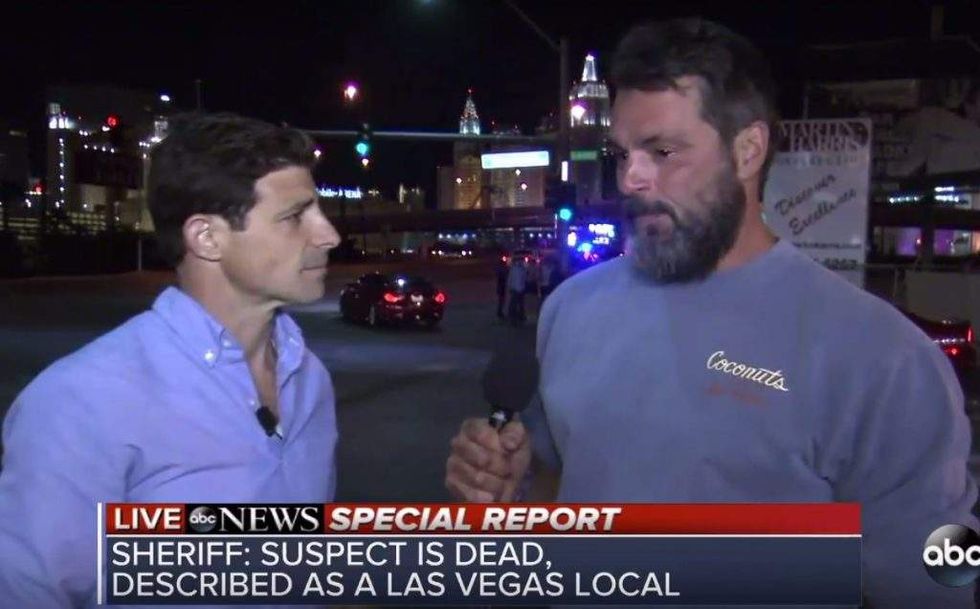 Image source: YouTube screenshot
But there was happy news for Cronk — he learned that his seriously wounded friend was going to be OK.
Still, Cronk acknowledged, "it could have been me. I was right next to my buddy."
And it could have been Cronk's girlfriend, too — but he told ABC News that she got sick after about an hour in the heat and returned to their hotel.
When the reporter praised Cronk's for his actions, he replied that "you try to keep your head and do what you can. But like I said, there's tons of people who were true heroes tonight."