What's the story?
The 47-member United Nations Human Rights Council in Geneva voted Friday on a resolution to denounce the death penalty for same-sex relations.
There are currently six countries where the death penalty is used for people in same-sex relationships: Iran, Saudi Arabia, Sudan, Yemen, Nigeria and Somalia. This number rises to eight if the ISIS-occupied territories of Iraq and Syria are included, The Independent reported Wednesday. There are another five countries where it is technically allowed, but not actually used in reality.
Did the resolution pass?
Yes. It passed with 27 nations in favor of the resolution, 13 against, and seven abstentions.
What's the problem?
The U.S. was one of the 13 nations that voted against the resolution, and there's been an outcry on social media, as well as some media outlets, saying the U.S. is in favor of the death penalty for the LGBT community.
Other countries that voted against the resolution were Botswana, Burundi, Egypt, Ethiopia, Bangladesh, China, India, Iraq, Japan, Qatar, Saudi Arabia, and the United Arab Emirates, according to The Independent.
"There was a vote at the Human Rights Council in Geneva, and we have seen a lot of reporting about that, press releases that have criticized the U.S. Government's vote at the Human Rights Council on the question of the death penalty. The headlines and much of the reporting that has come out of that has been misleading," U.S. State Department spokesperson Heather Nauert told reporters Tuesday.
Is the U.S. in favor of the death penalty for same-sex relations?
No. "The United States unequivocally condemns the application of the death penalty for conduct such as homosexuality, blasphemy, adultery, and apostasy. We do not consider such conduct appropriate for criminalization," Nauert said.
Why did U.S. vote against the resolution?
"We voted against that resolution because of broader concerns with the resolution's approach in condemning the death penalty in all circumstances, and it called for the abolition of the death penalty altogether," Nauert told reporters. "We had hoped for a balanced and inclusive resolution that would better reflect the positions of states that continue to apply the death penalty lawfully, as the United States does."
What are others saying?
"It is unconscionable to think that there are hundreds of millions of people living in States where somebody may be executed simply because of whom they love" Renato Sabbadini, executive director of the International Lesbian, Gay, Bisexual, Trans and Intersex Association (ILGA), said in a statement, according to Forbes. "This is a monumental moment where the international community has publicly highlighted that these horrific laws simply must end."
Nauert posted this video from the news conference on Twitter, spurring a backlash of comments.
.@statedeptspox comments on a vote related to the death penalty at the @UN #HumanRights Council in Geneva. #UNHRC https://t.co/nSugkMrBZC

— Department of State (@Department of State) 1507057426.0
Shame on US! I was proud to lead U.S. efforts at UN to protect LGBTQ people, back in the day when America stood fo… https://t.co/cvISzbbkCZ

— Susan Rice (@Susan Rice) 1507051181.0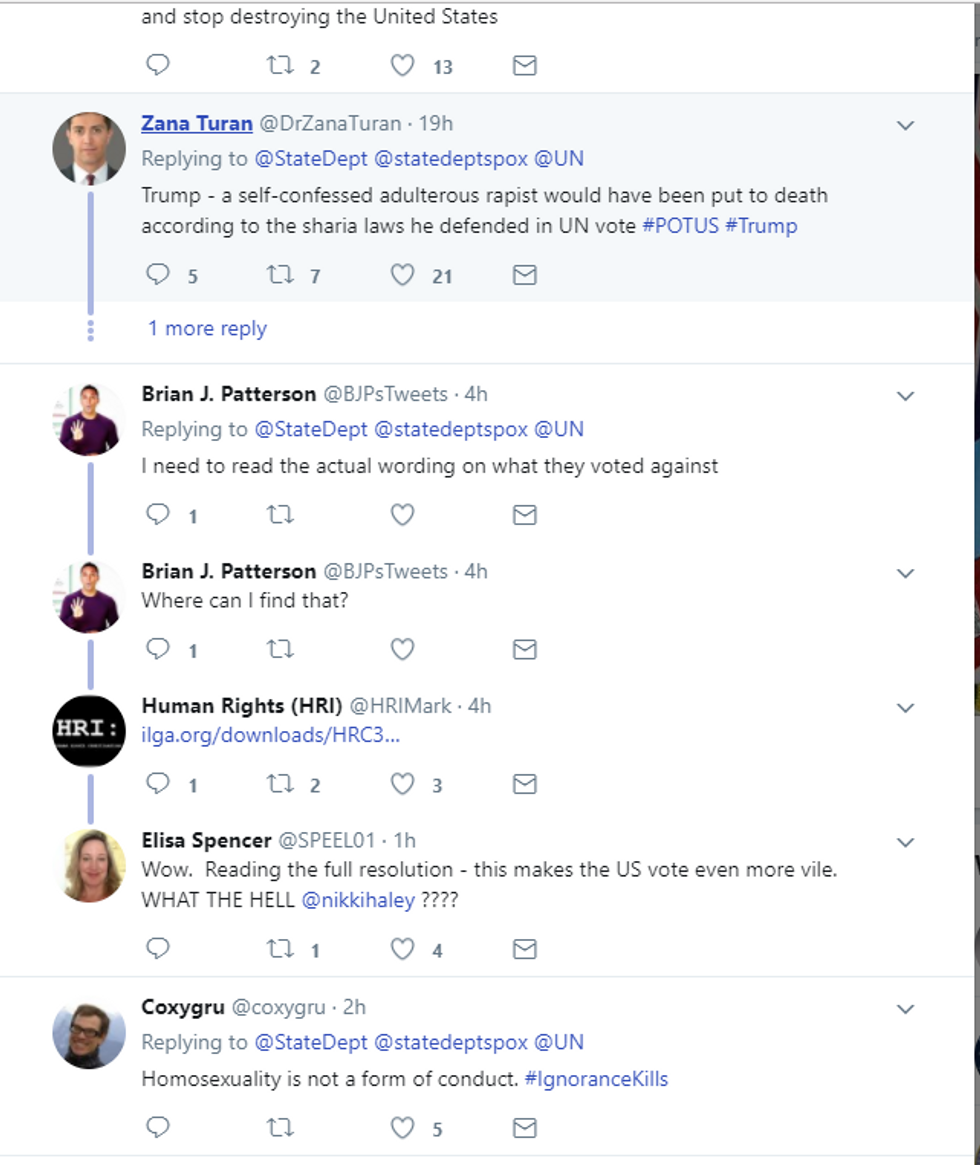 (Image Source: Twitter screenshot)