A 19-year-old mother was holding her 6-month-old son when two females physically attacked her outside an Oklahoma apartment complex last week — and it was all caught on video.
What happened?
Janie McCoy, 19, was invited by a friend to a Broken Bow apartment complex near her home — and she brought her 6-month-old baby, Braylen, with her, KFOR-TV reported.

"I was just sitting there, swinging with him, and then those three girls came out and started yelling," she told the station.

The females were shouting accusations at McCoy, but she told KFOR she didn't know what they were talking about.

"I told her I didn't want to fight. I mean, I had my kid," McCoy added to the station. "But even if I wasn't holding him, I would not have fought her."

One female is heard repeatedly saying in a video of the incident, "Somebody get her baby."
Here's the first video. (Content warning: Rough language and racial slurs):
When McCoy tried to leave, the video shows her getting knocked to the ground — with her baby still in her arms.

"All I could think about was making sure my baby was OK," McCoy told the station. "I wasn't even worried about fighting back. My baby was in my hands."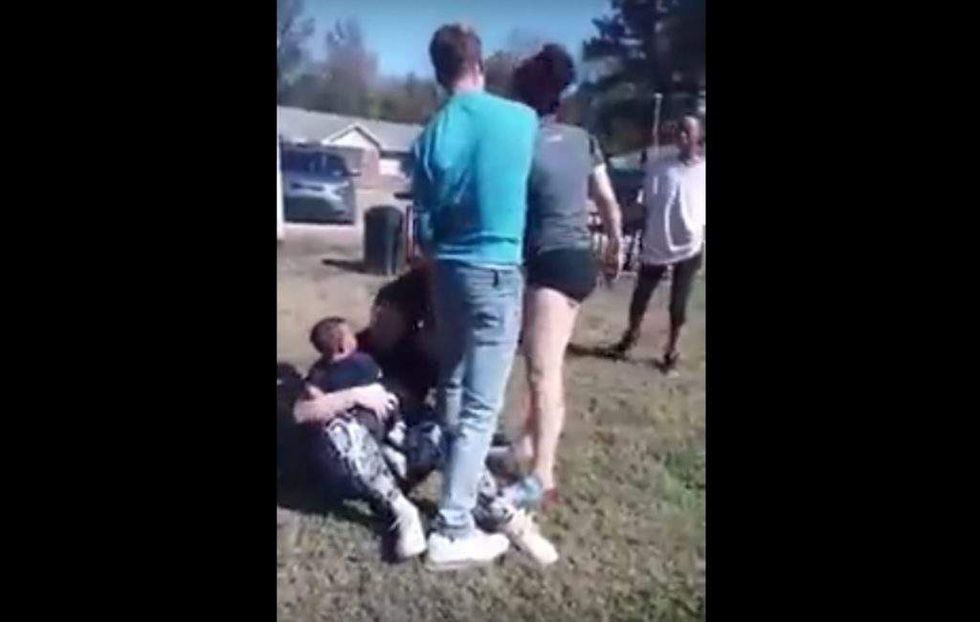 Image source: YouTube screenshot
McCoy's brother was at the scene and trying to help her, KFOR said.

A second video captured more of the attack as McCoy held Braylen, KFOR said.

McCoy is heard crying in the second video as she walks with her infant son back to an apartment — and one of her attackers is seen getting one last hit to McCoy's face at the doorway.
Below is a report from KSLA-TV that includes portions of the second video, which apparently was taken down from Facebook on Thursday.
What happened next?
McCoy told KSLA-TV she suffered bruising on her cheek and a busted lip during the Oct. 18 incident but her son was unharmed.

"I took him to the doctor to make sure everything was OK," she told KSLA. "He wasn't hurt or anything, thank God."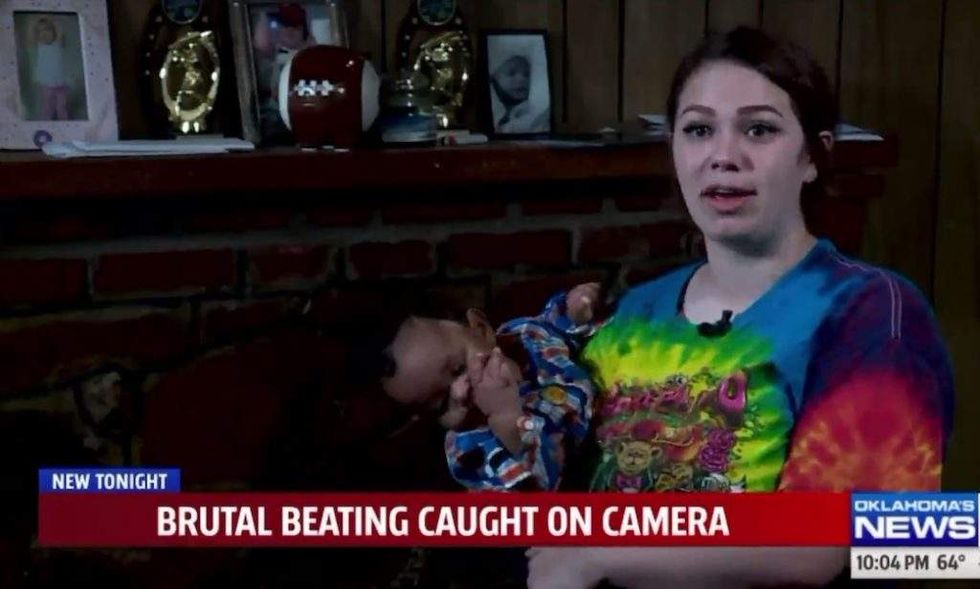 Janie McCoy with her 6-month-old son Braylen after the attack. (Image source: KFOR-TV video screenshot)
Police soon arrived at the scene, but McCoy told KFOR they didn't make any arrests.

Broken Bow Police Chief Richard Wiggins told the station officers had to go through Juvenile Services to arrest one of the alleged attackers.

Wiggins told KFOR the "main" female accused in the attack is 17.

A warrant is pending for the second female — an adult — and both will be charged with child abuse and battery, police told KFOR. The adult also be charged with perjury after allegedly lying to officers about her involvement, police added to the station.

Videos of the attack have gone viral — and Wiggins told the station his department has been contacted about the case from people all over the U.S. and even outside the country.

"I think 25 or 27 states, and two countries, England and Australia," he told KFOR.
What is McCoy saying now?
"I have, like, tons of people that are just messaging me telling me that I am way better than that, and that I did the right thing," she told KFOR. "So it just makes me feel a little better."

McCoy also told the station she wants to feel safe: "And me and my son can walk down the street without feeling like something's going to happen."
This story has been updated.
(H/T: Blue Lives Matter)