A California college professor will shell out $17,000 after he was caught on video erasing students' pro-life chalk messages on campus last spring, the Fresno Bee reported, citing faith-based law firm Alliance Defending Freedom.
But that's not all.
Greg Thatcher, a public health professor at California State University, Fresno, also must undergo First Amendment training — and it will come courtesy of Alliance Defending Freedom, the paper said.
What happened?
Video showed Thatcher using his shoe to erase messages like "women need love, not abortion" and telling other students to do the same, the Bee reported.
Thatcher claimed the pro-life messages only should be in a designated campus "free speech area" and said in the clip that "college campuses are not free speech areas."
Well, it turns out Fresno State doesn't have a designated free speech zone, the Bee said, and two students sued Thatcher over his actions in May.
How did the suit end up?
Fresno State students Bernadette Tasy and Jesus Herrera — part of Students for Life of America — each will receive $1,000 in damages while $15,000 will go to Alliance Defending Freedom, which defended the students in court, the paper said.
A court order filed last week forbids the professor from "interfering with, disrupting, defacing, or altering" any similar student activities, the Bee added.
Thatcher's First Amendment training from ADF will clock in at two hours, the paper noted.
What did Alliance Defending Freedom have to say?
"No public university professor has the authority to silence any student speech he happens to find objectionable or to recruit other students to participate in his censorship," ADF attorney Travis Barham said in a statement Thursday, the Bee said.
"Like all government officials, professors have an obligation to respect the constitutionally protected free speech of students," Barham added, according the paper.
"Of all people, professors should be the first to encourage all students to participate in the marketplace of ideas rather than erase the speech of those with whom they differ," he also said, the Bee reported. "The professor's actions here were wrong and flagrantly violated the First Amendment."
How did the professor respond?
Thatcher did not return messages Thursday, the paper said.
This writer's perspective
It takes a certain level of chutzpah to deface free expression while being recorded on video.
One wonders if the professor felt certain in that moment he was "playing for the home team" — with plenty of left-wing fans, teammates and a powerful front office backing him up — and believed he'd get furious backing from his allies in the end if need be.
Not so much.
Equally galling are the other students caught on camera actually telling the victims that the professor told them to erase their pro-life chalk messages — and they simply obeyed. Presumably with similar speech-suppressing glee or propelled by the ignorance of forward-marching lemmings.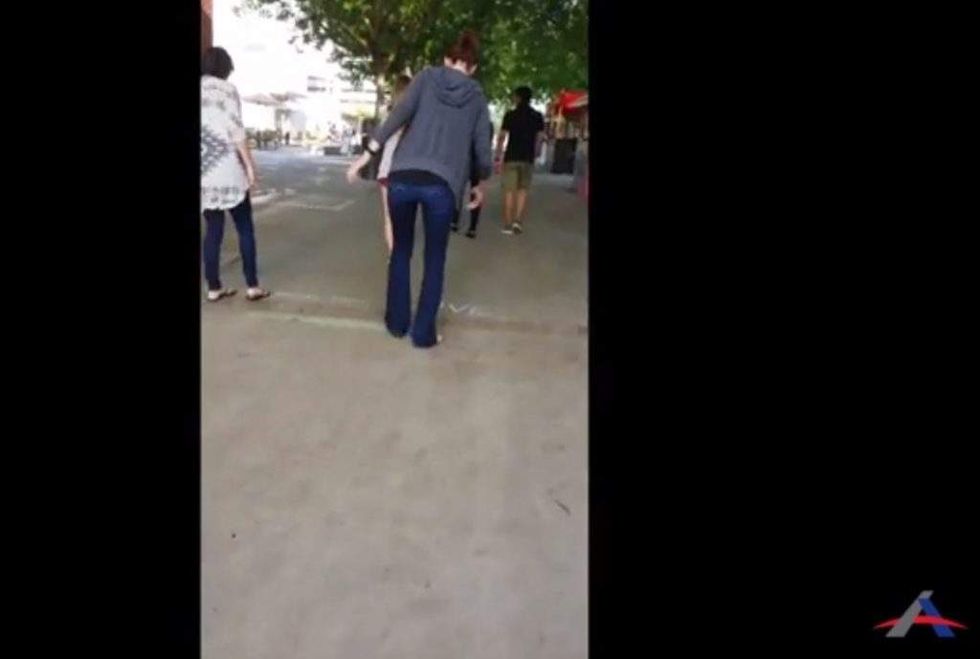 Image source: Alliance Defending Freedom video screenshot
And how does the professor — a university employee — manage to claim there's a free-speech zone designated for the students' pro-life chalk messages when there actually is none? Secondly, how does an apparently learned individual claim that "college campuses are not free speech areas"?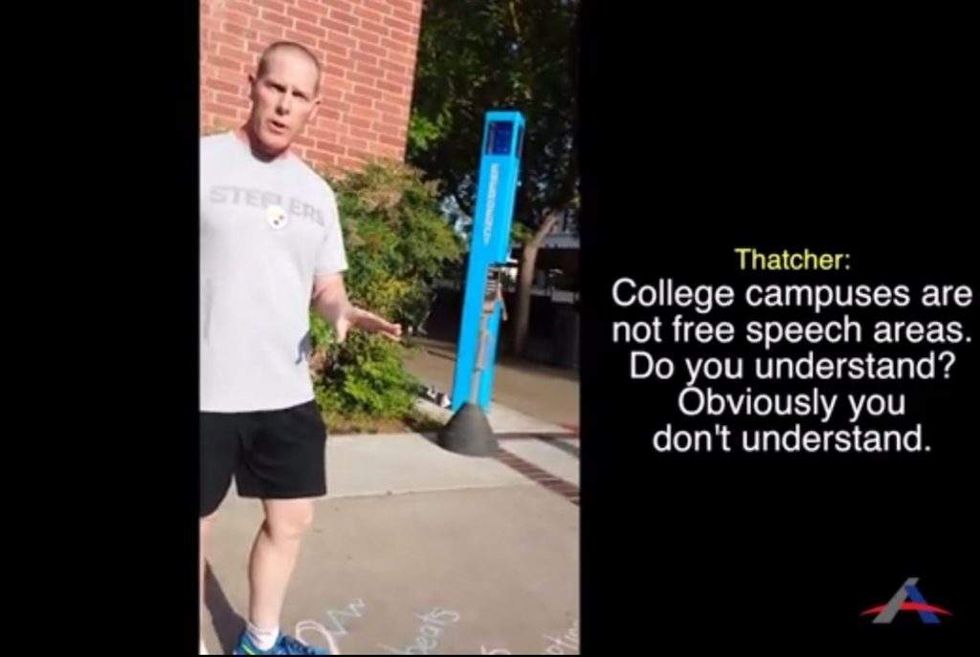 Image source: Alliance Defending Freedom video screenshot
It would seem the professor truly needs Alliance Defending Freedom's help to gain a greater understanding of the First Amendment.
They may want to refrain from using blackboards, though.