A new poll from Fox News of likely voters in Alabama shows an eight percent gap between competitors in the race for the state's U.S. Senate seat.
Who is winning according to the poll?
According to the Fox News poll, the Democrat Doug Jones has jumped far ahead of Roy More, who has been besieged by sexual misconduct charges — as well as charges that he regularly dated underage women — in recent days.
Latest @foxnewspoll's show @MooreSenate could be in trouble in Alabama race--down 8% to the Democrat Doug Jones and 38% believe the allegations to be true. #SpecialReport pic.twitter.com/39Qp4Y9hBg

— Bret Baier (@BretBaier) November 16, 2017
The poll of 649 likely voters in Alabama was taken from November 13 to 15, and has an error margin of +/- 3.5 percent.
It shows the Democrat Jones with 50 percent support and Moore with only 42 percent support.
When asked if they believe the allegations against Roy Moore, slightly more say they believe them than not, 38 percent to 37 percent, respectively. Another quarter say they are unsure.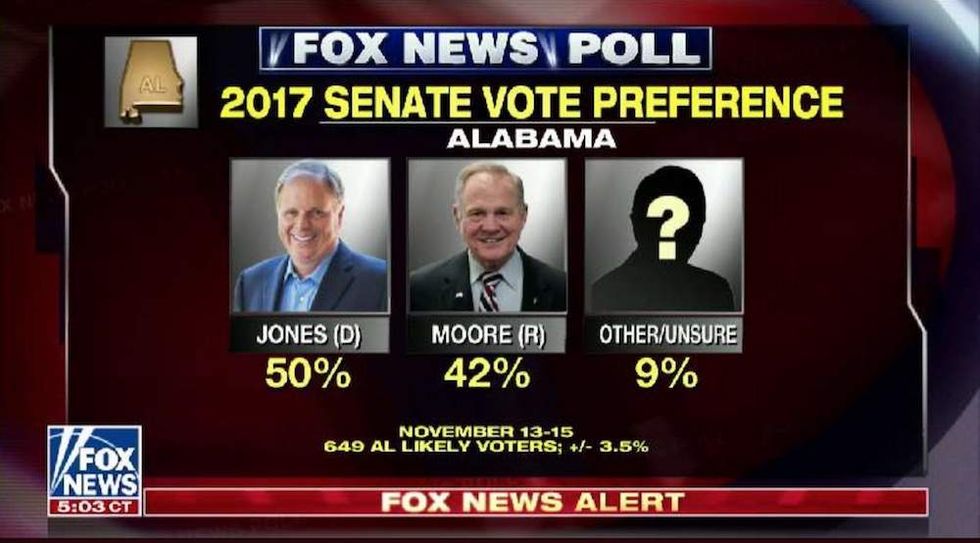 (Image Source: Twitter screenshot)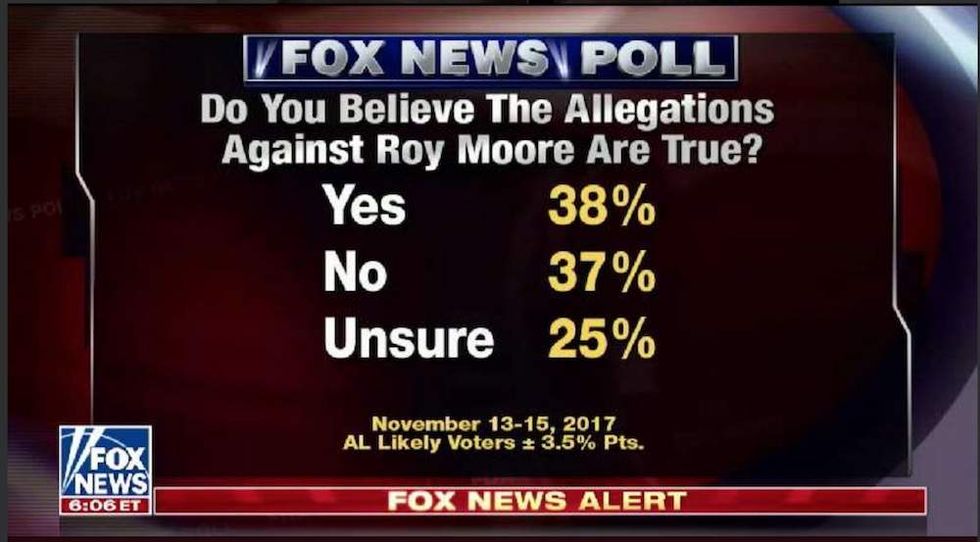 (Image Source: Twitter screenshot)
The same Fox News poll had a virtual tie in the race just a month ago, with Jones at 42 percent, and Roy Moore at 42 percent.
BREAKING! Roy Moore & Doug Jones tied in #AL-SEN @FoxNews #Poll MORE: https://t.co/gbaOyMA1Wq https://t.co/qh3WXCwKAb

— Fox News Poll (@Fox News Poll) 1508277780.0
If the poll is accurate, it's a likely consequence of damaging allegations of sexual harassment by numerous accusers, some of whom say Moore approached them romantically them when they were underage or close to it.
More remains defiant, and accused the GOP establishment of conspiring to cheat him out of the Senate seat.