The Nation of Islam's leader Minister Louis Farrakhan told Republican President Donald Trump to "repent for all of the evil that America has done to us, to the peoples of the world." The statement came during an address last week in Washington that he called "a final warning to the government and people of the United States of America."
What else did Farrakhan say about Trump in his two-hour speech?
"Mr. President, you won't make America great again, not in our time," Farrakhan said, The Associated Press reported, in reference to Trump's famed campaign slogan. "She became great killing Native Americans. She became great enslaving us, bringing us from Africa into America to work the cotton fields. You're not going to get that opportunity back anymore."

"Trump is an anomaly. He's someone that doesn't fit the norm. You expected a man to be like the other presidents. You wanted him to be more presidential," he added, presumably directed toward white America. "He's so transparent. You wanted him to put on a suit and act dignified like the thieves and robbers that dress in suits and tell lies ... He's telling lies all right. And you're angry because he's your reflection. He's an anomaly. You can't make him what you desire him to be so you that can say, 'That's my president.' He wasn't made that way."

Farrakhan also said Trump has been "planning a war" against black people, particularly youth.
What else did Farrakhan say?
Farrakhan stood next to an enlarged cover of a book titled "How Jews Gained Control of the Black American Economy" and insisted he isn't anti-Semitic.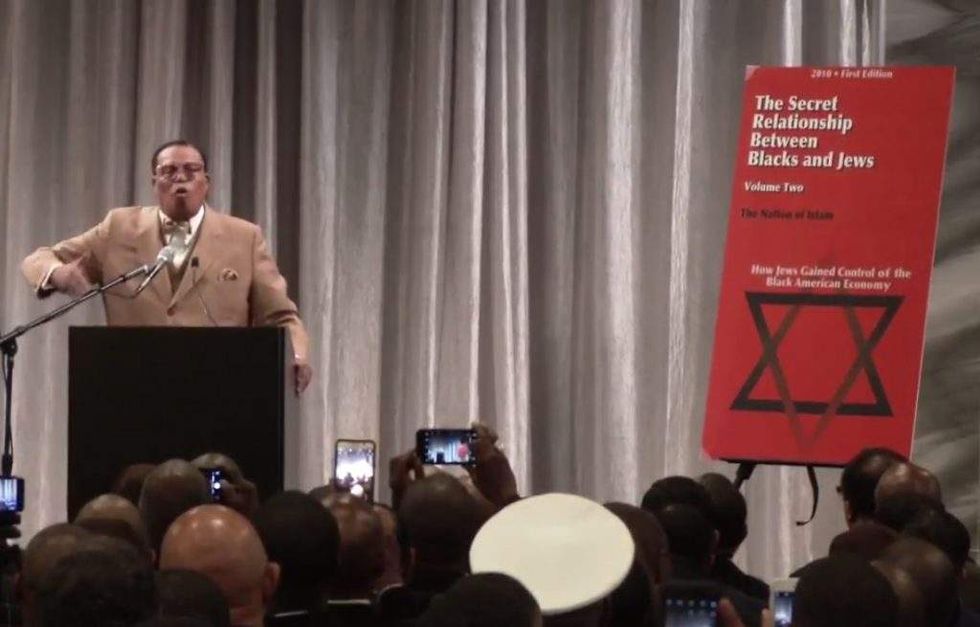 Image source: YouTube screenshot
"There are righteous Jews, good Jews, Jews that want to practice the teachings of the prophets," Farrakhan said. "But then there are others who don't wish to practice, and it is they that hated Reverend [Jesse] Jackson's desire to be president."
Here's Farrakhan's speech. The portion in which he says Trump should "repent" comes just after the 1:50:00 mark:
(H/T: Truth Revolt)