A police officer shot a suspected shoplifter who pointed what turned out to be a BB gun at the cop inside a busy Texas shopping mall on Sunday afternoon, KXAS-TV reported.
What went down?
Arlington police said one of their off-duty officers was working security at The Parks at Arlington mall when the Sunglass Hut reported the theft of two sunglasses, KTVT-TV reported.

The suspect ran toward an escalator on the mall's lower deck near the food court, KTVT said.

The suspect then pointed what appeared to be a handgun at an officer, Arlington Police Department spokesman Lt. Christopher Cook told KXAS.

Cook said the officer fired and struck the suspect multiple times, KXAS noted.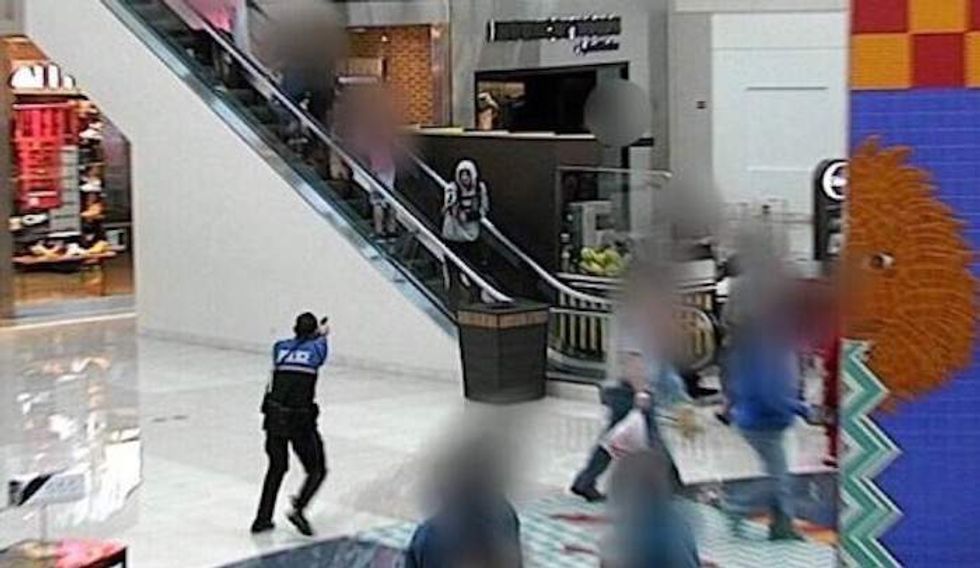 Image source: Arlington police via surveillance video
Police said the suspect in his early 20s was taken to a hospital and is listed in critical condition, KTVT reported, citing a source.

One man working at a balloon stand took video of the suspect crumpled on the elevator after the shooting, KXAS said.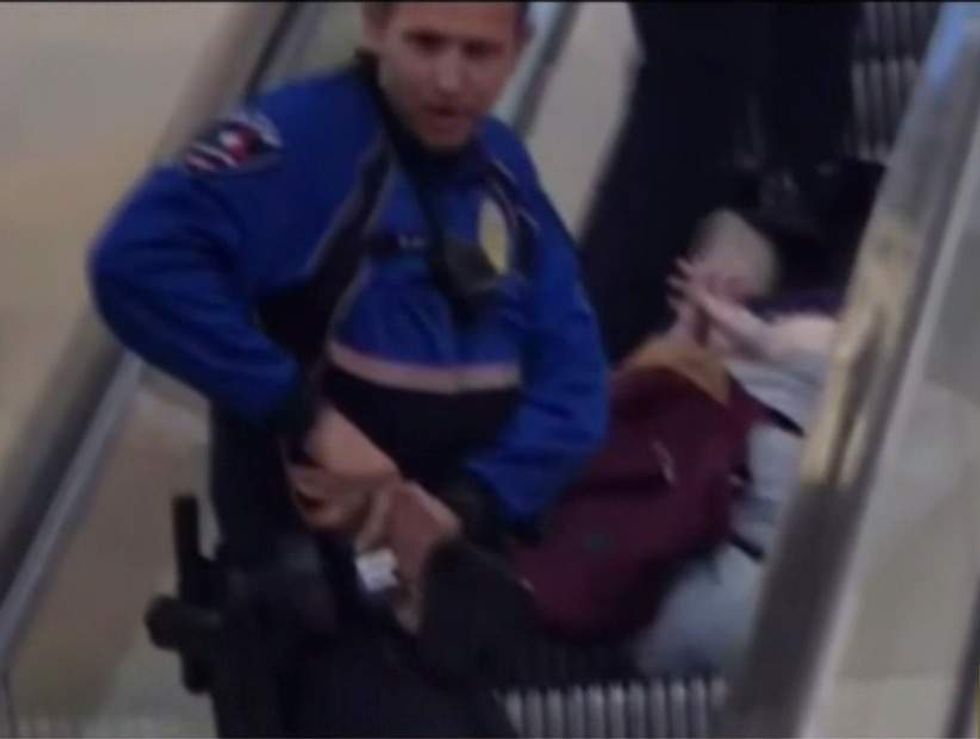 Image source: KXAS-TV video screenshot
The officer who fired the shots is OK, KTVT said, and there were no other injuries.
What did police discover?
The suspect's gun fires BBs or pellets, police told KTVT.

"Replica imitation firearms/BB guns have no place in society when used in criminal endeavors," Arlington Police Chief Will Johnson said in a tweet. "There is no training that would allow officers to distinguish between what's real & what's fake in a matter of seconds."
"This happened when the mall was extremely busy, there were a lot of bystanders," Cook said of the 4:30 p.m. shooting, KXAS reported. "But luckily no one else was injured in this incident."
How did bystanders react?
"We were scared so we ducked behind a jewelry store," teenager Quan Nguyen told KTVT. "Everyone was running into restrooms… it was really crowded."

Nguyen recorded video of people running and ducking for cover, KTVT reported.
"After the first shot rang out, people were just standing there looking around," Nguyen added. "And then two more shots, and people started screaming, running and finding a place to hide."

Nguyen and his cousins huddled together for 15 minutes, KTVT said.

"We were all freaking out," he said. "My mom and my aunt were at a different store, so we weren't sure if they were okay or not."

Nguyen was reunited with his family, KTVT said, and police took them to an emergency exit.

Shopper Edith Shepard told KTVT that "people were crying … trying to get their kids. Kids were getting run over. People didn't know what to do. People in wheelchairs … it's crazy."
The mall was evacuated and closed, KTVT reported, but mall officials said it will be open during normal business hours Monday.
(H/T: Blue Lives Matter)