A new Change Research poll that showed GOP candidate Roy Moore losing ground in the election for Alabama's U.S. Senate seat now shows him with a widening lead.
Here's what the poll says:
The same poll showed Roy Moore up by 4 percentage points earlier in the month, then dropping behind the Democratic candidate by 3 percentage points, but regaining the lead with a 5 percentage point spread.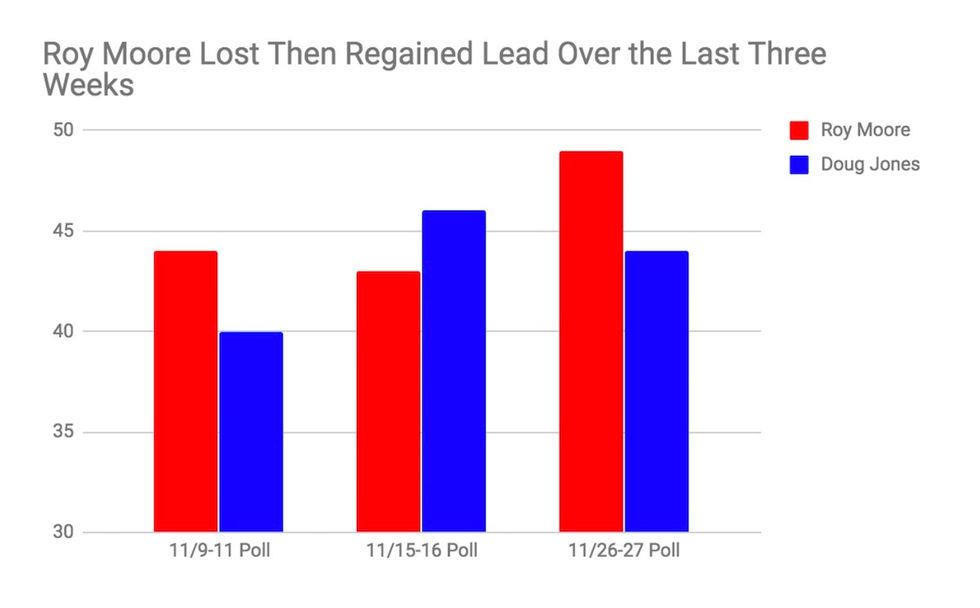 (Image source: Medium.com screenshot)
The poll indicates that allegations of sexual harassment against Moore damaged him greatly, before he rebounded back into the lead.
Why such a huge change in voter opinion?
The analysis from Change Research seems to indicate that the change in voter opinion towards Moore has to do with lessening belief in the allegations of sexual harassment against him.
Compared to ten days ago, fewer Republicans believe the allegations against Moore. While all voters believed the allegations by a 46–30 margin ten days ago, they now believe them by only 42–38. Among Trump voters, the split was 16–51 (believe-don't believe) in the middle of the month, and it's 9–63 now. However, Hillary Clinton voters' belief of the allegations has remained constant: 91% believe them and 1% disbelieve them.
They also point to what appears to be a jump in turnout - more Republican voters say they will vote, with those planning to stay home decreasing in number.
The number of Alabamans who believe he should be expelled if voted in has also fallen precipitously:
While voters were previously evenly split on whether Moore should be expelled if elected to the Senate, 50% now believe he should not be expelled, while 38% think he should. Likewise, the number who agree with Senator Richard Shelby's suggestion that Moore should drop out of the race has dropped from 36% to 33%.
How reliable is this poll?
The poll sampled 1,868 registered Alabama voters as self-reported, and carries a margin of error of +/- 2.3 percent.