Sharon Reed, a news anchor for WGCL-TV in Atlanta, took a few moments out of Tuesday's live broadcast to address a viewer's email that chided Reed's discussion about race amid the Atlanta mayoral campaign.
The email also called Reed the N-word:
"You need to be fired for the race baiting comment you made tonight. It's o.k for blacks to discuss certain subjects but not whites, really??? You are what I call a [N-word] not a black person. you are a racist [N-word]. you are what's wrong with the world."
Reed had the text of the email shown onscreen — the double misspelling of the N-word was redacted. She then read the text out loud and then looked into the camera, speaking directly to the email writer.
"I didn't say that white people couldn't talk about race," Reed said. "Quite the contrary, we think that race is an authentic discussion to have. It's one we're having tonight because it's one many of you are talking about at home, and it's one that has clearly entered the Atlanta mayor's race."
Reed said that "my colleagues and I — white and black — we decided, 'Hey, let's go for it, right?' Because we do try to keep it real here, and I think we do a very good job of it."
Then came the takedown.
"So I think when arguing with somebody, you have to be careful not to mischaracterize their viewpoint, so I won't mischaracterize your view, either, Kathy Rae," Reed continued. "I get it. On December 5, 2017, you think it's OK to call this journalist a [N-word]. I don't."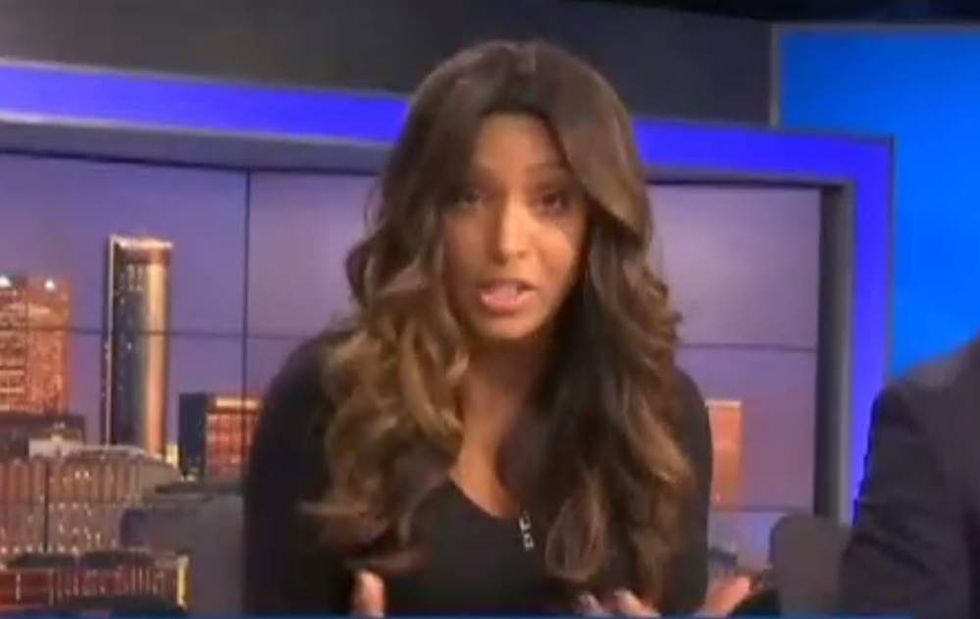 Image source: WGCL-TV video screenshot
She wasn't done.
"But I could clap back and say a few things to you," Reed added. "But instead I'll let your words, Kathy Rae, speak for themselves. And that will be the last word."
Image source: WGCL-TV video screenshot
Comments regarding Reed's words were mostly positive, with folks saying the anchor "owned" the email writer and that Reed was "brilliant" in her response.
Reed noted on Facebook that it "just another day at the office. Not the first time I've been called that word."
Here's the clip. (Content warning: Reed uses the N-word):