Police at a Philadelphia college were investigating flyers posted on campus calling black supporters of former Democratic presidential nominee Hillary Clinton "stupid n*****s" because their primary votes prevented rival Sen. Bernie Sanders (D-Vt.) from winning the White House in 2016, Philly.com reported.
As Temple students and as a university we MUST do better. If you have any info please contact Temple's campus safet… https://t.co/d1EDI9hTf8

— Progressive NAACP (@Progressive NAACP) 1513226325.0
The three flyers discovered Thursday at Temple University stated: "Hey you stupid n*****s Bernie would have won if it wasn't for you. Seriously, f*** you all. This is all your fault." This link shows an unredacted image of the flyers. (Content warning: Racial slur and profanity.)
Black voters overwhelming favored Clinton over Sanders in the primaries, WPVI-TV said.
"This is disgusting, hateful, and has no place on our campus," Temple spokesman Ray Betzner told Philly.com, adding that campus police "are reviewing video footage and seeking witnesses who may have seen something."
The national NAACP noted that students "should never have to face this type of hatred!"
Students should never have to face this type of hatred! https://t.co/M5JtPD02ae

— NAACP (@NAACP) 1513270580.0
Temple's Progressive NAACP, College Democrats and the school's student body president all condemned the flyers, the paper added.
Police have a person of interest seen in surveillance still photos and are asking those with information about the individual to come forward, WPVI reported.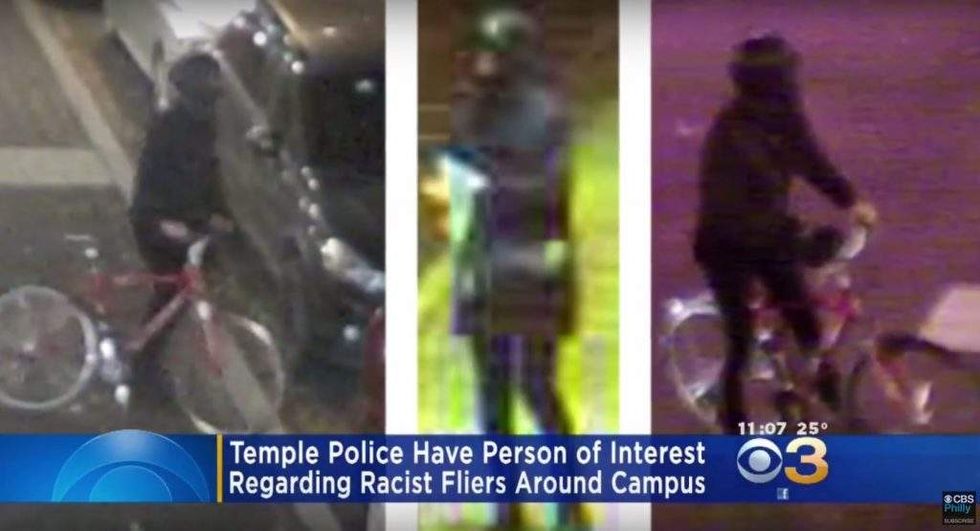 Image source: YouTube screenshot
Is it all a hoax?
Some Twitter users have said Sanders' supporters can't possibly be responsible for the flyers and point the finger at those seeking to cause division among the left.
But another Twitter user wrote that "so many Bernie supporters called me a house [expletive] saying I worked on the Clinton plantation" and used "other racial slurs."
(H/T: The College Fix)