Looking for a last-minute Christmas gift for kids between the ages of 4 and 8?
That's the age range for readers of "Santa's Husband" — an illustrated children's book depicting St. Nick as gay, black and married to a man.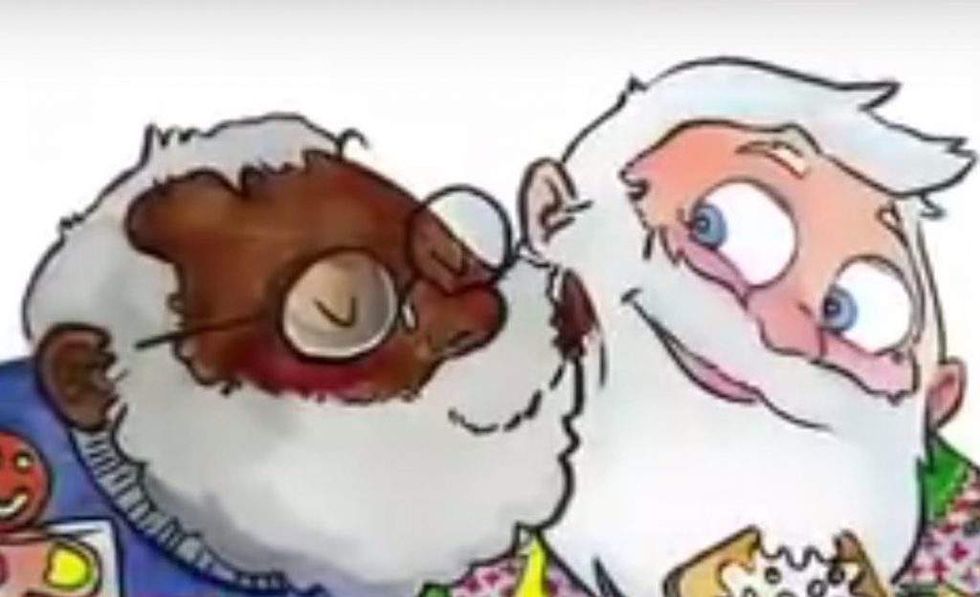 Image source: YouTube screenshot
Author Daniel Kibblesmith is a staff writer with ultra-liberal "The Late Show With Stephen Colbert," and he said during a CNN interview about "Santa's Husband" that it was inspired by Americans "pretending that there's a giant war on Christmas and that traditional Christmas is under attack."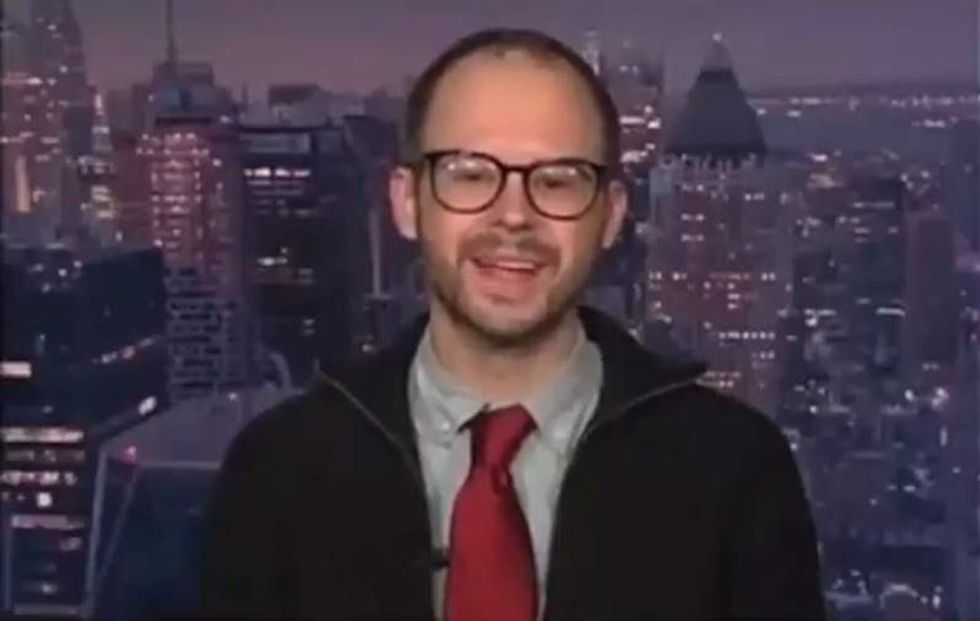 Daniel Kibblesmith (Image source: YouTube screenshot)
"We were reading all of the news about Mall of America hiring a black Santa Claus last year, and me and my now-wife made a joke on Twitter that if we ever had a child they would only know about black Santa Claus, and if they saw a white Santa Claus at the mall we would just explain 'Well, that's his husband,'" Kibblesmith told the network.
What else is in 'Santa's Husband'?
One spread reads, "Like any married couple, they have their disagreements. But they always manage to kiss and make up — usually over a plate of milk and cookies."
The book's Amazon description adds that readers can "see the Clauses sitting by the fire at their cozy North Pole home, vacationing at the beach" as well as "celebrating their wedding day, and comforting each other when some loudmouth people on television angrily dispute Santa's appearance and lifestyle."
There's also moments of "feeding the reindeer (organic gluten-free grains, of course)," "negotiating labor disputes with the restive workshop elves," the description notes. Other issues such as health care coverage and climate change are in there, too, CNN noted.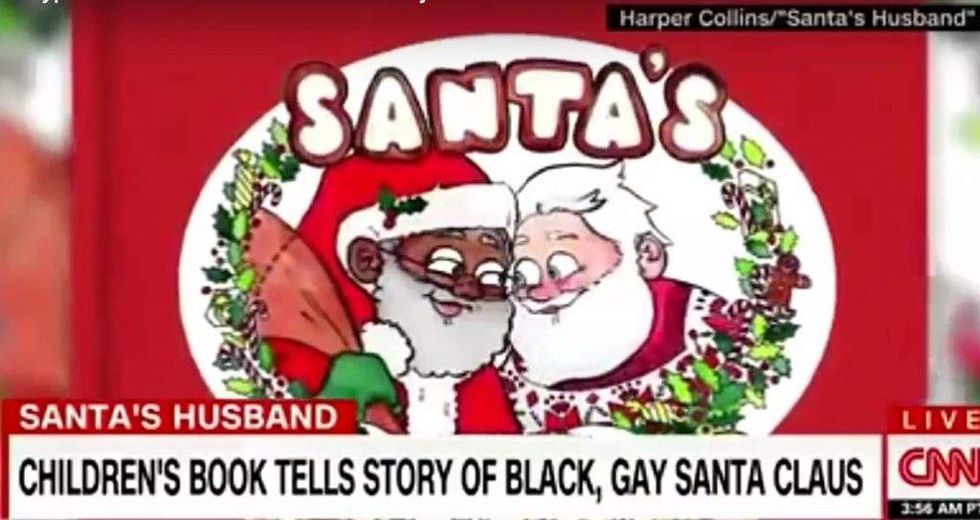 Image source: YouTube screenshot
What are customers saying about "Santa's Husband"?
"I'm a gay man and honestly the book is pretty patronizing and obviously meant to take two sweet things, the image of Santa Claus and love between two adults, and use them as a tool to express a political opinion in a polarizing way (especially the news anchor scene) in the guise of a children's book," wrote one customer on Amazon, according to CNN, although that review wasn't on the site Thursday.
That same customer added, "I'm a little disgusted that the authors obviously used homosexuality as a political weapon to make a political statement under the cover of children."
But another customer reacted differently:
I'm African-American and my family collects black Santa figurines, but I grew up never seeing black Santas in the mall or on TV. Now that my nephew is two, he's starting to understand the idea of Santa, and this book lets him know that Santa isn't just the old white fellow he sees in the mall. The "real Santa" looks more like him, and that's kind of cool. And why not laugh and learn about a few other progressive causes along the way. Such a sweet read and a beautiful addition to the legend and lore of the jolly old elf.
"Because I'm a lefty liberal who believes everyone has a right to live as they wish as long as no one is being hurt, I decided to show my support to author Daniel Kibblesmith by buying his book, 'Santa's Husband,'" another customer wrote, adding that the story is "heavy handed" and the artwork is "boring."
Another customer called the book "tokenizing" and suggested that because Kibblesmith and his illustrator are white could be the problem. "Input from a black author would have resulted in a better book for our kids, who deserve better," the review added.
What did Kibblesmith have to say about negative reaction to the book's politics?
Kibblesmith didn't deny that the book contains numerous left-wing perspectives, but he added to CNN that "these are the things that I care about and that I'm interested in."