Avowed left-wing actress Meryl Streep has made headlines of late over what many have called her silence in regard to voluminous sexual assault allegations against movie mogul Harvey Weinstein.
The latest volley came late last month from an artist posting images of Streep standing next to Weinstein with the actress' eyes covered by the words "She knew":
And in a New York Times interview published Wednesday, the paper asked Streep for her reaction to "the fact ... that people are waiting for you to speak" on the Weinstein issue.
How did Streep respond?
Streep completely sidestepped the question by pointing her finger at Melania Trump and Ivanka Trump, presumably in reference to sexual harassment allegations against President Donald Trump.
"I don't want to hear about the silence of me," Streep told the Times. "I want to hear about the silence of Melania Trump. I want to hear from her. She has so much that's valuable to say. And so does Ivanka. I want her to speak now."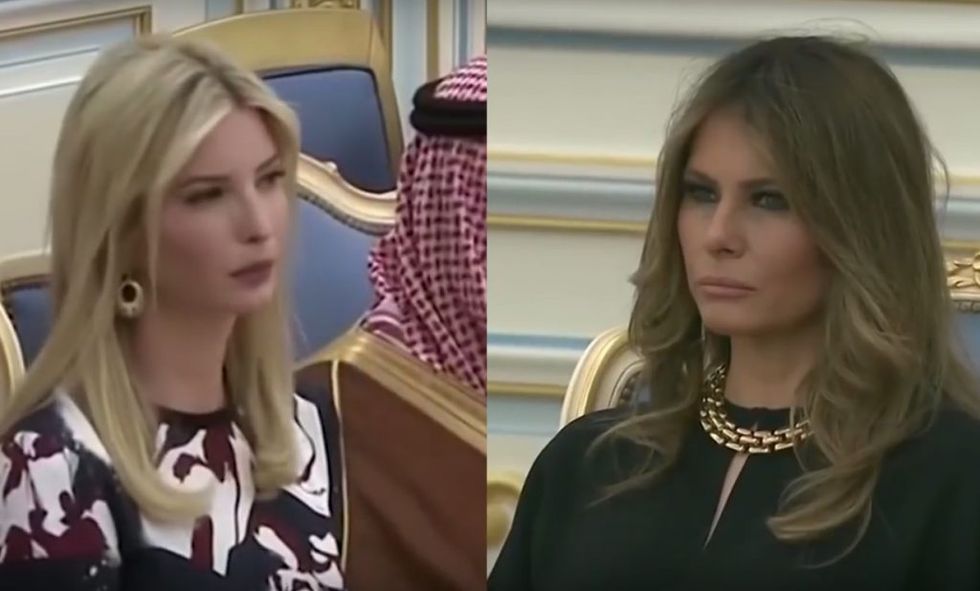 Image source: YouTube screenshot
Streep is no fan of the Republican president. She ripped Trump as a "bully" in a Golden Globes acceptance speech a year ago without mentioning his name. Trump hit back at Streep, calling her a "Hillary flunky."
What did Streep say regarding her Weinstein 'cluelessness'?
The actress said not being on social media was a contributing factor to her not responding immediately.
"I found out about this on a Friday and went home deep into my own life," she told the Times. "And then somebody told me that on 'Morning Joe' they were screaming that I haven't responded yet. I don't have a Twitter thing or — handle, whatever. And I don't have Facebook. I really had to think. Because it really underlined my own sense of cluelessness, and also how evil, deeply evil, and duplicitous, a person he was, yet such a champion of really great work."
Streep added to the paper that the Weinstein news was a "shock. Some of my favorite people have been brought down by this, and he's not one of them."
Streep had a different view of Weinstein in 2012 as she spoke from a Golden Globes stage and called him "God" — clarifying she meant it in the "Old Testament" sense — and also referred to him as "the punisher."
What did Streep say about her own experiences?
The actress added to the Times that she fell victim to "things, mostly when I was young and pretty. Nobody comes on to me [now]. So I wouldn't have had that more recently. But back in the day, when everybody was doing cocaine, there was a lot of [expletive] behavior that was inexcusable. But now that people are older, and more sober, there has to be forgiveness, and that's the way I feel about it."