Billie Joe Armstrong — the outspoken left-wing singer of pop-punk band Green Day — is arguably as well known these days for hating Republican President Donald Trump as for his music.
Indeed Armstrong didn't hold back in the wake of Trump's controversial tweet directed toward North Korean dictator Kim Jong Un, as the president bragged about his access to a "much bigger & more powerful ... Nuclear Button."
"This isn't funny. This is our president acting like a madman drunk on power THREATENING to kill innocent starving people by way of nuclear war," Armstrong wrote on Instagram alongside a screenshot of Trump's tweet. "The 25th amendment needs to be enforced. This man is sick and unfit for office. I don't care if your [sic] liberal or conservative.. this has to stop . Please share #impeachtrump."
Well, not every Armstrong fan agreed with his sentiments.
"I hate to sound like a dick Billie but you are liberal and people have the right to support trump and whatever you say won't change anything to trump supporters," one fan responded, Alternative Nation reported.
But Armstrong didn't let the comment go without an expletive-laden retort, the outlet said: "well then go f*** your self you stupid piece of s**t. If that's the way you feel about mass destruction and murder then f*** off. Stay the f*** off my Instagram and don't come back. Don't listen to my f***ing records. I have no problem telling ignorant f***s like you to go to hell. That goes for any other stupid f***s that thinks [sic] this behavior should [be] normalized. Get the f*** out!"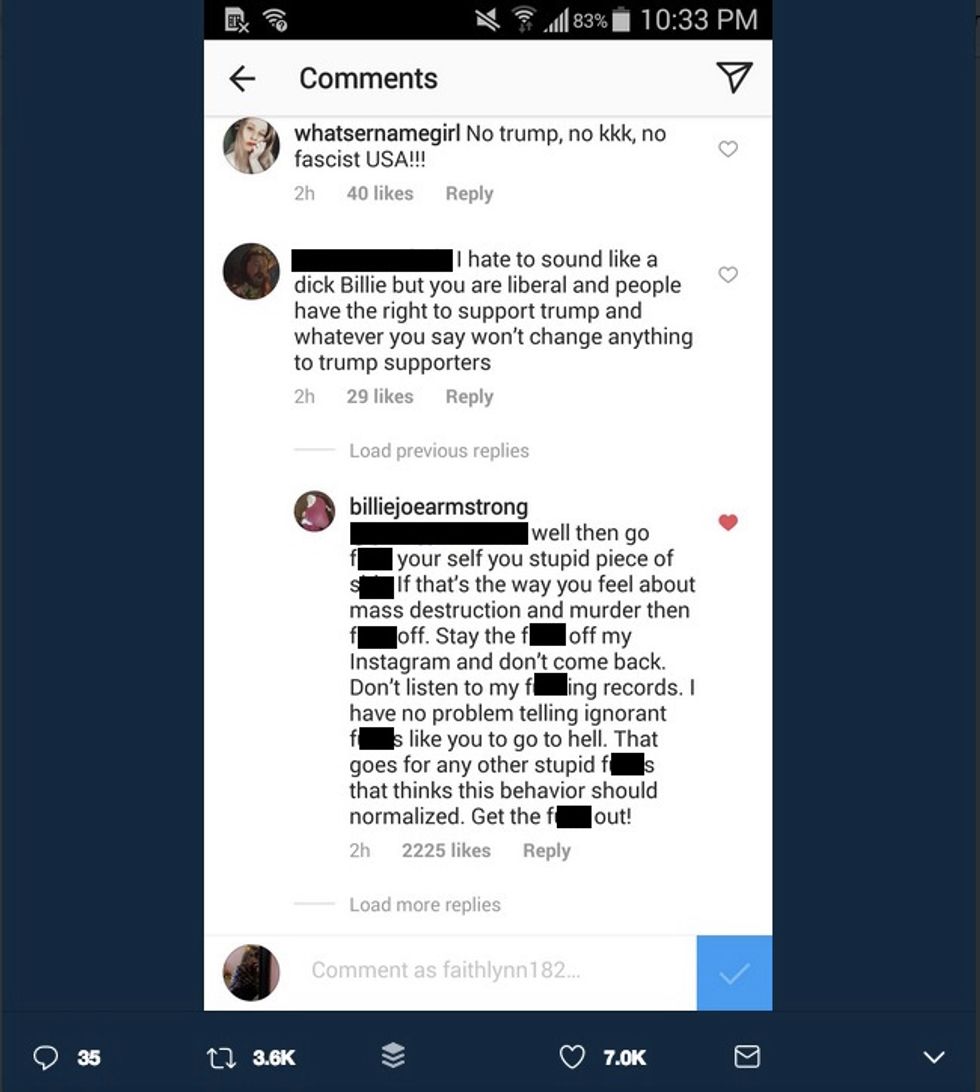 Image source: Twitter, redacted
What else has Armstrong said about Trump?
After Trump's 2016 nomination, Armstrong referred to Trump as "f***ing Hitler" and added that "the worst problem I see about Trump is who his followers are."
After Trump's election, Green Day performed a version of "Bang Bang" at the American Music Awards with Armstrong spitting out a refrain of "No Trump! No KKK! No fascist USA!"
On Martin Luther King Day 2017, Green Day released a controversial music video in which the head of a figure resembling President-elect Trump was on fire and then was enveloped in Ku Klux Klan pointed hats.