You might recall prepubescent drag queen "Lactatia" who made a big splash on the Montreal drag scene last year at the tender age of 8 — all with parental assistance and encouragement.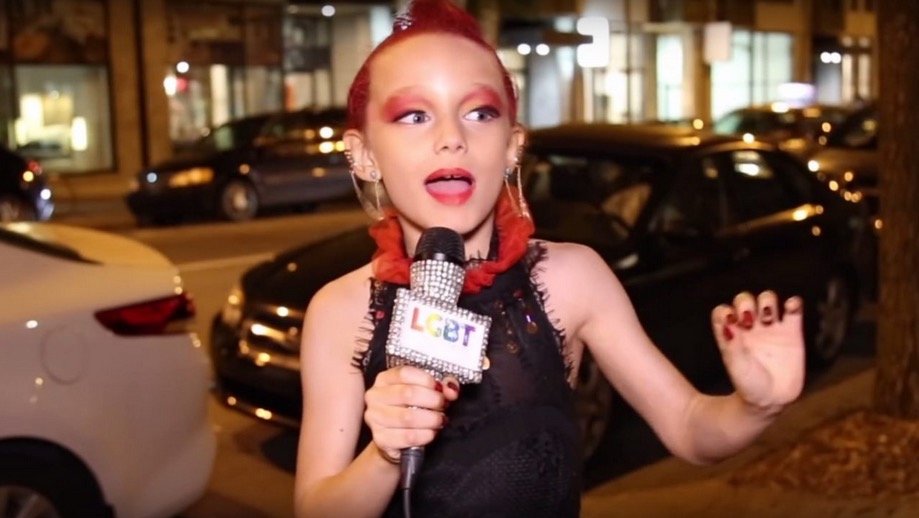 Image source: YouTube screenshot
Notably Lactatia opined at the time, "If you want to be a drag queen and your parents don't let you, you need new parents."
Lactatia has since caught the eye of Brandon Hilton, an "LBGT artist, actor, activist & designer" who last week posted photos of the pint-sized drag queen in a sequin "onesie" as part of his clothing line, which specializes in "boudoir couture ... that coaxes out that inner diva."
After initially writing that Lactatia is 8 years old — the drag queen's age appears to be 9 — Hilton defended the photos, saying he "woke up to countless tweets telling me 'kill yourself' and calling me a 'pedo' after we announced 9 year old drag superstar Lactatia as our new HOUSE OF MANN covergirl..."
"If you can't handle a kid in a sequin onesie, maybe the future isn't for you!" Hilton added.
"I think this new generation of drag kids is brilliant and inspiring!" Hilton added in another tweet, noting that Lactatia is part of "the future" and that House of Mann "is just making sure" the young drag queen looks "SICKENING!"
"[P]eople will talk no matter what, might as well give them something FIERCE to look at!" Hilton added.
And apparently Twitter was unconcerned about the images of Lactatia:
But by the time Monday rolled around, Hilton was in full defense mode, tweeting that when Lactatia "picked a custom onesie from us, we did not think to discriminate against her due to her age. Lactatia has the right to wear a onesie."
He added: "When she sent us photos, to post among the other posts of our customers in their House Of Mann costumes, we didn't think to discriminate. Because we made men's underwear and made a onesie for Lactatia does not mean that we condone child abuse."
And Hilton underscored the latter declaration for good measure:
Here's a clip of Lactatia making the rounds at RuPaul's DragCon NYC 2017:
(H/T: BizPac Review)