When Mary Thompson found out, she was crushed.
The 14-year-old told KOTV-TV a boy she barely knows posted a Snapchat photo of her along with the caption, "I didn't know water buffalo were allowed to ride the bus" — and the image was making the rounds at her Oklahoma school.
"I cried myself to sleep the night I found out," the Locust Grove High School freshman told KJRH-TV.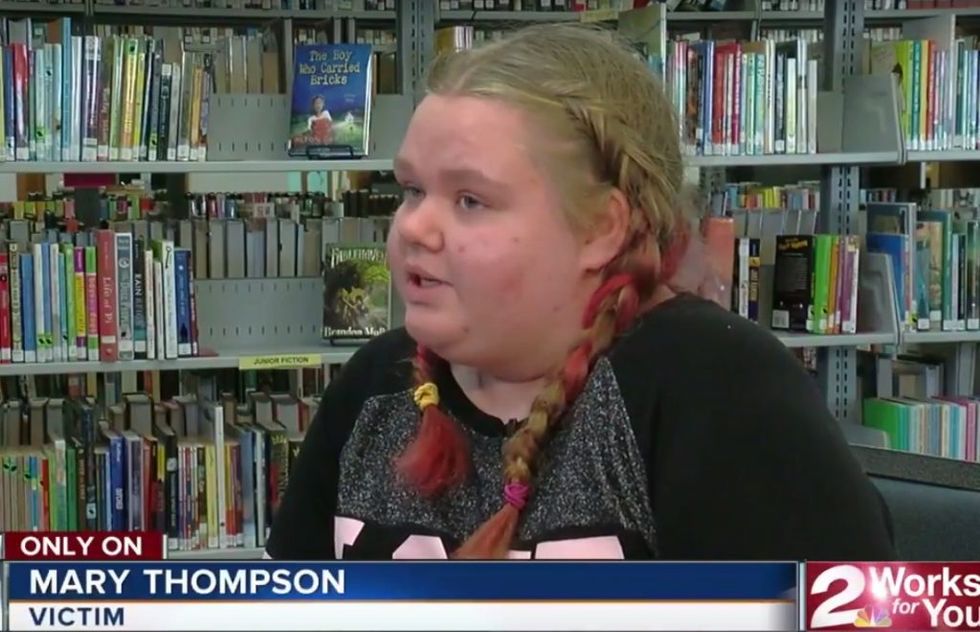 Image source: KJRH-TV video screenshot
Mary added to KJRH that she was "shocked because I've never done anything to the person that posted it." In fact, she told the station the only time the pair ever had interacted was when he once left his wallet on the bus — and she returned it to him.
And instead Mary's kind deed was paid back with an added fear that "people are going to give me a new nickname ... the water buffalo," she told KJRH.
But rather than letting the misdeed slide and staying silent, Mary decided to stand up to the bully and fight back.
How did Mary fight back?
First, she reported the photo to the school, KJRH said — and then she used social media to stand up to her tormentor.
"I'm fed up with cyber bullying, it's not right, it doesn't make you look better as a person to put others down," Mary wrote on her Facebook page Jan. 11, including the Snapchat photo in question and encouraging others to share her message. "I don't appreciate being called a water buffalo."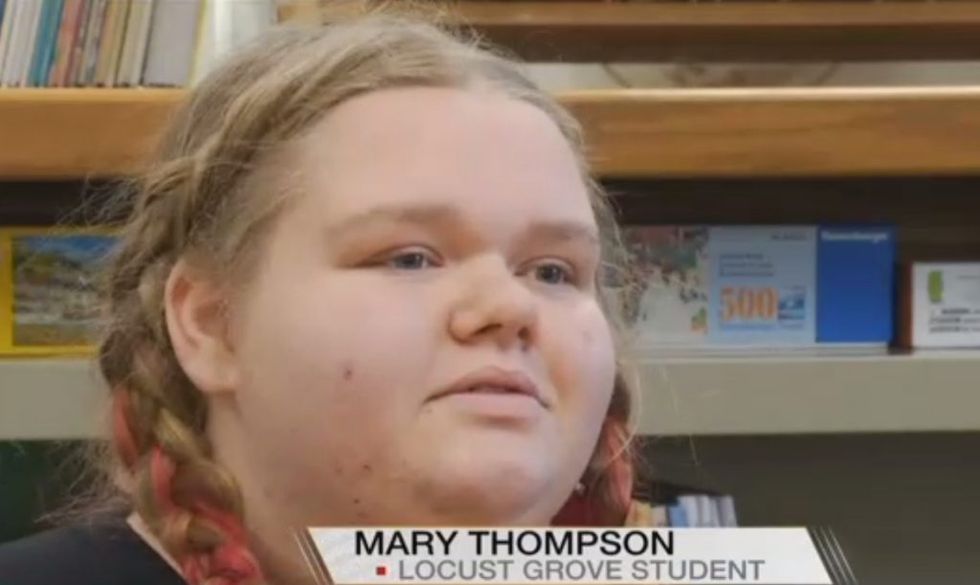 Image source: KOTV-TV video screenshot
Mary added to KOTV that she "wanted to make sure that other victims of bullying know that it's okay to speak out, and you need to report it."
Soon Mary was receiving heartwarming responses not only from people she knows and loves — but from strangers.
"I got multiple messages saying that I'm beautiful," Mary told KJRH.
What happened to the cyberbully?
As for the boy who posted the Snapchat photo, Mary told KOTV he was given only three days of in-school detention and that he hasn't apologized — not that it's stopping Mary from taking the high road, mind you.
"I forgive him," she added to KOTV. "But I don't want him to say anything like that to anyone else."
In fact, the station said the culprit began getting threats — but that's not what Mary wants, either.
"Just stop it," she told KOTV, reacting to those leveling threats at the boy. "That's not what I meant to send out at all."
What else did Mary do?
A few days after she shared the Snapchat photo and its awful caption, Mary took control again by posting a Facebook video of her sharing a song — as well as a message of encouragement to her peers who get picked and pushed around.
"If you are getting bullied, you need to speak up," Mary said in the clip and reminding others to "stay strong" and never "let the haters get you down."
And she had a message for her "haters," too: "I don't give a crap what you say. I am a child of God. Calling me a water buffalo won't change that."
What did the school district have to say about all this?
The superintendent of Locust Grove Public Schools on Tuesday didn't immediately reply to TheBlaze's request for comment.