It was after midnight Wednesday when homeowner Ashton Gallagher was eating before getting ready for bed when he heard noises outside his Maysville, Alabama, home.
Gallagher looked at his surveillance video and spotted two men trying to steal his utility trailer — and then took action.
"I grabbed my gun and headed out here and was like, 'Hey, y'all need to drop my trailer.' I said it more aggressively than that," he told WAAY-TV.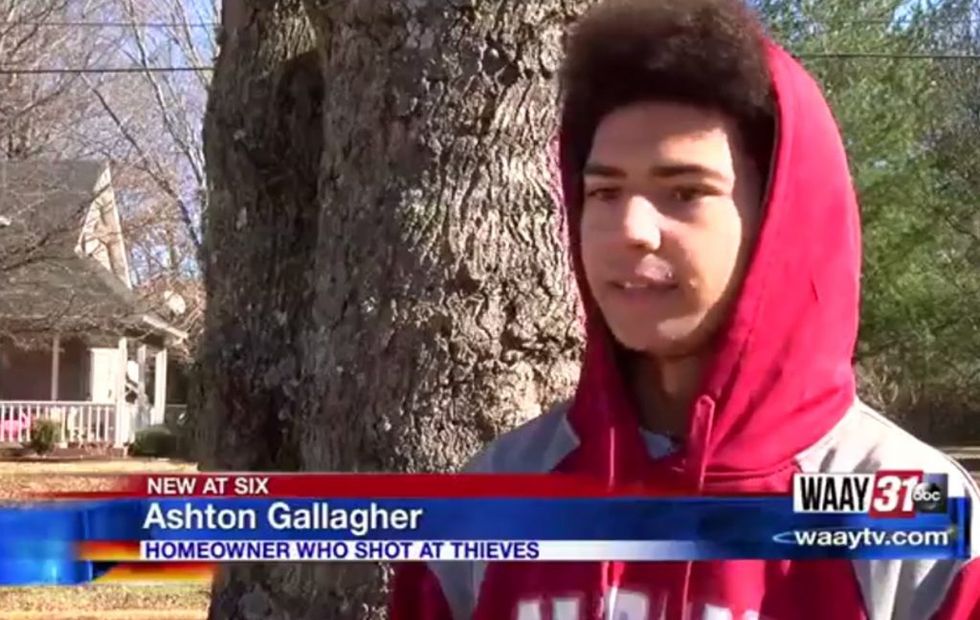 Image source: WAAY-TV video screenshot
The crooks didn't drop it — so Gallagher said he opened fire at the trailer, which is an integral part of his daily income.
"That's pretty much how I make my money," he told the station. "I do landscaping. So that's part of my living. If that's gone then I have to go through everything else to get it back."
What did Gallagher hit with his gunfire?
While Gallagher successfully blew out one of the trailer's tires — which led 42-year-old Robert Dale Bradshaw to abandon it nearby — police told WAAY the gun-toting homeowner also hit the second suspect.
Derick Deangelo Vaughn, 31, ran from the scene and was shot under his arm, the station said.
Both suspects were arrested early Wednesday morning and charged with second-degree theft, WAAY reported.
Vaughn was treated and released from a hospital and then booked back into jail, the station said. Bonds for both men were set at $5,000.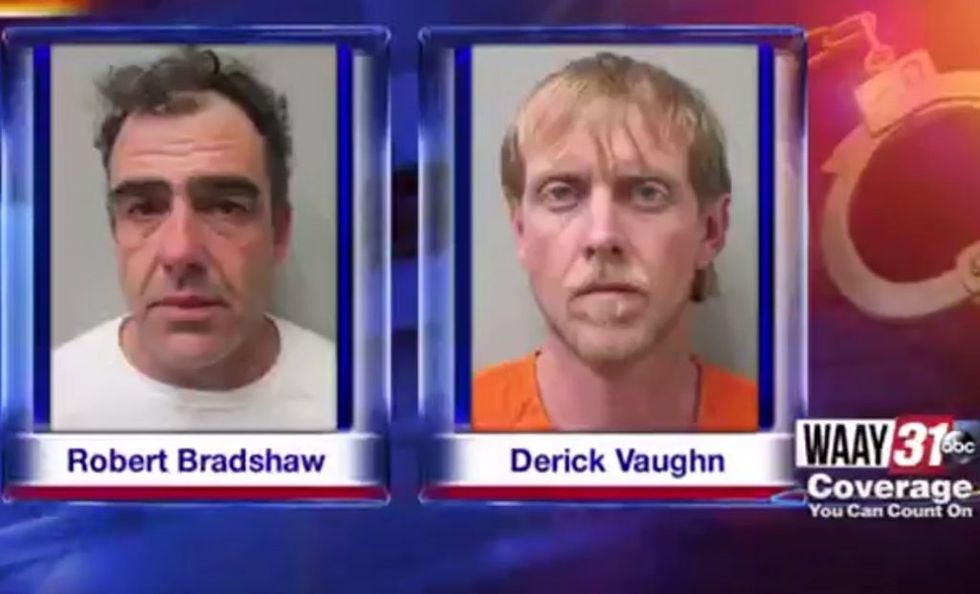 Image source: WAAY-TV video screenshot
"It wasn't intentional," Gallagher told WAAY. "I was aiming toward the vehicle. It's 1 in the morning, and I'm tired and next to being asleep."
What might happen to Gallagher?
Alabama Code Title 13-A justifies the use of force for citizens if they believe their lives are in danger, Madison County Lt. Donny Shaw told the station.
The district attorney will review the case, and it will be presented to a grand jury, which will determine if Gallagher will be charged, WAAY said.
"I'm aware of everything, but ... I don't see how I'll be in the wrong," Gallagher told the station. "Mainly because I'm defending my family and my property. I don't see myself being in the wrong at all."