A Duke University professor said the "architects" of libertarianism "seem to be on the autism spectrum" because they "don't feel solidarity or empathy with others" and sometimes have relationship troubles.
Nancy MacLean — a history professor and author of "Democracy in Chains: The Deep History of the Radical Right's Stealth Plan for America" — made her comments during a Thursday lecture about her 2017 book's thesis at All Souls Unitarian Universalist church in New York City, Campus Reform said.
During a Question & Answer session, an audience member asked about Nobel Prize-winning economist James Buchanan — who helped give birth to libertarianism, MacLean has argued — and where his "motivations" originated from and if "personal greed" or "malevolence" influenced them.
MacLean called the audience member's question "profound" and then proceeded to give her diagnosis, if you will.
What did McLean say about libertarians?
"I didn't put this in the book, but I'll say it here," she said. "It's striking to me how many of the architects of this cause seem to be on the autism spectrum — you know, people who don't feel solidarity or empathy with others, and who have kind of difficult human relationships."
Here's the video of her lecture and the subsequent Q&A session. MacLean's "autism spectrum" remark comes just after the 1-hour mark:
MacLean added that the late Buchanan seemed to have a "wound in him" and was part of a southern white culture that "celebrated the Confederacy."
What else did MacLean say?
Prior to her "autism spectrum" remark, MacLean tore into libertarianism, saying "social Darwinism ... drives the whole thing" and "there's always a slide from libertariansim into the 'alt-right.'" She added that libertarians believe capitalism is "absolutely wonderful, without flaws" — save for government involvement in it.
"Then they have to explain why some people have poverty over generations ... are not able to lift themselves up out of their circumstances in the way the libertarians prescribe, and so they slide off into the kind of racist thought that we associate with the 'alt-right,'" MacLean added.
She added that while libertarians are "well organized," they "wouldn't be much" without their money — and that "when they're exposed," it will be like "the emperor has no clothes."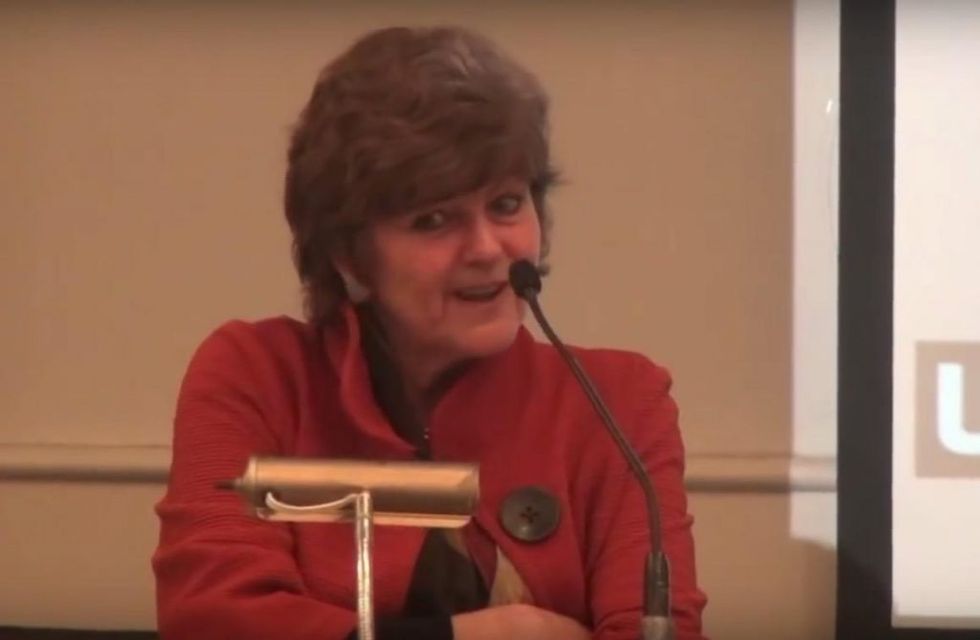 Nancy MacLean (Image source: YouTube screenshot)
In contrast, MacLean praised the left, calling attention to "the creativity, the passion, the intelligence, the resourcefulness that exists on the progressive side of politics, and I just see some really extraordinary people."
Campus Reform reported that neither MacLean nor Duke University responded to multiple requests for comment.
What else do we know about reaction to MacLean's book?
After National Public Radio published a glowing review last summer of "Democracy in Chains" — which was a National Book Award winner — the outlet attached an editor's note to the review saying that "questions were raised about Nancy MacLean's scholarship after the publication of Democracy in Chains" and that NPR addressed the issue in an Ombudsman column.
The column stated that "critics began raising complaints about MacLean's scholarship, ranging from charges she had misquoted some of those she cited to deeper questions about how she interpreted the history." The column also added that while "many of the critics of the book are libertarians, criticism has also come from some in the center and on the left."
More from NPR's Ombudsman column:
MacLean has strongly defended her work, on Facebook, and in an email interview with The Chronicle Review, a publication of the respected Chronicle of Higher Education. That publication also has a good piece about the controversy, which, it says, "has played out with unusual intensity."

As MacLean says in the interview, "The modus operandi of today's right wing goes well beyond normal book reviewing and customary academic debate." Some of the nastier commentary about her book certainly falls into that category; that commentary is not necessarily NPR-newsworthy (although I'm sure it's unpleasant for MacLean). But the debate over the scholarship is. NPR should consider assigning another piece delving into the criticisms, or, at least, append a note to the original review acknowledging the scholarship questions that were raised after the review appeared.
In addition, National Review noted last November that "Democracy in Chains" is "riddled with intentional deception and errors and one that has been criticized by commentators left, right, and libertarian."
"In simplest terms, 'Democracy in Chains' contends that Nobel Prize-winning economist James Buchanan, the central figure in public-choice theory, conspired over decades with billionaire Charles Koch to secretly undermine American democracy," the National Review piece added. "As Henry Farrell and Steven Telles write in Vox (Vox!) 'Why have so many left-wing readers embraced such a transparently flawed book? The most persuasive explanation is that MacLean confirms and extends their deep preexisting suspicions.'"