A high school student's grandmother called 911 Tuesday morning after finding her grandson's journal, which detailed plans to shoot his classmates at his Everett, Washington, school and also use homemade explosive devices, police said.
Officers responded to the residence, met with the grandmother and were shown excerpts of her grandson's journal — and were told the 18-year-old had a rifle stored in a guitar case, police said.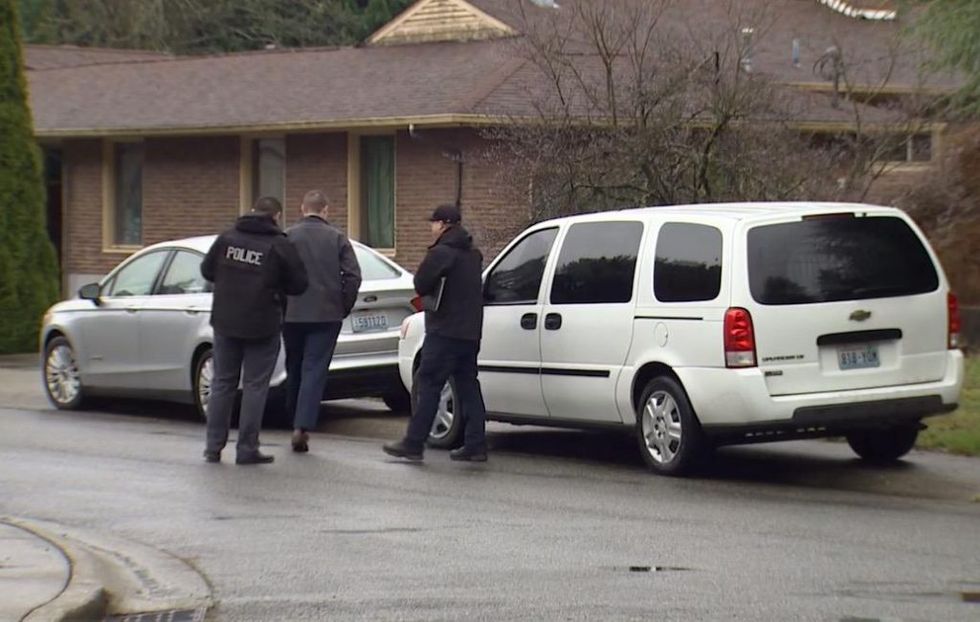 Image source: KING-TV video screenshot
Police were alarmed at statements in the journal directed at ACES High School students and then contacted officials there, telling them about the threat. Police arrested the grandson at the school and found a knife and marijuana on him.
What did the suspect allegedly write in his journal?
The suspect's writings included, "I can't wait to walk into class and blow all those [expletives] away" and "I need to make this shooting/bombing infamous. I need to get the biggest fatality number I possibly can," KING-TV reported, citing court documents.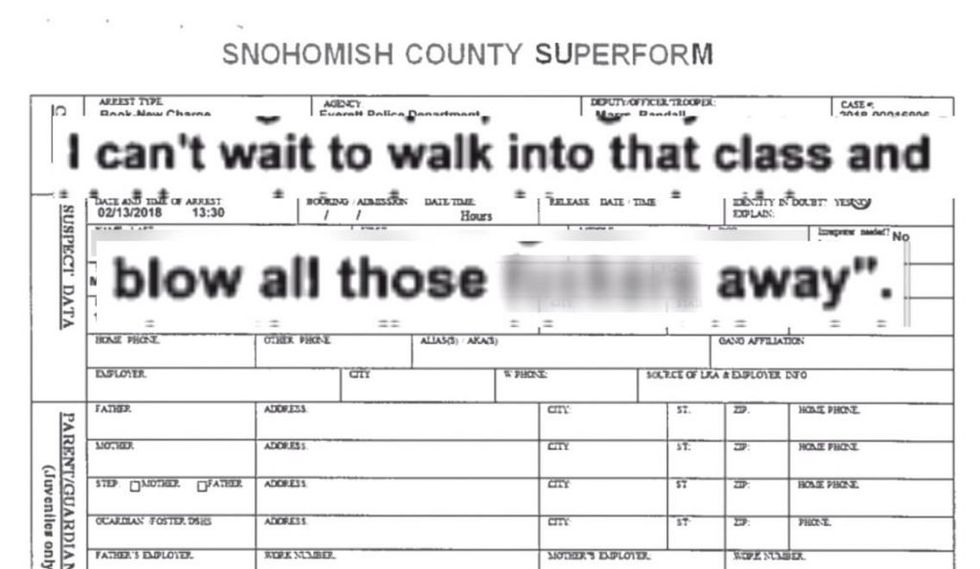 Image source: KING-TV video screenshot
"I'm preparing myself for the school shooting," he also wrote, according to the Herald. "I can't wait. My aim has gotten much more accurate."
The Herald also reported that he wrote, "I've been reviewing many mass shootings/bombings (and attempted bombings) I'm learning from past shooters/bombers mistakes."
Prosecutors said the student had inert grenades in his bedroom that he planned to fill with black powder and that the rifle in the guitar case was an AK-47, the station added.
What happened to the suspect after his arrest?
He was booked into jail on probable cause for attempted murder due to planning and taking substantial steps toward executing a school shooting, police said. He's also facing an assault charge for allegedly kicking an officer after he slipped out of one of his handcuffs and tried to escape Tuesday, KING added.
The suspect made his first appearance in court Wednesday and is being held on $5 million bail, the station said.
His defense attorney said he has no prior criminal history, KING reported, but police believe he used the aforementioned AK-47 to rob a convenience store Monday. Court documents state the suspect wrote in his journal about feeling powerful upon observing the female clerk's fear, the station added. The suspect admitted to the robbery, police told the Herald.
What else do we know about the suspect?
The student attended Kamiak High School in Mukilteo last year before transferring to ACES Alternative School this fall, KING reported, adding that authorities said he flipped a coin to choose which school to target — and ACES won. Both Kamiak and ACES are in the Mukilteo School District.
While KING said it isn't releasing the student's name because he hasn't yet been formally charged, the Herald identified the suspect as Joshua Alexander O'Connor.
How are others reacting to the arrest?
Andy Muntz, a district spokesman, told the station the suspect wasn't on their radar and that many are grateful to his grandmother for turning him in.
"It really speaks to the importance of if you see something or hear something to notify the authorities," Muntz told KING. "That's what she did. It could well have saved many, many lives, including her grandson's life."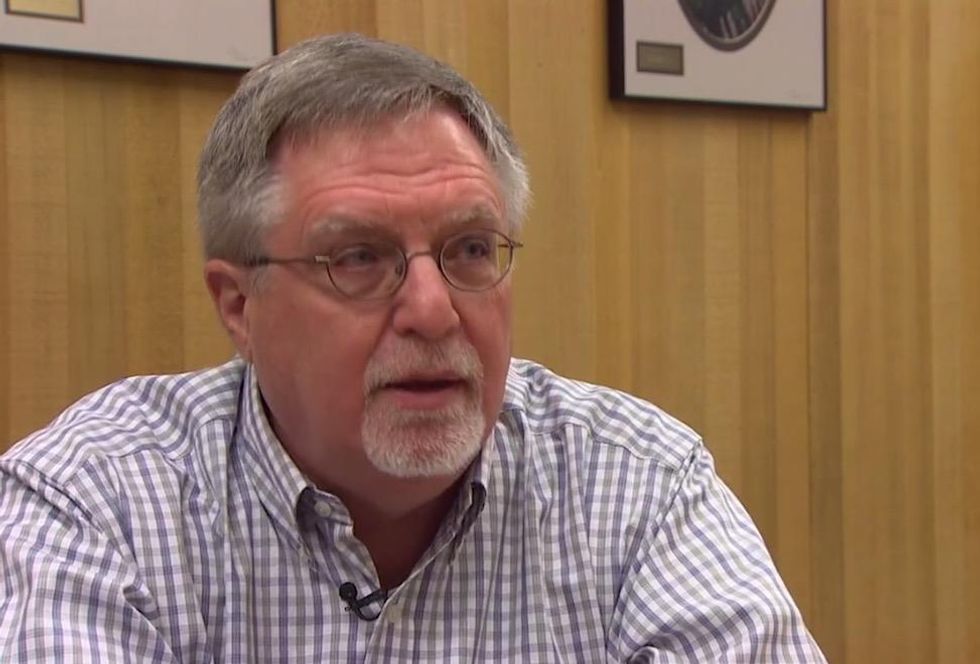 Andy Muntz (Image source: KING-TV video screenshot)
ACES student Olivia Fox told the station she was surprised by the accusations against her close friend.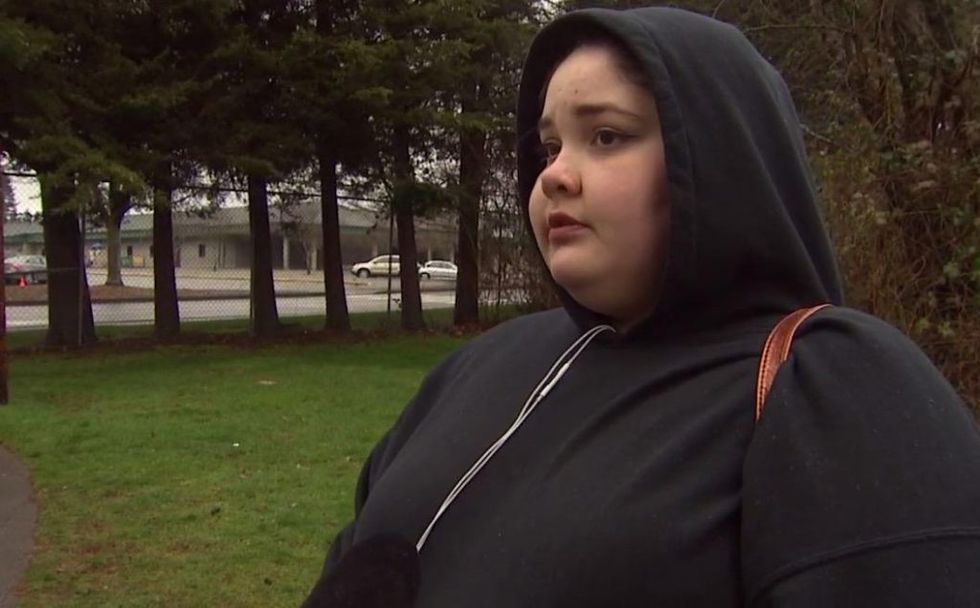 Olivia Fox (mage source: KING-TV video screenshot)
"There was lot of shock around the school when they released a picture of who it was," Fox added to KING. "Me and a couple of his other good friends are shaken up, because we know how good of a kid he is."