The Los Angeles-area public school teacher whose profane, anti-military classroom rant went viral last month came face to face with opponents Tuesday night — but not on the campus of El Rancho High School.
You see, Gregory Salcido also sits on the Rico Rivera City Council — and dozens attended the council meeting to boo him, hold signs blasting him, and simply to give Salcido a piece of their minds over his words recorded on cellphone about those serving in the military.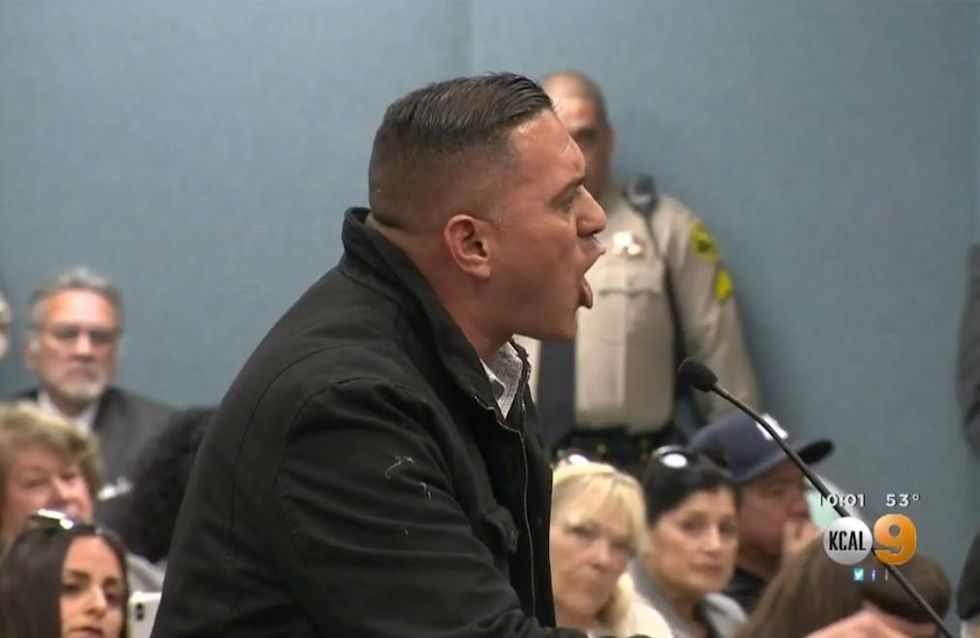 Image source: KCAL-TV video screenshot
"Think about the people you know who are over there. Your freakin' stupid Uncle Louie or whatever. They're dumbs**ts," he was heard saying to students in January. "They're not high-level bankers. They're not academic people. They're not intellectual people. They're the freakin' lowest of our low."
So many people showed up at the council meeting that city officials set up TVs and chairs outside to accommodate overflow attendees, KCAL-TV reported.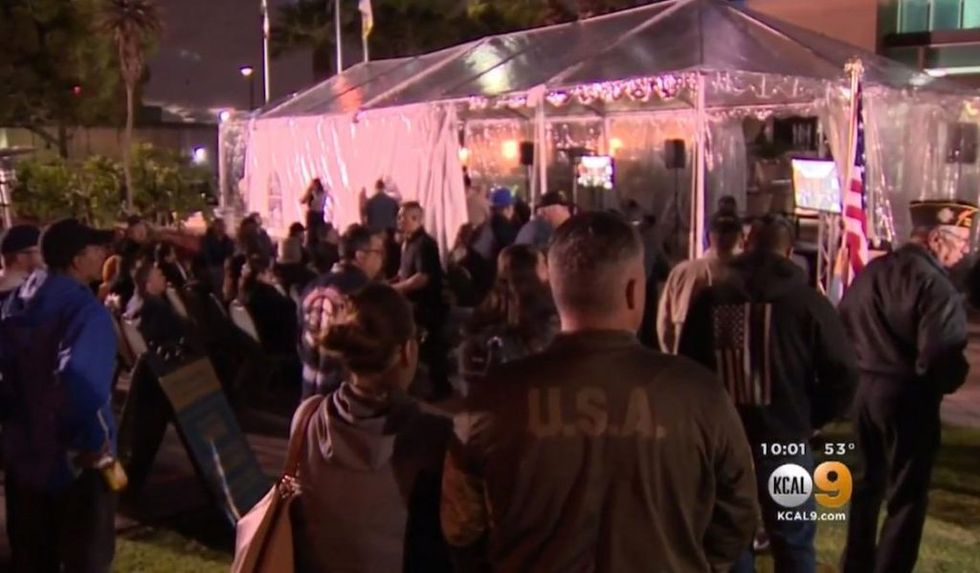 Image source: KCAL-TV video screenshot
What did Salcido's fellow city council members have to say?
But they would have to wait until council was done with its business — and the most prominent item was a resolution calling on him to resign. It passed with 3-1 vote, the Los Angeles Times reported, adding that Salcido voted against it and declared he has no intention of stepping down.
The council does not have the power to remove Salcido from office, KCAL said, adding that a recall effort has begun.
"If he had any respect for himself he should resign," Councilman David Armenta told the station. "The community does not like what he's said."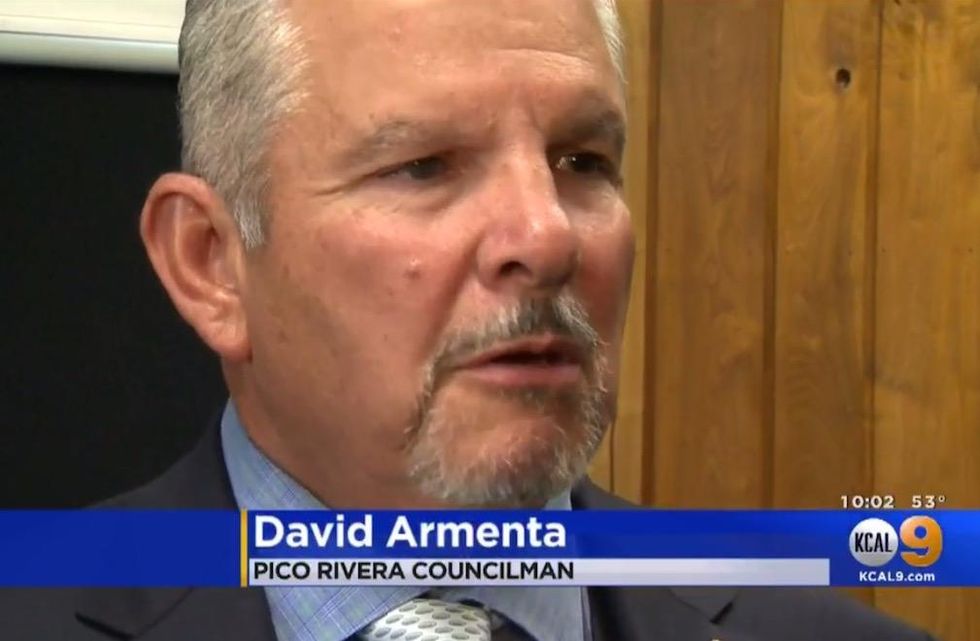 Image source: KCAL-TV video screenshot
Councilman Bob Archuleta — the only veteran on the body and who has two sons in active duty with the military — told the Times that Salcido "disgraced us, disgraced this city, disgraced this nation."
What did the mayor have to say?
Mayor Gustavo Camacho during the meeting read aloud the names of veterans buried at area cemeteries, the Times said.
"They should not be mocked or made to feel like they were the lowest of the low," Camacho noted, according to the paper. "Instead we should be paying tribute and honoring their memories and contributions, and we should be thanking their families every day."
What did citizens have to say?
When members of the public had a chance to confront Salcido, they didn't hold back.
"I'm shaking right now because I'm pissed off and angry," Eric Martinez told Salcido, according to the paper. "I just thank God that I can refrain from jumping over this podium to get you."
Anthony Dovali served in the U.S. Marine Corps for eight years and wasn't pleased with Salcido's recorded rant, either — particularly because it stereotypes military members.
"He thinks we're stupid. I went to college. As soon as I came out I got my AA and I got my bachelor's," Dovali, donning a Vietnam Semper Fi hat, told the Times. "We want to let him know that it's not fair for him to speak the way he spoke, especially in a high school where he's teaching all the young people."
What did Salcido have to say?
Salcido said he apologizes if he offended anyone and seemed to offer an amended version of what he was recorded saying last month.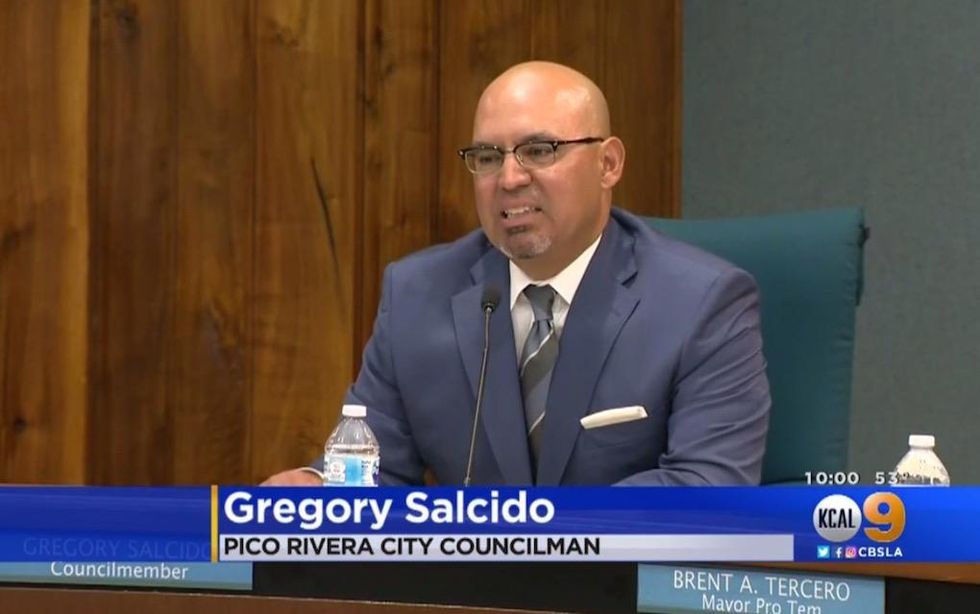 Image source: KCAL-TV video screenshot
"I don't think it's all a revelation to anybody that those who aren't stellar students usually find the military a better option ... that's not a criticism of anybody," he said, the Times reported. "Anything I said had nothing to do with their moral character."
The paper said that while Salcido noted he doesn't believe the military is the best option for his students, "that does not mean I'm anti-military, because I'm not."