A Junior ROTC captain, who helped protect fellow students and teachers from the gunman who took 17 lives at a Florida high school last week, said he prepared questions as requested for CNN's town hall on the shooting but declined to participate when CNN gave him a "scripted" question instead.
"I expected to be able to ask my questions and give my opinion on my questions," Colton Haab of Marjory Stoneman Douglas High School in Parkland, Florida, told WPLG-TV.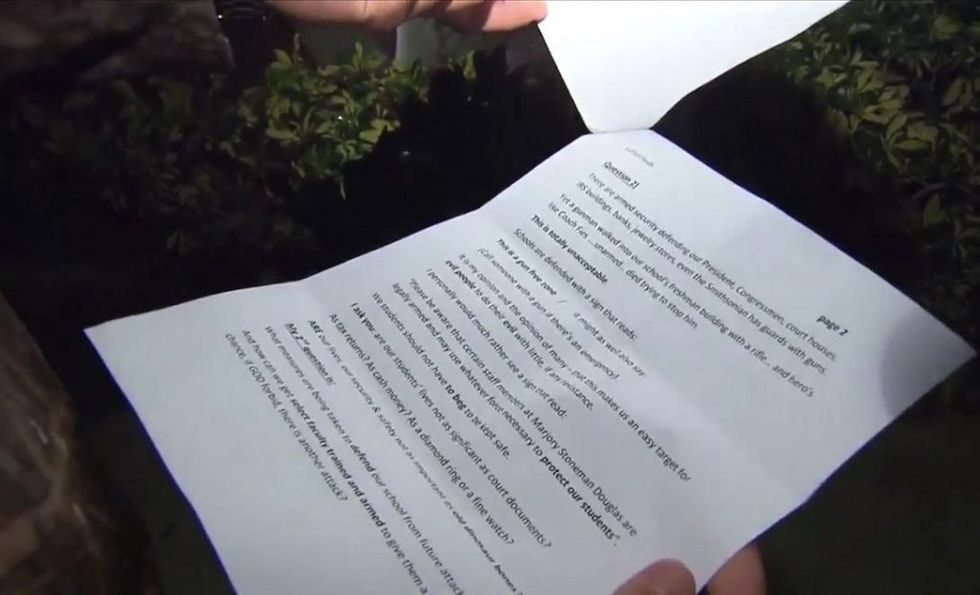 Image source: WPLG-TV video screenshot
"CNN had originally asked me to write a speech and questions," he told the station, "and it ended up being all scripted."
Haab told the local ABC affiliate he was going to present questions about school safety and the idea of using military veterans as armed security guards in schools.
But Haab told WPLG that when CNN gave him a scripted question for Wednesday night's town hall, he decided to not participate.
"I don't think that it's gonna get anything accomplished," he added to the station. "It's not gonna ask the true questions that all the parents and teachers and students have."
Here's the video. The interview with Haab begins at the 1-minute mark:
How did CNN respond to Haab's claim?
CNN denied giving Haab a scripted question:
STATEMENT FROM CNN: "There is absolutely no truth to this. CNN did not provide or script questions for anyone in l… https://t.co/nTeeuae1Nf

— Jon Levine (@Jon Levine)1519305775.0
What role did Haab play in protecting lives during the shooting?
Haab and another Junior ROTC captain, Zackary Walls, took fellow students and teachers into a classroom after the shooting started and then used materials in the room to form a barrier between them and the shooter — and then prepared for a fight.
Haab said he noticed large Kevlar curtains in the room, which were used to shield those in the room.
"I brought those curtains out because I knew exactly what they were made of," Haab said. "As I'm building them, I'm thinking I would never need this other than what we're going to do, and after yesterday I'm glad we had them."