UPDATE 5:13 p.m. ET: In response to Wayne State University's decision Thursday to recertify InterVarsity Christian Fellowship as an official student organization after stripping the group of its status for requiring leaders to be Christians, a senior legal counsel at Becket — which represented InterVarsity against the Michigan college in a federal lawsuit — said she hopes it's the last time the school goes down this road.
"It's about time that Wayne State let InterVarsity come in from the cold," Lori Windham told TheBlaze in a statement. "Christian student groups should be able to have Christian leaders. Now Wayne State needs to make this permanent and ensure this unfair treatment will never happen again."
UPDATE 3:28 p.m. ET: Wayne State University announced Thursday afternoon that it's recertifying InterVarsity Christian Fellowship as an official student organization on the heels of a federal lawsuit from the group against the Michigan school.
Matt Lockwood, the college's director of communications, confirmed to TheBlaze Thursday that Wayne State's issue was InterVarsity's requirement that student leaders must be Christians.
"Student groups have to accept and include all students," Lockwood told TheBlaze in an interview. "That was the point of contention."
Here's the statement in full:
Wayne State University values student groups as an integral part of campus life and co-curricular learning. We strive to foster student groups that are inclusive, diverse, and expand student experiences. After a review of the situation and communicating with the InterVarsity Christian Fellowship organization, Wayne State has decided to recertify the group as an official student organization.

The InterVarsity student group is committed to welcoming and including all students, and the university will not intervene in the group's leadership selection.
Lockwood added to TheBlaze that Wayne State's decision is not contingent upon any leadership policy changes by InterVarsity.
Lori Windham, senior legal counsel for Becket — the law firm representing InterVarsity — didn't immediately respond to TheBlaze's request for comment on Wayne State's decision.
Original story below
A Christian student group filed a federal lawsuit Tuesday against Wayne State University after the Detroit school stripped InterVarsity Christian Fellowship of its official status because it requires leaders "to affirm their faith," according to law firm Becket, which is representing the group.
"Wayne State has over 400 student groups that contribute to its intellectual and cultural diversity, all of which are free to select leaders who embrace their missions — except, suddenly, one Christian student group," Becket noted in a news release.
After 75 years of InterVarsity activity at Wayne State, in 2017 the school de-recognized the group, rejected its constitution and canceled all of its reserved meetings because school officials decided that "InterVarsity's religious leadership requirements violated school policy," Becket said.
InterVarsity welcomes all students to its meetings and to join as members, the release added — and requires only that its leaders believe in and live out Christianity.
"Don't Michigan universities have bigger problems than who leads Bible studies?" Lori Windham, Becket senior legal counsel, asked. "Wayne State should focus on educating students instead of playing belief police."
How does InterVarsity's decertification affect the group?
As a result of the decertification, InterVarsity now holds "second-class status" and is "forced to rent tables like outside vendors if it wants to host discussions or reach out to new students," the release stated, adding that InterVarsity also "can no longer reserve meeting rooms for free like other student groups."
What are other student groups allowed to require with respect to members and leaders, according to the law firm?
Becket's case summary said — in contrast — that Wayne State recognizes more than 400 student groups and "allows them to select their leaders. The Secular Student Alliance can require leaders to be secularists, Students for Life can require its members to be pro-life, and more than a dozen fraternities and sororities can limit membership to one sex."
"These requirements are normal and acceptable, yet the school blatantly discriminates against InterVarsity by barring it from having the same ability to select leaders who share and live by its mission," the case summary continued. "In fact, by specifically targeting religious groups, Wayne State is violating its own policy against religious discrimination — in addition to the First Amendment."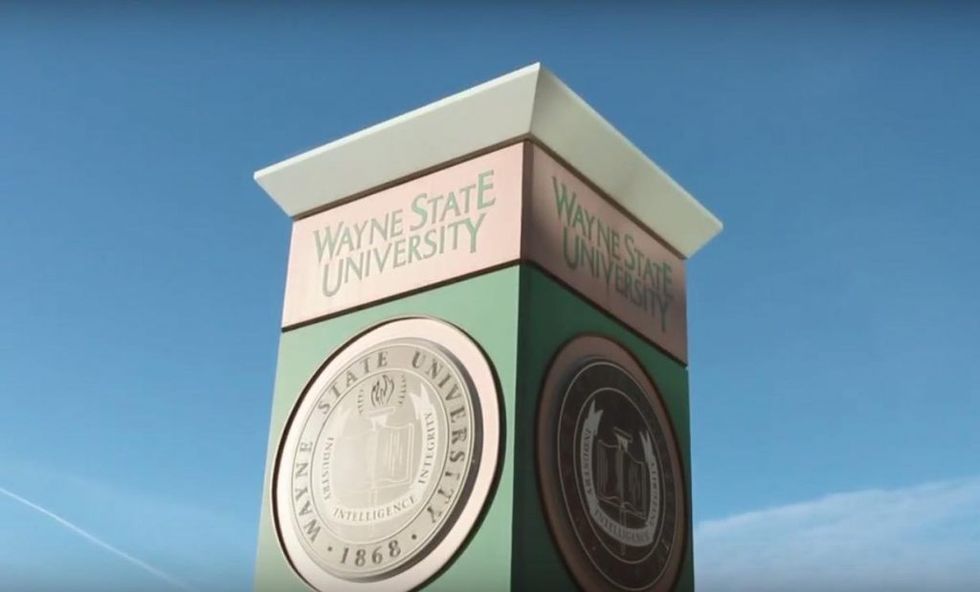 Image source: YouTube screenshot
Windham added: "Asking religious leaders to practice what they preach isn't discrimination, it's integrity. Targeting one Christian group that's served the campus for over 75 years, while giving itself and dozens of larger groups a pass is truly discriminatory."
Windham on Thursday told TheBlaze that many Wayne State student groups discriminate for a variety of reasons without consequences, noting that the school has no specific ban on "viewpoint discrimination."
In the lawsuit, Becket listed a number of student groups that "appear to limit membership and/or leadership based upon 'race, color, sex (including gender identity), national origin, religion,' or other prohibited factors."
Included among them are:
The Ahmadiyya Muslim Students Association, which seeks to "bring Ahmadi Muslim youth together in university" and is made up of "regular young Muslims trying their best to practice and express their faith in university."

The Albanian American Student Organization, which says it was founded "to bring Albanians together."

Alpha Phi Alpha's website states that it "was the first intercollegiate Greek-letter fraternity established for African-Americans."

The Association of Black Social Workers "at Wayne State (ABSW) is comprised of people of African ancestry."

The Association of Latino Professionals for America "develops the next generation of Latino professionals via experiential leadership development and mentoring."
Windham added to TheBlaze that Becket intends to file a preliminary injunction Thursday, asking the court to reinstate InterVarsity's student group status as soon as possible.
How did Wayne State respond to the issue?
Wayne State offered a statement on the issue to Campus Reform:
Wayne State University took action to decertify the student organization InterVarsity because it is in violation of the university's non-discrimination policy, which is consistent with the United States Constitution. Every student organization that applies for organizational status must agree to this policy before being certified. Leaders of this group read and agreed to the policy during the application process.

The university is obliged and committed to protecting the constitutional and religious rights of everyone on our campus. Attaining official student organization status is a privilege rather than a right, and is conditional on compliance with our policy of nondiscrimination and equal opportunity.

We have taken every step possible to minimize the impact of the decertification on the group, and we approached InterVarsity last December with an offer to work on a resolution to this matter. Our offer still stands. Any such solution will be guided by our desire to reinstate the group's organization status while adhering to our nondiscrimination policy.
Wayne State's director of communications on Thursday didn't immediately respond to TheBlaze's question regarding what InterVarsity specifically did to violate the school's non-discrimination policy.