A Colorado nurse went far beyond the call of duty when she donated part of her liver to a 7-year-old girl who needed a liver transplant, KCNC-TV reported.
Doctors diagnosed Addilyn Hawks with a rare liver disease when she was 10 months old. Her parents knew she would eventually need a liver transplant, but it was unclear when that time would come.
Pamela Assid, a registered nurse and the director of emergency services at Sky Ridge Medical Center in Lone Tree, learned of the girl's condition from the child's uncle who worked at the same hospital and heads the emergency department.
What's the story?
Last April, Addilyn, who goes by Addie, was placed on the donor list when her liver began to fail.
"We just noticed that she was staying sicker longer, her jaundice had come back and it wasn't going away," Kristyn Hawks, Addie's mom, said.
Her family started exploring the idea of a live donor, but neither parent was a match.
"It was hard for both my husband and I because, obviously, we want to be the ones to save her," she said.
Assid, who was the same blood type as Addie, asked to be placed on the potential donor list.
"I guess I thought if that was my daughter, I would want to give her every possible opportunity to have somebody that could potentially be a match," she said.
Hawks was fully on board with the idea.
"It was like, if you're willing to do this for my child and the hospital takes care of all the medical stuff, that's enough for me," Hawks said,
Assid was Addie's best match, and the pair underwent surgery Jan. 16.
"It was just was the right thing to do, and it was what I was going to do," she said about her decision.
"To have the opportunity to change somebody's life while I'm still living, that's incredible to me," Assid told KCNC.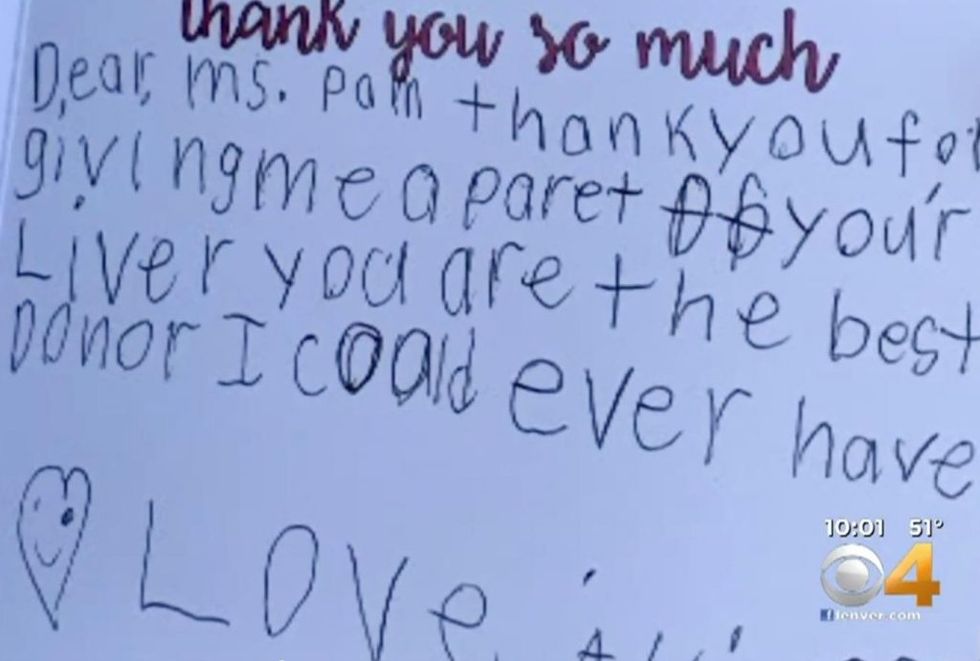 Addilyn Hawks wrote a thank you note to Pamela Assid who donated part of her liver to the little girl. (Image source: KCNC-TV video screenshot)
What else?
Addie, who loves unicorns, is well into her recovery and doing well.
The little girl now wears a necklace with "Pamela Assid" engraved on it as a reminder of her special friend whose dedication when far beyond the walls of a hospital room.
"She's carrying a piece of Pam with her wherever she goes for the rest of her life so in a way she's become family," Hawks said.