Although many Democrats have been hoping for a big "blue wave" of victories in the midterms riding on opposition to President Trump, a new poll may show that those aspirations are crashing into a resurgence of Republican support.
Here's a Fox News video on the story:
Here's what the poll says
The Axios poll in conjunction with SurveyMonkey found that there were 10 Senate seats that Democrats were defending in the midterms in states where Trump won in the 2016 election. In six of those states, his approval rating is above 50%, another warning sign that the seats might flip to the Republican side.
Axios identified three of the most vulnerable Democrats - Joe Manchin of West Virginia, Jon Tester in Montana and Claire McCaskill in Missouri.
Historically, the party that loses a presidential election typically picks up seats in the House of Representatives and the Senate in the next midterm election. Axios' poll shows Trump might break the pattern for the Senate at least.
Here's their chart of vulnerable Senate seats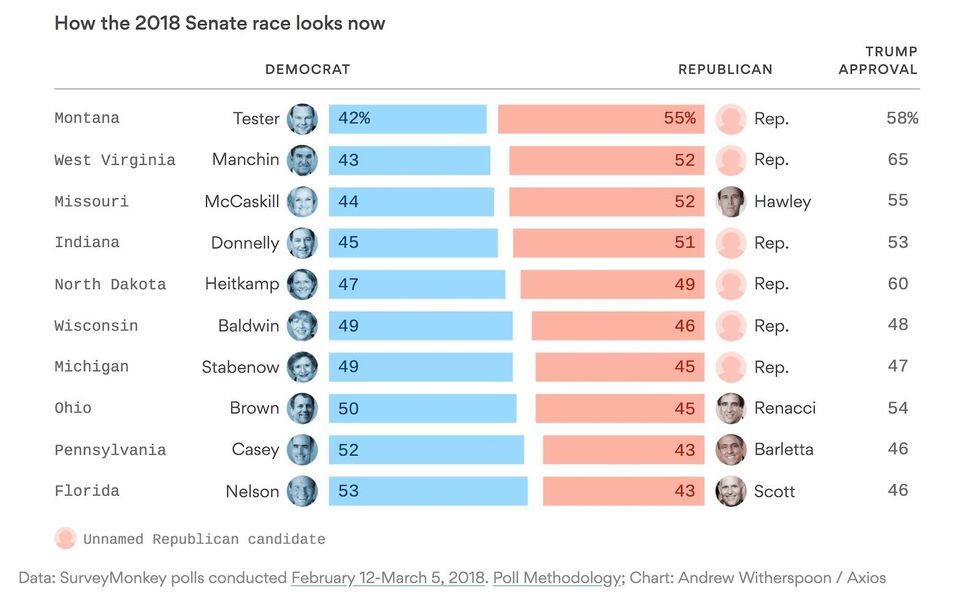 (Image Source: Axios website screenshot)
A big caveat
The Axios/SurveyMonkey poll is based on online polling, which many professional pollsters find less than rigorous when compared to traditional methods of polling. On the other hand, the poll was based on a large sample of 17,289 registered voters which may bolster its accuracy as opposed to those with fewer data points.
Axios also points out that this is a snapshot of where the races are now, but the electoral landscape is almost certain to change by election day.