A Georgia middle school teacher was caught on audio delivering a 15-minute rant against President Donald Trump and the United States in front of a classroom full of students recently.
Sixth-grade teacher Johnetta Benton of Hampton Middle School near Atlanta was heard on the recording blasting Trump's "Make America Great Again" slogan and saying the U.S. "has never been great for minorities," according to Fox News' "Fox & Friends."
"So when my president says, 'Let's Make America Great Again,' when was he talking about?" Benton was heard asking her students. "... He must be talking about when it was great for Europeans. Because when it comes to minorities, America has never been great for minorities."
Josie Orihuela recorded the rant and told "Fox & Friends" it occurred as Benton was introducing a video to celebrate Black History Month.
"It kept getting worse and worse," Orihuela told the network.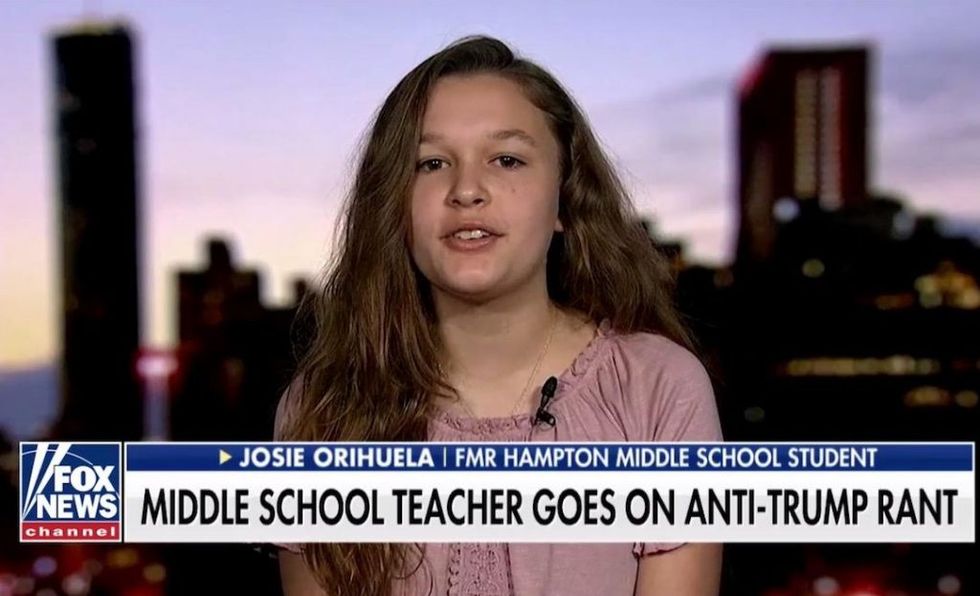 Image source: Fox News
According to Independent Journal Review, Benton turned the conversation toward illegal immigration and told her students "every person in here — unless you're a Native American, and I sure don't see any in here, I could be wrong — we're all immigrants. So when you say immigrants are killing folks, that's us. That's you, you, you, you and you."
Benton also was heard on the audio saying, "Before you talk about somebody else, look at yourself in the mirror. Look at your ancestry in the mirror before you start saying 'you're bad, and you're bad, and you're bad and you can't come 'cause you happened to kill a few people.' But guess what? My people have killed millions. Not a few. Millions upon millions upon millions. Babies included."
What did the school district have to say?
Henry County School District spokesperson J.D. Hardin called the incident "extremely unfortunate" and acknowledged to "Fox & Friends" that the teacher used "the classroom space for actions we do not condone" and that "the matter was addressed immediately."
"This unfortunate incident affords us the opportunity to remind our educators of the importance of keeping any potential political bias out of lessons for students of any age," Hardin added in a statement to the network, which added that it wasn't immediately clear what actions the district took toward Benton.
How else has the middle school made headlines?
A teacher at Hampton Middle School recently assigned his students to write letters to U.S. lawmakers persuading them to pass tighter gun-restriction laws.