U.S. Sen. Tim Scott (R-S.C.) blasted Facebook for censoring pro-President Donald Trump duo Diamond and Silk in a statement on Capitol Hill Tuesday.
Diamond and Silk said last week the social media giant deemed the pair "unsafe to the community."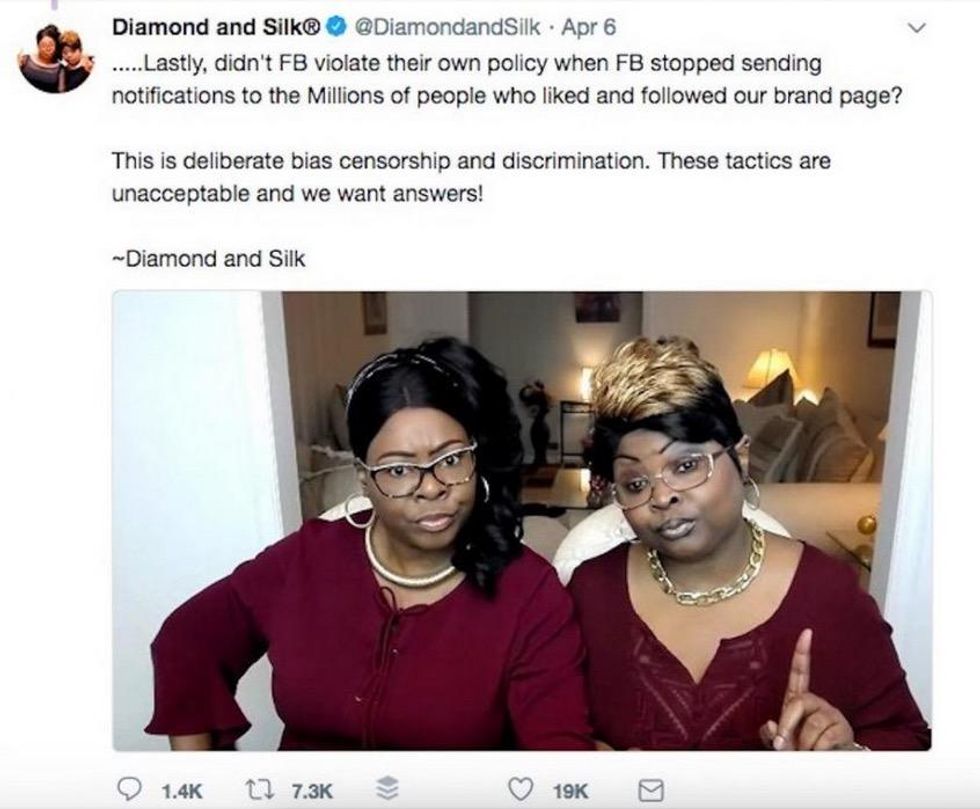 Image source: Twitter screenshot
Scott offered his statement in a measured tone, but his content was altogether blistering.
From the get-go, Scott called Facebook's actions against Diamond and Silk — aka Lynnette Hardaway and Rochelle Richardson — "discrimination" and added that the tech behemoth's senior leadership "would have to look up the definition of 'diversity' because they've have none."
"What is it about two black women espousing their support of the president of the United States that makes them 'unsafe' for the community?" Scott asked. "They aren't bullies. They aren't violent. They aren't inciting riots. I don't always agree with their methodology or even some of their statements, but I don't have to agree with them. That's the beauty of the First Amendment, isn't it?"
The senator then added a wince-worthy observation: "Tell me, if they were two African-American liberals espousing their views about a liberal political figure, would they too be considered 'unsafe'? I don't think they would."
Was Scott finished?
Not on your life.
"This would appear to be height of liberal hypocrisy," he continued. "Facebook support of freedom of speech seems to only include liberal speech. Facebook has decided that they are within their rights to censor speech, certain speech. Where is the outcry that these two African-American conservatives have been censored?"
While Scott acknowledged that Facebook is a private company, he added that it is "no ordinary" company and that "tens of millions of Americans share huge amounts of their personal lives on this platform — a platform, I might add, that often defends itself using the First Amendment but doesn't seem to care about those policies for their users."
How did Scott conclude his statement against Facebook?
"Don't get me wrong: If you're Russians trying to influence the election, kick them off. But they didn't. If you're inciting hate and violence, kick them off, absolutely. But if you're two African-American conservative women sharing your somewhat colorful but ultimately harmless opinions, I'd like to think that's okay for the community," he concluded.
Scott then repeated Diamond and Silk's question for Mark Zuckerberg & Co.: "What is unsafe about two black women supporting the president, Donald J. Trump?"
(H/T: Louder With Crowder)