A Cincinnati 911 operator will return to work Wednesday, one week after being placed on leave following the death of a teenager who made emergency calls while trapped and suffocating inside a minivan, WCPO-TV reported.
The issue is that critical information the teen offered on one of his calls never got to police, the station said.
What happened?
Kyle Plush — trying to get tennis equipment Tuesday from the rear of a 2004 Honda Odyssey in his school parking lot — put a knee on the third-row bench seat and reached over the seat into the rear well, a source with knowledge of what happened to Plush told the Cincinnati Enquirer.
The source told the paper the bench seat flipped, trapping the 16-year-old upside down with his head in the rear well and his legs in the air against the minivan's rear door. He later died of asphyxia due to chest compression, a source close to the family told ABC News.
But Plush was able to make two 911 calls.
In his first call at about 3:14 p.m., Plush said, "Help! I'm stuck in my van. ... I need help!" ABC News reported. An operator repeatedly asked Plush where he was, but he couldn't hear the dispatcher and couldn't answer the operator's questions, ABC News said, citing police.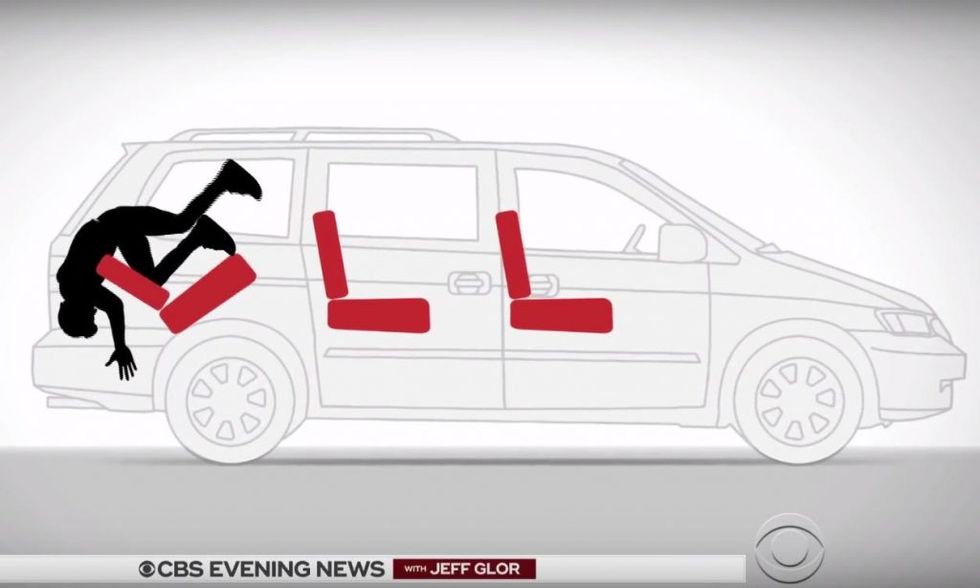 Image source: YouTube screenshot
However, Plush did say he was at "Seven Hills," ABC News said — he attended the private Seven Hills School in Cincinnati.
Screaming and banging could be heard as Plush yelled, "I'm in desperate need of help!" ABC News said.
After police said the nearly three-minute call disconnected, dispatchers tried to call Plush back but reached his voicemail, ABC News added.
The 911 operator on Plush's first call used cellphone GPS information to point police to a thrift store parking lot across from the school, WCPO reported, adding that Plush was within feet of those coordinates. The station said the thrift store is run by the school.
A quality assurance report shows the first operator didn't note she heard Plush banging and screaming in the background, the station added.
Two Cincinnati police officers arrived about two minutes later but said they didn't see anything, WCPO said, then soon marked the assignment complete.
Plush called 911 a second time
Plush called 911 again at 3:35 p.m. and a different dispatcher answered, police told ABC News.
"I'm trapped inside my gold Honda Odyssey van in the ... parking lot of Seven Hills," Plush told 911, ABC News said. "This is not a joke."
Plush again said he couldn't hear the dispatcher, ABC News said, but he added: "I probably don't have much time left. Tell my mom I love her if I die. Send officers immediately. I'm almost dead."
How was Plush found?
Plush's parents heard from one of his friends who said he never showed up to a tennis match, WXIX-TV reported. The family used an app to track Kyle's phone to the school parking lot, where his father found the unlocked van and his son inside, the station added.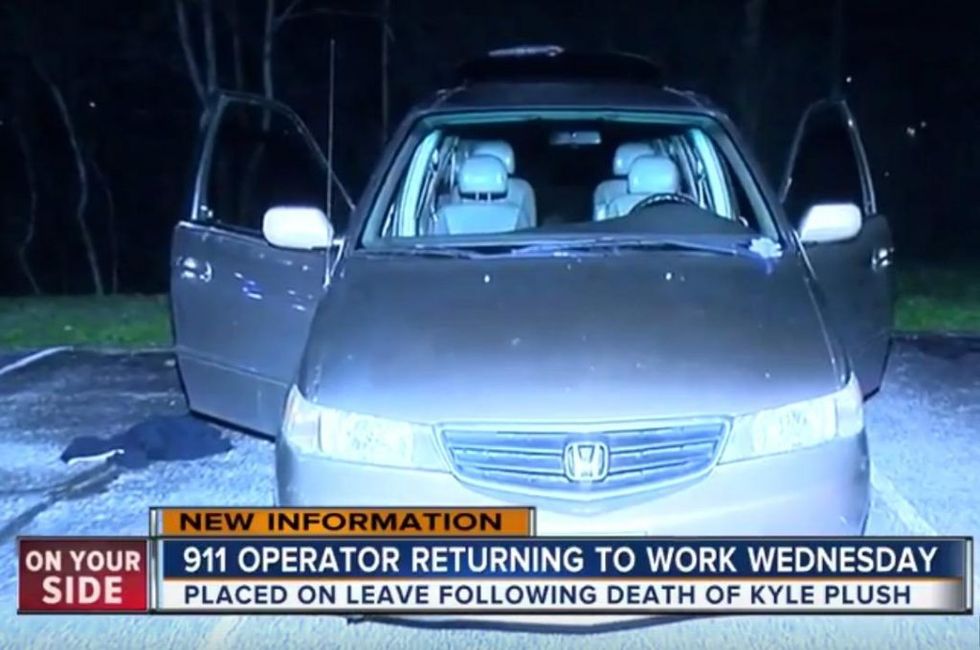 Image source: YouTube screenshot
What reportedly happened on the 911 operator's end?
The 911 operator "did not communicate with the caller, and the information from this second call was not relayed to the officers who were still on the scene at the time," Police Chief Eliot Isaac said at a news conference Thursday, WCPO reported.
Amber Smith — the 911 operator on the second call — said she couldn't hear Plush, WCPO reported, citing documents from an internal review.
Investigators don't believe the phone system failed at that time, WCPO reported, so it's not clear why Smith couldn't hear Plush — and his words were picked up by the 911 recording. But the 911 operators' computers experienced trouble "around that same time frame," the station added, citing one of the internal documents. Smith also said her screen froze, preventing her from properly documenting the call, WCPO said.
Smith did try sending a text message to Plush, asking him for the address of the emergency, WCPO added, and records show she tried calling him twice — but he never responded.
It's unclear if Smith will face any discipline because an internal investigation is continuing, police spokeswoman Tiffaney Hardy told WCPO.
But Smith's supervisors said her work was "unacceptable," WCPO reported, citing one of the internal documents.
"Something went wrong here, and we need to find out why we weren't able to provide that help," Isaac added, the station said.
Smith was honored last year for helping track a 9-year-old girl trapped in a car while her parents overdosed on heroin, police told WXIX. Smith's work to calm the scared child and use of cellphone technology to track the vehicle's location saved their lives, police added to the station.
What else do we know about Plush?
The Enquirer noted that Plush had a physical disability but a parent who knew him said "no one really knew what it was because he didn't talk about it and he didn't let it slow him down."
More from WXIX:
School records show Kyle played trumpet in middle school. He also took part in the National Latin Exam and got a gold medal. He made his way to the Ohio Junior Classical League Convention in Columbus just last month.

Kyle also competed in Certamen events — a game where you have to quickly recall facts about culture — and starred in a play in 2015.

This year, the young man was a member of the tennis team. [...]

Kyle was a big supporter of Sole Brothers, too. The non-profit focuses on giving shoes to youth in need worldwide.