Stark new billboards in Portland, Oregon, are greeting motorists and passers-by with provocative messages such as "Is your white fragility showing?" and "Black narrative."
Image source: KPTV-TV video screenshot
Their purpose?
To "confront and disrupt the rampant complacency in this city regarding issues of white supremacy and racial inequity," ABC News reported, citing the website of the group behind the billboards.
Portland Equity In Action said it has purchased 25 such billboards and sprinkled them throughout the city, KPTV-TV reported, adding that another mission of the group is raise awareness about blacks who've died in police shootings.
More from the station:
Members call the deaths of Terrell Johnson, a man shot and killed by a Portland police officer last year, and Larnell Bruce, a man run down outside a Gresham 7-Eleven in 2016, unjust.

Johnson died May 10, 2017 after police say he threatened people with a knife at the Flavel Street Max station. A grand jury ruled deadly force by the officer was justified.

Bruce died in August 2016 after a fight with a man and his girlfriend in the 18700 block of East Burnside Street. Bruce ran from the scene, but was chased down by the couple and run over by a 1991 Jeep Wrangler, according to police.

The 19-year-old was critically injured and died at the hospital several days later. Police say the couple who ran Bruce over have ties to white supremacist groups.
"Hopefully, it starts the conversation again, it's an ongoing conversation," Robin Marks, who said she saw the billboards for the first time Monday night, told KPTV. "People need to be aware of, get the background of the black person's story."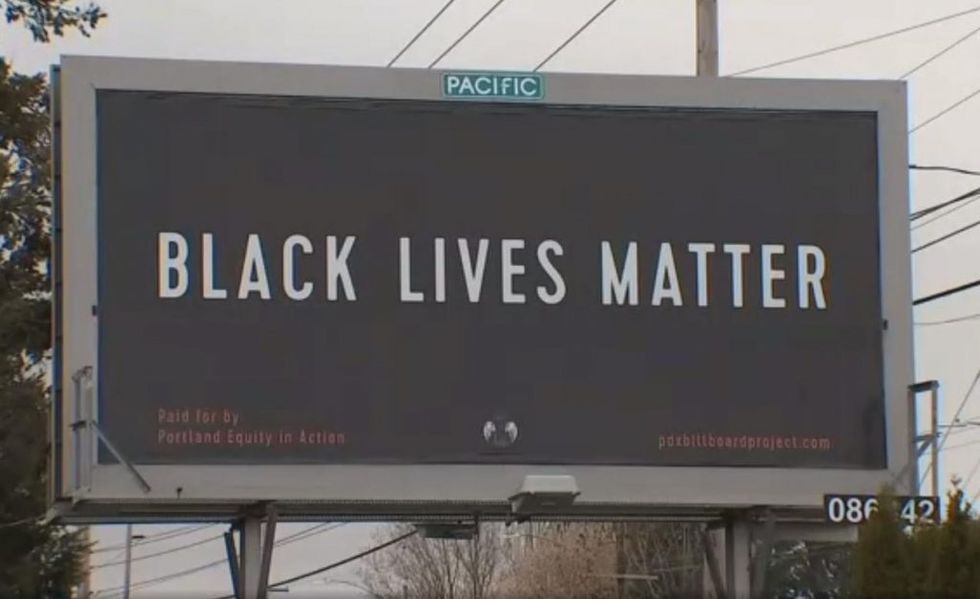 Image source: KPTV-TV video screenshot
Marks added to the station that if the billboards get people talking, she has no qualms seeing them all around Portland.
"The more the better," she told KPTV.
(H/T: BizPac Review)