A California bill targeting gay-conversion therapy passed the state Assembly last week and is heading to the state Senate. Bill 2943 deems "advertising, offering to engage in, or engaging in sexual orientation change efforts with an individual" an "unlawful business practice."
But the National Review's David French wrote that the bill, if it becomes law, has the potential to do much more — specifically that its language also could open the door for banning some Christian books.
French — who's also a constitutional lawyer — cited the bill's language while arguing two major points:
"First, the bill by its own terms applies to very broad categories of services and goods."

"Second, a book (along with other written materials, like pamphlets or workbooks) fits within the very, very broad definition" of goods.
"Basically, if you can buy it and move it (in other words, it's not real estate), then it's a good," French continued. "Moreover, under the statute, 'services' can include 'services furnished in connection with the sale or repair of goods.' Booksellers provide 'services.'"
Where things could get problematic...
French characterized the bill's ban on "advertising, offering to engage in, or engaging in sexual orientation change efforts with an individual" as subtly harmful. Why? Because the bill defines "sexual orientation change efforts" as "any practices that seek to change an individual's sexual orientation. This includes efforts to change behaviors or gender expressions, or to eliminate or reduce sexual or romantic attractions or feelings toward individuals of the same sex."
More from French:
This definition is far, far broader than the traditional definition of so-called reparative therapy — the effort to change a person's romantic feelings toward people of the same sex — it now includes efforts to change mere behavior. In other words, if for example, a sexually active gay man or woman sought counseling not to change their orientation but rather to become celibate, then the services and goods provided in that effort would violate this statute. If parents faced a child who was identifying as a person of the opposite sex, then services and goods making the argument that, for example, they should persist in calling their daughter "she" and withhold life-altering hormone treatment in part because most children exhibiting symptoms of gender dysphoria desist would violate this statute.
"This is a dramatic infringement on First Amendment rights, rendered even more pernicious by its functional declaration of certain kinds of religious speech and argument as the equivalent of consumer fraud," French added.
But Assembly member Al Muratsuchi dismissed First Amendment arguments against Bill 2943 and said "the faith community ... needs to evolve with the times."
French added that Californians "do not have the power to declare Christian arguments about sexual morality and gender identity fraudulent and attempt to banish them from the public square."
And while French acknowledged he doesn't believe Christian bookstores suddenly will be swept clean by agents of the state, he wrote that it's "far more likely that the recommendation or sharing of certain kinds of Christian books and other written materials would be deemed evidence of fraud and would present a core part of the case against a minister or counselor."
"In addition," he noted, "the law would loom over booksellers and churches, establishing a chilling effect and providing a pretext for even more secular booksellers to refrain from stocking certain Christian titles — no matter how well-reasoned, well-researched, or well-argued."
What does the state assemblyman who proposed the bill have to say?
"This is a very personal issue to me," Assemblyman Evan Low — who leads the Legislature's LGBT Caucus and proposed Bill 2943 — said prior to the assembly vote, the Huffington Post reported. "This notion that we would accept as a legal practice that conversion therapy works is antithetical to my very existence in this body."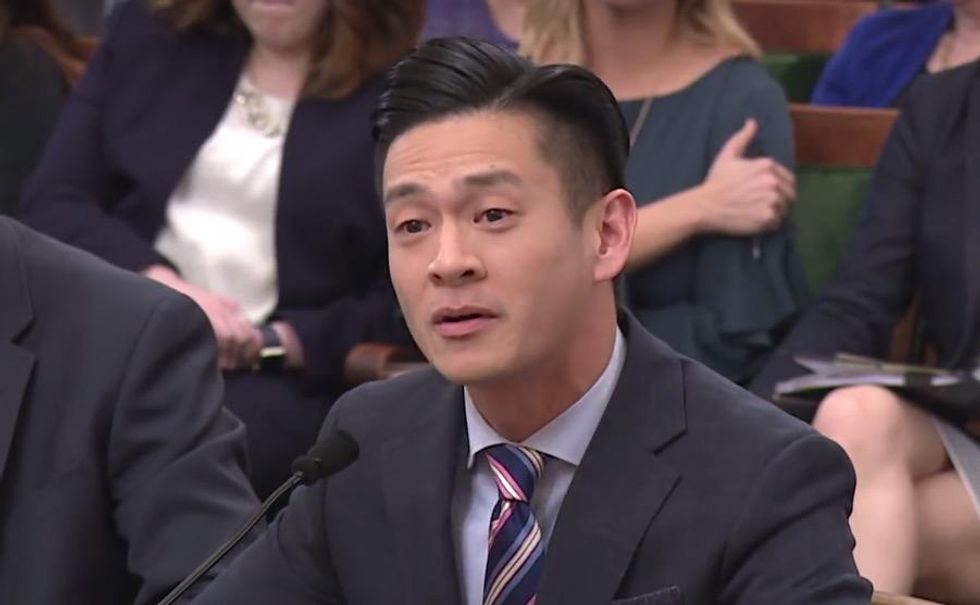 California Assemblyman Evan Low (Image source: YouTube screenshot)
But as to the notion that the bill also could lead to book bans, Low insisted the bill applies only to conversion therapy offered as a paid service, wouldn't shut down speaking or writing on the subject and wouldn't apply to book sales, the outlet said.
Low posted the following tweet Sunday in an apparent attempt to squelch concerns:
A church or individual may still practice conversion therapy if they do so without charging for this fraudulent ser… https://t.co/vSGRCW7mme

— Evan Low (@Evan Low) 1524435778.0
"Growing up with so much hate, I too wanted to find out if I could be changed and if anything could work because of the societal pressures that we have," Low added during his assembly floor speech, the Post said. "There is nothing wrong with me. There is nothing that needs to be changed."
While California law already prohibits gay-conversion therapy for those under 18, Bill 2943 would outlaw it for adults.