It's been said before and bears repeating: Those intent on committing crimes never can tell when their victims are armed.
That truth rang out with lethal consequences Monday morning as a suspected armed robber approached a parked car in Gainesville, Florida, WCJB-TV reported.
In fact, Arkeem Bennett cocked the gun and pointed it at those inside the vehicle, Gainesville Detective Matt Goeckel said during a media briefing.
Well, it didn't take long for a victim inside the car — who had just been at a movie with a family member, Goeckel said — to pull out his own gun from the glove compartment, the Gainesville Sun reported.
Turns out said victim is a concealed carry permit holder — and put his status to use, firing at Bennett multiple times "in self-defense," Gocekel said, according to the paper.
One bullet struck Arkeem, WCJB reported, but he got away in a car with another person driving.
The victim called 911, the station said. Goeckel added that the victim who shot Bennett said he didn't know Bennett and never saw him before.
What happened to Bennett?
"Once the suspect's vehicle was located and crashed several blocks from the location of the scene, our officers set up a perimeter to contain anyone that may have fled and [one of the officers] actually happened to see Mr. Bennett laying on the ground," Goeckel said, WCJB reported. "And by the time he has reached him, he was already dead."
Bennett was 21, the Sun reported. It isn't clear what became of Bennett's apparent accomplice.
What did Bennett's family have to say?
Bennett's family mourned his death with a candlelight vigil Tuesday night, the station reported, adding that his mother said "he didn't have to get shot like that."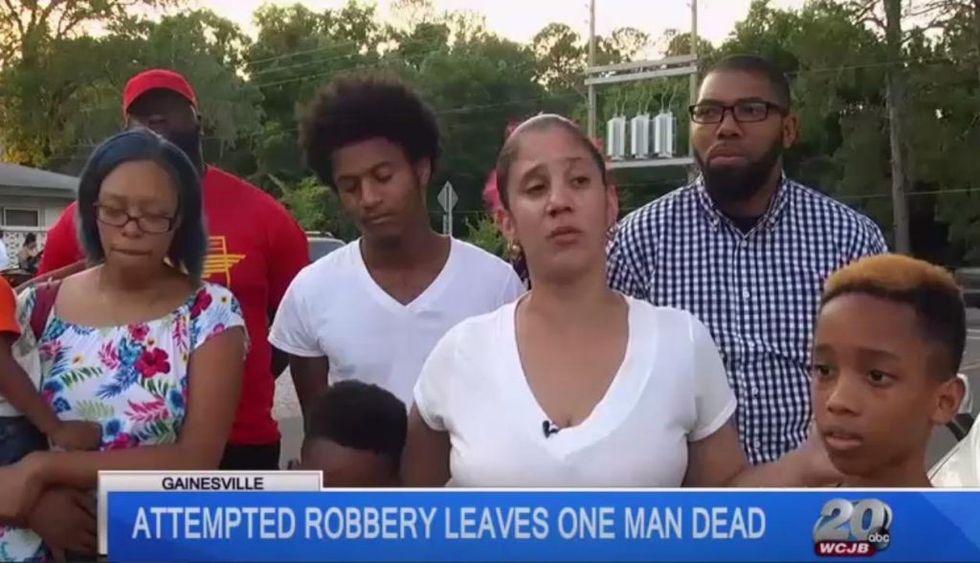 Image source: WCJB-TV video screenshot
"He could have just been wounded or instead of his body being found somewhere, they could have taken him to the hospital," Vanessa Sears told WCJB. "Drop him off in front of the hospital, drop him off in front of the police department, in front of a gas station. ... not just me finding out that my son has been laid out."
What likely will happen to the victim who shot Bennett?
Eighth Circuit State Attorney Bill Cervone told the Sun that the shooting appears to be a case that fits under Florida's "stand your ground" law, adding that the shooter likely won't be prosecuted under the present circumstances.