President Donald Trump is supporting Republican Lou Barletta — a member of the U.S. House of Representatives — in Tuesday's U.S. Senate primary in Pennsylvania in the hope that Barletta can unseat Democratic U.S. Sen. Bob Casey this fall, CNBC reported.
What's at stake?
With the GOP holding a slim majority in the Senate — and midterm elections historically tilting toward the party out of power in the White House — Trump and the Republican Party are looking for every opening they can find to hold on to Senate seats and perhaps to flip others.
Casey is one of 10 Democratic senators vying for re-election in states that Trump won in the 2016 presidential election — which The Associated Press said puts a "target" on Casey's back for Republicans.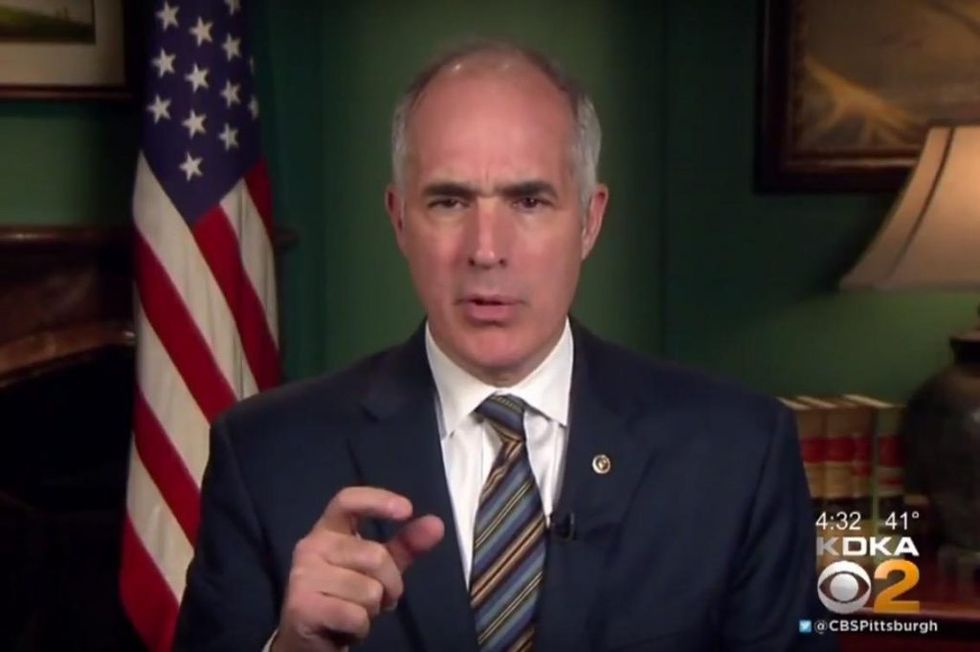 U.S. Sen. Bob Casey, D-Pennsylvania (Image source: YouTube screenshot)
But unseating Casey, the Democratic incumbent in Pennsylvania, won't be easy:
CNBC added that Casey — who's running unopposed Tuesday — is considered one of the safer senators in the group of 10, as Trump only narrowly won the Keystone State over Hillary Clinton.

Casey also sported nearly $10 million in campaign funds late last month as opposed to Barletta's $1.3 million, the network added.

And Muhlenberg College poll found Casey had a 16-percentage-point edge over Barletta in a hypothetical matchup, CNBC said.
Why is Trump supporting Barletta?
Barletta, 62, was an early supporter of Trump and endorsed his presidential bid in March 2016 — before Trump took Pennsylvania's primary election, CNBC noted. Barletta also is endorsed by the state Republican Party, the network added. And he's run for months as the GOP's presumptive nominee, the AP said.

Trump asked Barletta to run for U.S. Senate, the AP added.

And Trump and Barletta are buddy-buddy enough that Barletta watched this year's Super Bowl with Trump at his Mar-a-Lago club in Florida, the AP reported.
How is Trump supporting Barletta?
Barletta's campaign said Saturday it sent a recorded telephone call of Trump criticizing Casey and telling hundreds of thousands of registered Republicans why he supports Barletta "fully, strongly, and proudly," CNBC reported.

"Lou is my guy, and I need him in the U.S. Senate," Trump says on the recording. "Like me, Lou Barletta is strong on the wall, tough on immigration and has already cut your taxes. He was with us all the way. If you, like all of the others, want to keep it going this way, go out and vote for Lou."
Who is Barletta running against in the GOP primary?
Barletta is running against state Rep. Jim Christiana — an apparent underdog, CNBC said — in Tuesday's primary.
Christiana, 34, has argued that both Barletta and Casey have failed in Washington, primarily for supporting the massive omnibus spending bill to fund the government through September, CNBC reported.