Minneapolis' police chief barred officers from wearing uniforms at next month's pride parade, in part over "adamant opposition of law enforcement's participation by some representatives of our local LGBTIQ communities," Chief Medaria Arradondo wrote in a statement.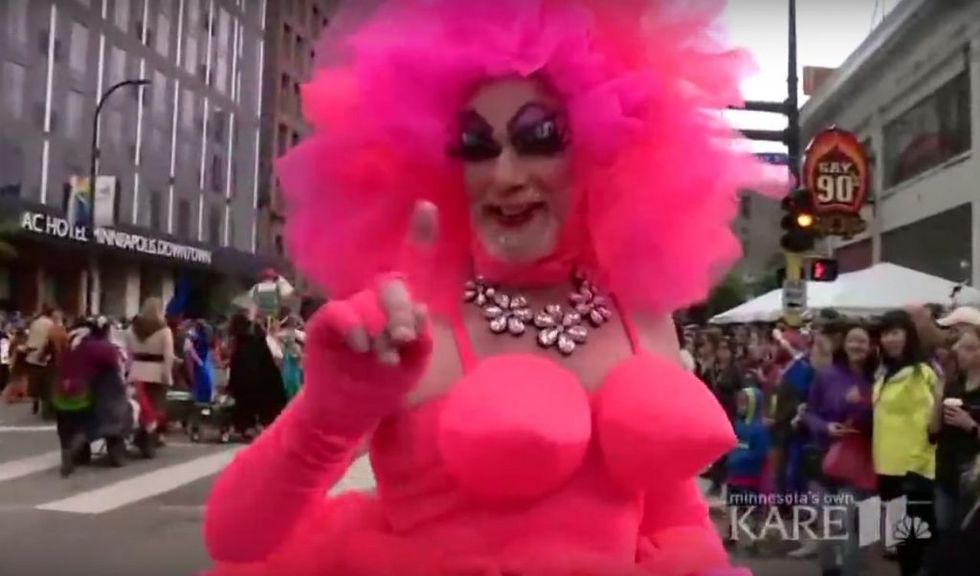 Image source: YouTube screenshot
But the chief added in Tuesday's message that marching officers can wear civilian attire if they're marching in the parade — or department-issued "rainbow t-shirts with a badge design on the front."
LGBT "representatives have conveyed to me that there is still a great deal of pain and harm that has occurred in their community, specifically our LGBTIQ communities of color, which has not been completely heard and addressed," Arradondo added, noting that LGBT representatives also "stated they feel strongly they do not want any law enforcement officers marching in uniform in the parade."
What else did the chief say?
While the chief told officers in the statement that he "would never want you to feel de-valued or minimized by not being allowed to proudly adorn your full MPD uniform while marching in the PRIDE parade," he added that "genuine relationship-building work should be done on a daily basis and not solely focused around a singular event."
"I have, and will continue to reach out to members of our LGBTIQ communities over the next several days to help create opportunities for important conversations regarding trauma and the harm that has been experienced both with law enforcement in general and specifically with the MPD, and how we might forge a pathway forward that involves healing and trust," Arradondo added.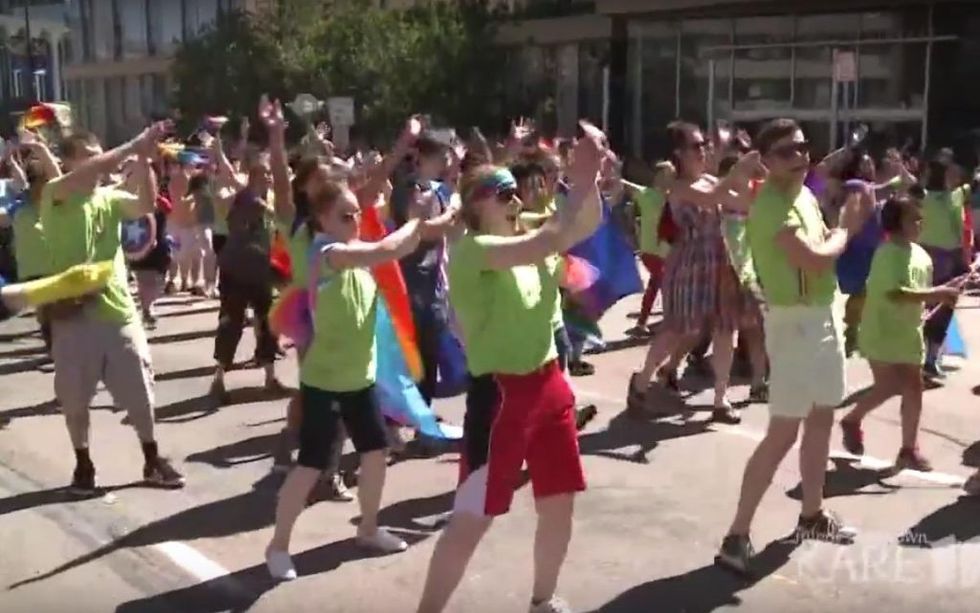 Image source: YouTube screenshot
How are people reacting?
Dot Belstler, executive director of Twin Cities Pride — an LGBT advocacy group — conveyed mixed feelings about the chief's decision, the Star-Tribune reported. She told the paper it will make some participants more comfortable — but for LGBT officers, it will be difficult.
"It's his call on how he wanted to present the MPD this year," Belstler added to the Star-Tribune. "So we're honoring that."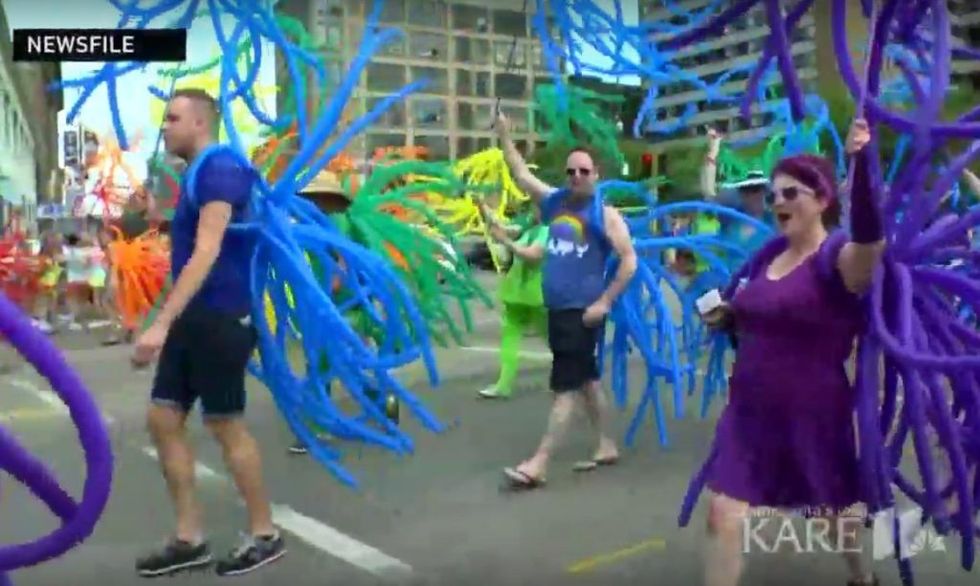 Image source: YouTube screenshot
Robert Kittle wrote on Facebook that "one of my best memories of Pride was publically [sic] holding hands with my then-fiancé-now-husband as he was volunteering in uniform. This decision is very disappointing. I hope whatever political points it scores are worth the cost to the sworn officers who are being told implicitly that they cannot be both proudly MPD and proudly LGBTQ+."
Shelbi Dorion added that "as a member of the LGBT community this makes me very sad. One of the best parts of the parade and why not allow officers who are also working PRIDE weekend protecting everyone march in the parade and acknowledge another aspect of their life."
Dean McLaird wrote that he's "part of the LGBTIQ community, and the representatives you mention that have the loudest voices do not represent me — unfortunate it has come to this."
But one commenter did offer a "thank you for listening to LGBT people of color."
How did the controversy begin?
Twin Cities Pride last year banned uniformed police officers from participating in the parade after a suburban cop was acquitted in the fatal shooting of Philando Castile, a black man, during a 2016 traffic stop.
But backlash was intense — starting with then-police chief Janeé Harteau, Minneapolis' first openly gay police chief, who served as grand marshal in 2014, KARE-TV reported.
"I am beyond disappointed that you didn't feel you could talk with me before making such a divisive decision that has really hurt so many in our community, including the LGBTQ members of this Department (and their family members) and those who serve and protect throughout the state," she wrote to Twin Cities Pride. "I really struggle to see how this decision helps our community heal, and the message of division and not inclusion is so hurtful to many of us."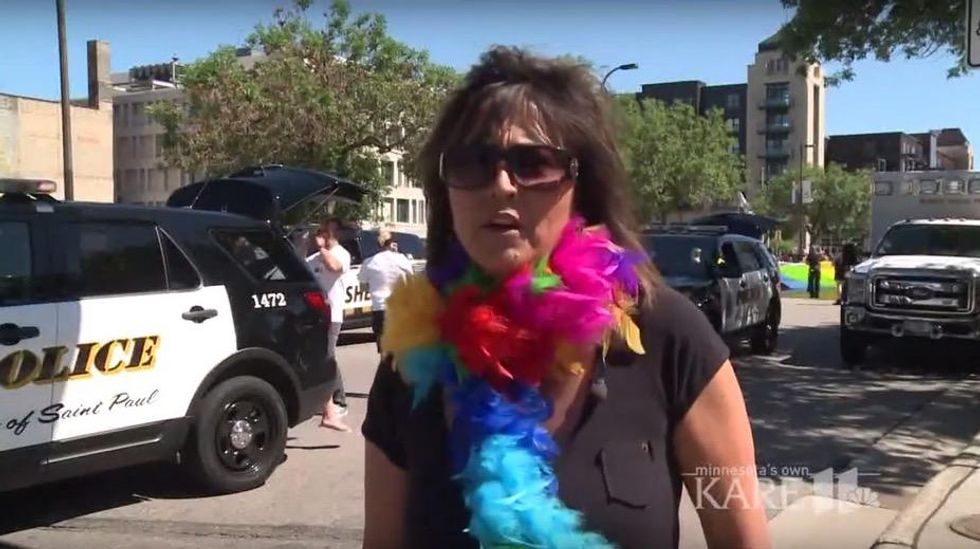 Former Minneapolis police chief Janeé Harteau (Image source: YouTube screenshot)
Then after meeting with Harteau and other officials, Twin Cities Pride reversed its ban and apologized to police, the Star Tribune reported.
Belstler wrote "we recognize this decision has made members of the law enforcement community feel excluded, which is contrary to our mission to foster inclusion. Our intent is and was to respect the pain that the people of color and transgender communities have experienced as of late, but our original approach fell short of our mission."
But during last year's parade, Black Lives Matter protesters blocked the procession and significantly delayed it, WCCO-TV reported, adding that protesters demanded the removal of police from the parade.
Here's a video report from last year's parade: