Amid news of an Oregon bar paying "people of color" $10 for a no-whites-allowed "Reparations Happy Hour," Portland's Back to Eden Bakery — which is hosting the June 20 Happy Hour — is making headlines of its own.
You see, Oregon Live added in its report that Back to Eden Bakery is "where a black woman was kicked out earlier this month by a pair of employees who have since been fired."
And one might say the details of the incident — particularly the oh-so-woke apologies from the establishment — are more than a little astonishing.
What happened at the bakery?
Bakery co-owner John Blomgren detailed in a lengthy, now-deleted Facebook post that a black woman, since identified as Lillian Green, on May 10 "chose to patron our bakery for the first time trusting that our company is who it portends to be and was denied service while the room is filled with white people getting served their vegan treats without incident."
He then added a minute-by-minute surveillance video account:
While the bakery's closing time is 9 p.m., "we were unusually busy" at 9:02 p.m., and "most of the seats were filled and there were four people in line waiting to be served," Blomgren wrote, adding that a minute later an employee turned off the bakery's "Open" sign.

At 9:04 p.m. "two more white women walk in and line up to be served. At this point the customers present are informed that we are officially closed," he said.

At 9:06 p.m. "Lillian enters and stands in line to be served," Blomgren noted, adding she assumed Back to Eden Bakery was still open "given how many people are still inside and the doors [are] unlocked."

But "Lillian is told we are closed and the last two women in line are the last to be served. After that she exits the building and begins taking her first video."
Here's that first video. (Content warning: Profanity):
Blomgren added:
Walking into an establishment that visibly prides itself on its intersectional progressive politics only to be denied service while all the white people inside are being served has to feel horrible just in itself ... prejudicial treatment is a reality for black and brown people that none of us can ignore. It may hurt us right now to be having this conversation but that pales in comparison to the hurt that people of color endure now and have endured for centuries.
What happened to the employees who denied service to the woman?
While Blomgren noted that the employees who denied service to the woman "are not themselves racist," he said "in this situation it doesn't really matter" because Lillian felt "like she had been discriminated against. Sometimes impact outweighs intent and when that happens people do need to be held accountable. Since both Lillian and the clamoring public were demanding that these staff members be fired that it is what we did putting these two young women out of work. It was an incredibly difficult thing for us to do especially when they felt that they were just upholding our closing time of 9pm but the way in which they went about it lacked sensitivity and understanding of the racial implications at work."
What else did Back to Eden Bakery say?
Blomgren posted a May 11 apology stemming from the "very disturbing incident" and said "Back to Eden Bakery is 100% committed to being a welcoming and supportive environment for all customers who share our values of inclusivity and dismantling the white supremacist hetero-patriarchy."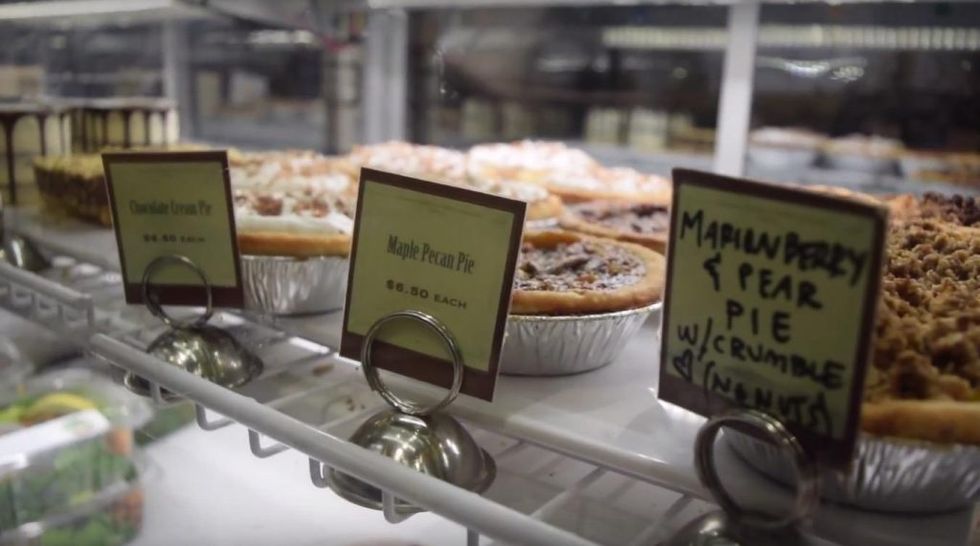 Some selections from Back to Eden Bakery. (Image source: YouTube screenshot)
"Lillian, we are so incredibly sorry for the treatment you received from someone on our staff," Blomgren added. "What you experienced in our shop is absolutely egregious and we are already taking all of the necessary steps to deal with this appropriately. First and foremost, we have let the two staff members go immediately as there will never be room in our organization for anyone who is inclined to give such poor customer service. Admittedly we have had issues with staff trying to enforce our closing hours too firmly without being sensitive to the fact that that person came out of their way to support our business. Whatever their reason for denying you service is not acceptable and flies directly in the face of the experience we aim to provide our customers."
More from Blomgren's May 11 post:
But we also recognize that simply firing the employees in question is not nearly enough to fully address the incident. Even though a very large portion of our staff are women of color and/or members of the LGBTQPOC community it is clear that we obviously have some more work to do to make sure that every single person we employ upholds our values and commitments. We have been supporters of the Equity and Beyond Workshops led by local social justice advocate Cameron Whitten and will be seeking opportunities to provide inclusivity training for our organization moving forward. Already in the works, we are donating 10% of our Mother's Day sales to the Black Mama Bail Out Project and will begin hosting Brown Hope, a reparations happy hour to directly support the Black community that supports us.

Knowing that we are doing business in a gentrified neighborhood in a racist city within a racist state of a racist country we see it as our moral and personal responsibility to use our platform and privilege to support marginalized communities, educate the public about the very serious issues facing people of color and demand meaningful change. We are not only allied with you but we would like to consider ourselves fully committed along with you to the social justice revolution this country sorely needs.
How have others reacted to the incident?
One commenter to Blomgren's May 11 post wrote, "You need to be paying Lillian for this emotional labor, and she absolutely needs to be paid if she is meeting with you. Women of color do not exist as free tools for white people to learn how to not be racist."
But another commenter named Carlos Fernandez said he was in the bakery when the incident occurred and that it "wasn't about race at all" as he heard the workers speaking to each other before the woman in question entered the bakery and agreeing "to stop taking customers and close."
"Should they have just served her and locked the door behind her?" Fernandez asked. "Yes. But it wasn't a race issue at all. Had you been the whitest NE soccer Mom and this happened it would probably be a bad [Y]elp review and people would be like yeah, don't expect service in stores after hours."
Here's Lillian Green's follow-up video: