Roseanne Barr tweeted about the cancellation of her show Tuesday, and apologized several times over her tweet about a former Obama aide while calling ABC hypocritical for their decision.
Here's what she said
Barr released a statement explaining that the tweet did not reflect her values and apologized for her "thoughtless" act.
"I deeply regret my comments from late last night on Twitter," the statement read. "Above all, I want to apologize to Valerie Jarrett, as well as to ABC and the case and crew of the Roseanne show."
"I am sorry for making a thoughtless joke that does not reflect my values - I love all people and I am very sorry. Today my words caused hundreds of hardworking people to lose their jobs. I also sincerely apologize to the audience that has embraced my work for decades."
"I apologize from the bottom of my heart and hope you can find it in your hearts to forgive me."
She also tweeted a short apology on her Twitter social media account.
"Don't feel sorry for me, guys!!" she tweeted. "I just want to apologize to the hundreds of people,and wonderful writers (all liberal) and talented actors who lost their jobs on my show due to my stupid tweet."
"I will be on Joe Rogan's podcast friday," she added.
Is there a double standard?
But in retweets on her social media account, she reported messages from her fans who called ABC hypocritical for what they saw as a double standard against Barr for being pro-Trump.
Two tweets she reposted noted that liberal Keith Olbermann had just been hired at ESPN, despite his many explicit-ridden tweets and statements against the president, including one that read, "F**ck you @RealDonaldTrump Nazi Nazi f**k Nazi Nazi RACIST Nazi BIGOT go f**k yourself f**king Nazi f**kers."
She also retweeted this message that equated a joke against President Donald Trump made by Bill Maher with the joke she made against Valerie Jarrett: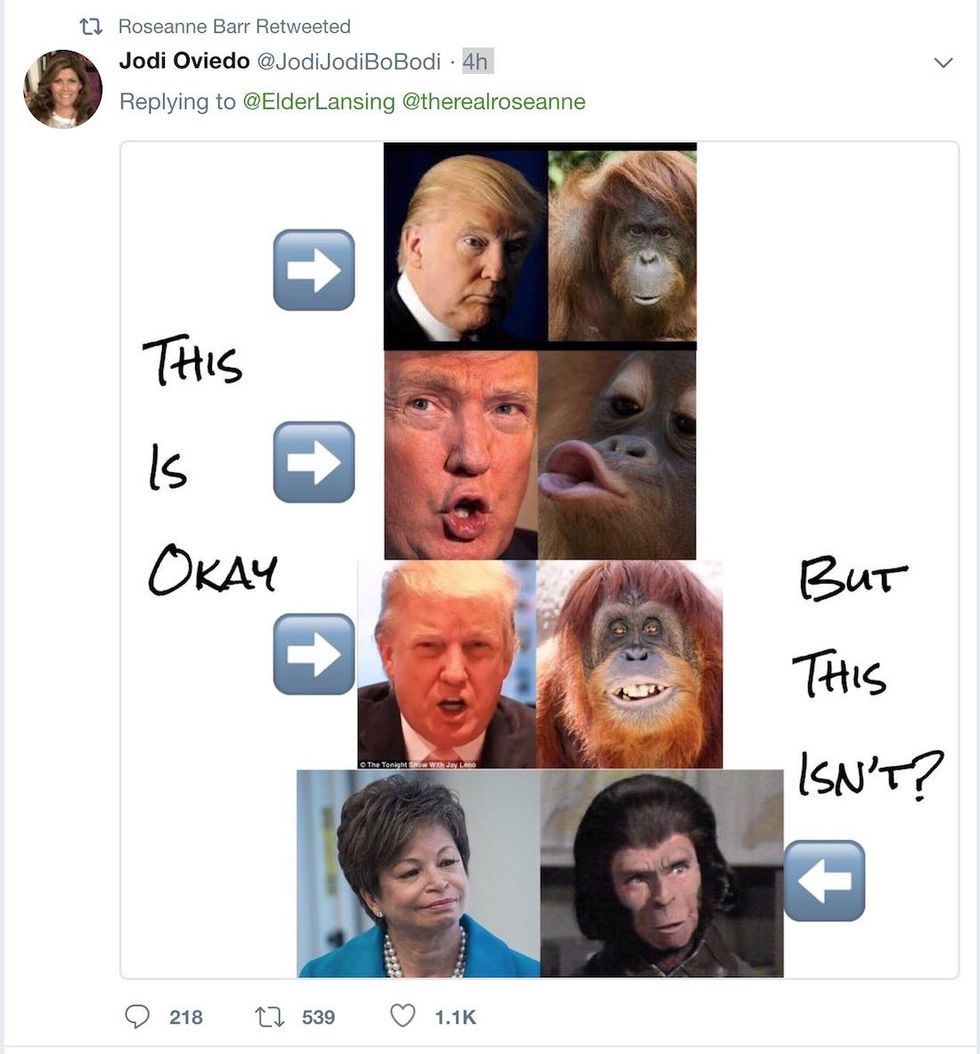 A retweet from Roseanne Barr's social media account. (Image Source: Twitter screenshot)
Another tweet she reposted referenced an anti-Christian sentiment from Joy Behar of "The View."
I'm calling on @ABCNetwork @Disney to uphold their "standards" by firing @JoyVBehar for calling Christians mentally… https://t.co/rtZxBKWURG

— Saltwater❤️🅿️atricia🇺🇸 ⭐️⭐️⭐️ (@Saltwater❤️🅿️atricia🇺🇸 ⭐️⭐️⭐️) 1527617950.0
She added another apology after seeing the many supportive tweets.
She posted, "hey guys, don't defend me, it's sweet of you 2 try, but...losing my show is 0 compared 2 being labelled a racist over one tweet-that I regret even more."