A California emergency room doctor was caught on video laughing and cursing at a patient who was complaining of anxiety and pain last week — and now she's in trouble.
El Camino Hospital in Los Gatos suspended Dr. Beth Keegstra after the incident last Monday, SFGate reported, in which she also doubted patient Samuel Bardwell's claims, repeatedly yelled at him to "sit up!" and pulled on his arm as he was laying in the hospital bed.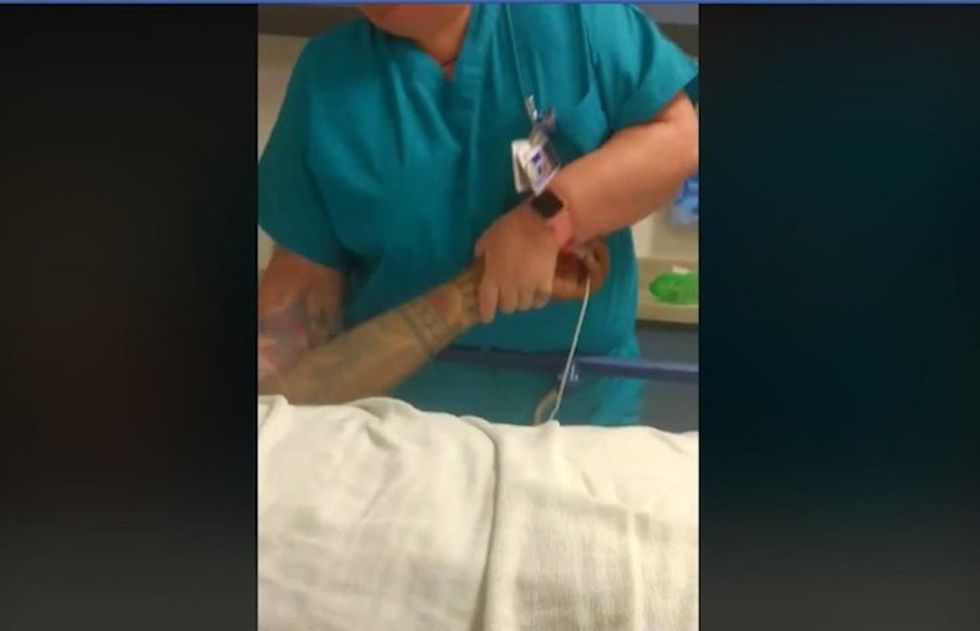 Image source: Facebook video screenshot
Keegstra also was seen on the cellphone video angrily telling Bardwell he's "the least sick of all the people who are here who are dying."
At one point Bardwell, 20, told Keegstra he couldn't inhale, which prompted Keegstra to laugh and holler to others in the room, "He can't inhale! Wow! He must be dead!"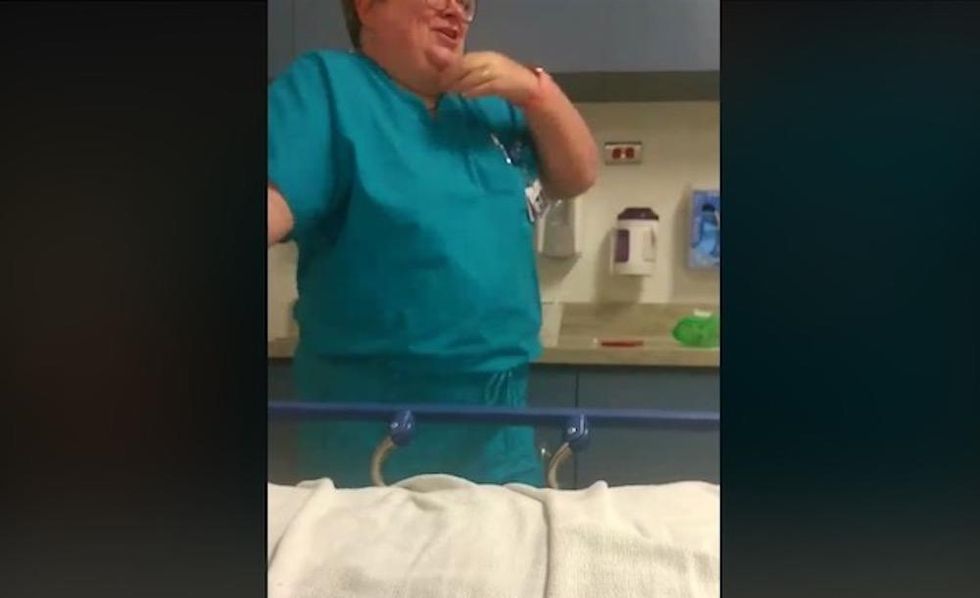 Image source: Facebook video screenshot
She then asked Bardwell mockingly, "Are you dead, sir?"
On the Facebook video of the incident it appeared Keegstra told the patient he was "full of s**t." She also accused Bardwell as changing his story "every f***ing time. Yeah, that's how pissed off you've gotten me."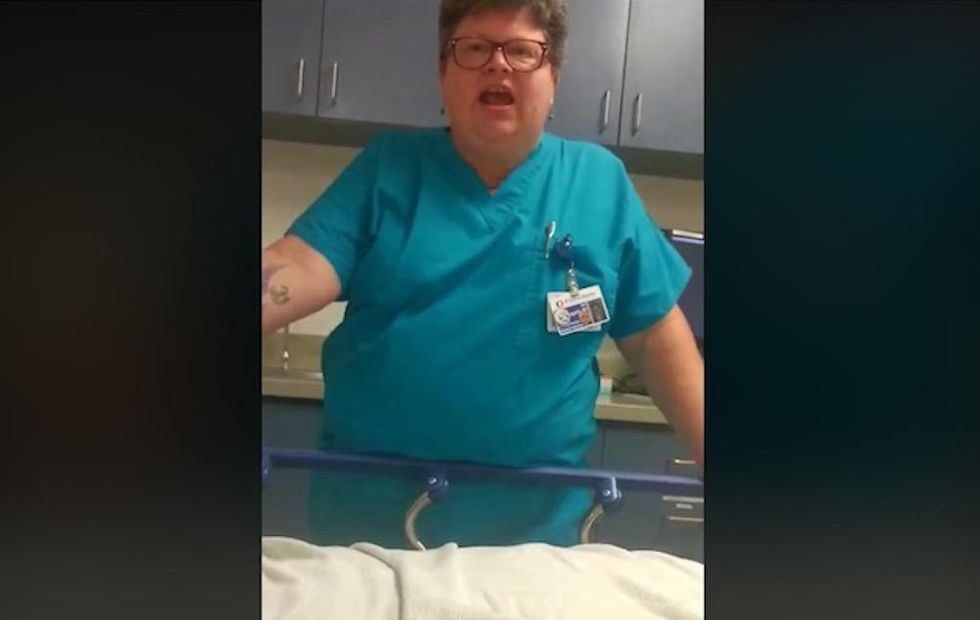 Image source: Facebook video screenshot
What happened?
Bardwell's father, Donald, told SFGate his son was hospitalized due to an anxiety attack after a basketball practice and that his son has a history of anxiety attacks, for which he takes the sedative Klonopin.
But Samuel Bardwell hadn't taken Klonopin for several days prior to his hospitalization, the outlet reported.
Donald Bardwell told SFGate Keegstra brought a security guard with her when first examining his son.
"I guess she was so angry and assumed he was a druggie and had drugs in his system, she thought she could talk to us any which way we wanted," Donald Bardwell told the outlet, adding that Keegstra "never first came in and introduced herself. She never said her name, she never asked for his name, she never really examined him."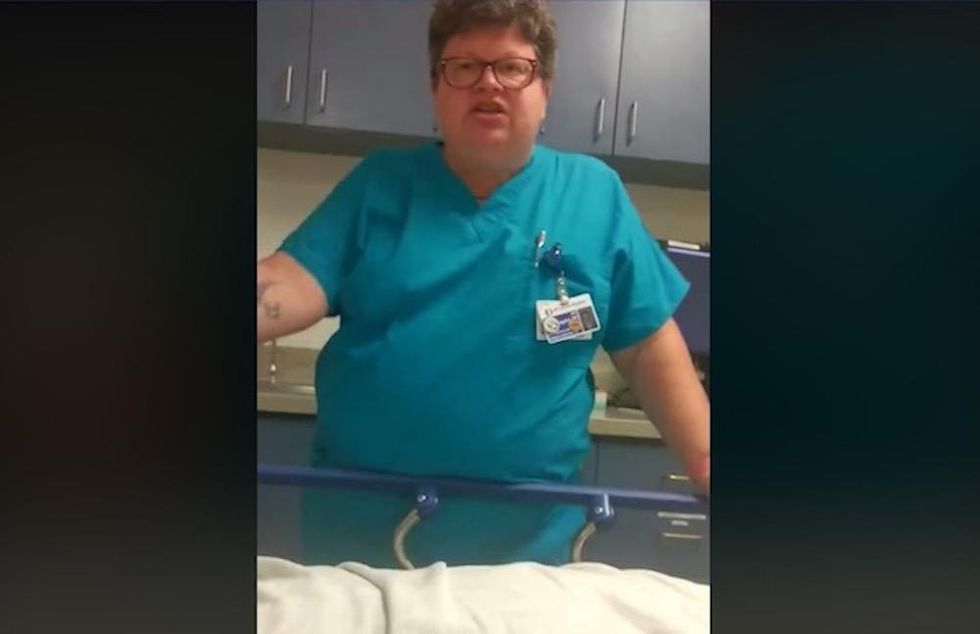 Image source: Facebook video screenshot
When Donald Bardwell told Keegstra he saw his son "go in and out of consciousness," she replied that his son was "completely alert and awake right now" and that he had 100 percent oxygen saturation.
"You want us to wheel you to your house in a gurney?" Keegstra is also heard telling Samuel Bardwell.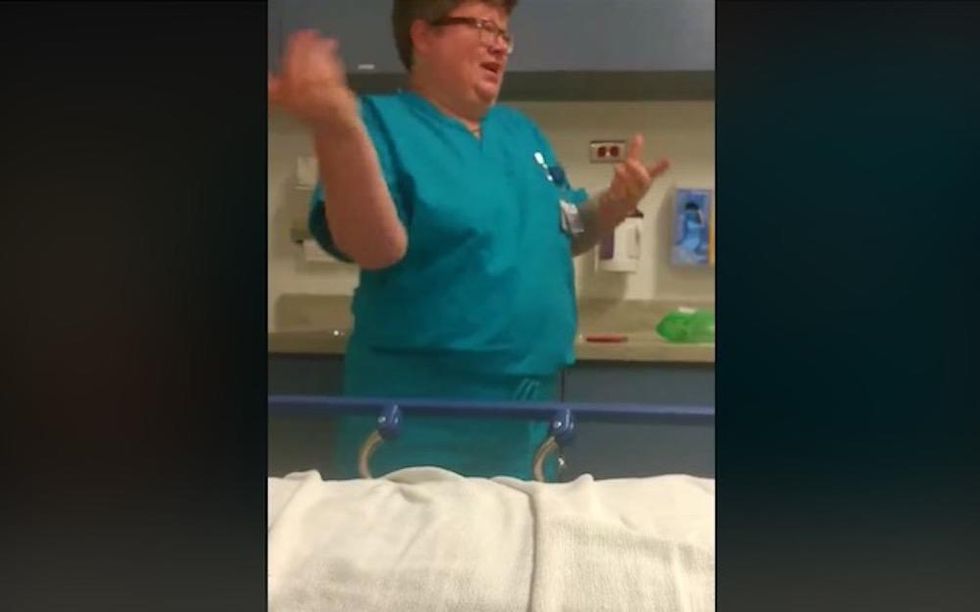 Image source: Facebook video screenshot
Donald Bardwell also told SFGate that Keegstra accused them of coming in for drugs and tried to get them to leave.
"She said, 'I know why you people are here, you people who come here for drugs,' and I said 'What do you mean you people?'" Donald Bardwell told the outlet. "She was rambling on so angrily — that's why I pulled out my phone."
Bardwell posted video of the incident on his Facebook page where it's received nearly 4.7 million views since Tuesday: "This is how they treat black people in Los Gatos emergency room," he wrote in his post.
Here's the clip. (Content warning: Profanity):

What happened to the doctor?
El Camino Hospital said Keegstra was "removed from the work schedule, pending further investigation," SFGate reported.
"This week, a patient who visited the emergency department at our Los Gatos campus had an interaction with a physician whose demeanor was unprofessional and not the standard we require of all who provide care through El Camino Hospital," the hospital said in a release. "We have expressed our sincere apologies and are working directly with the patient on this matter."
Keegstra — who has over 20 years of experience in emergency medicine, according to her LinkedIn profile — didn't immediately respond to SFGate's request for comment.
(H/T: The Root)