A new poll shows how many Americans actually support the controversial policy of separating families at the border, and it's not even close.
Here's what the poll says
According to a new CBS News poll, more than two-thirds (67 percent) of Americans say the family separation policy is unacceptable, while only 17 percent said they approved of the practice.
Another 12 percent said they didn't know enough to answer the question, and 4 percent said they had no opinion.
Among Democrats, an overwhelming 90 percent said the policy was unacceptable. Independents were less decisive, with 66 percent finding the policy unacceptable.
Republicans were much more likely to approve the policy, but were divided, with 39 percent calling the policy unacceptable, while 36 percent find it acceptable.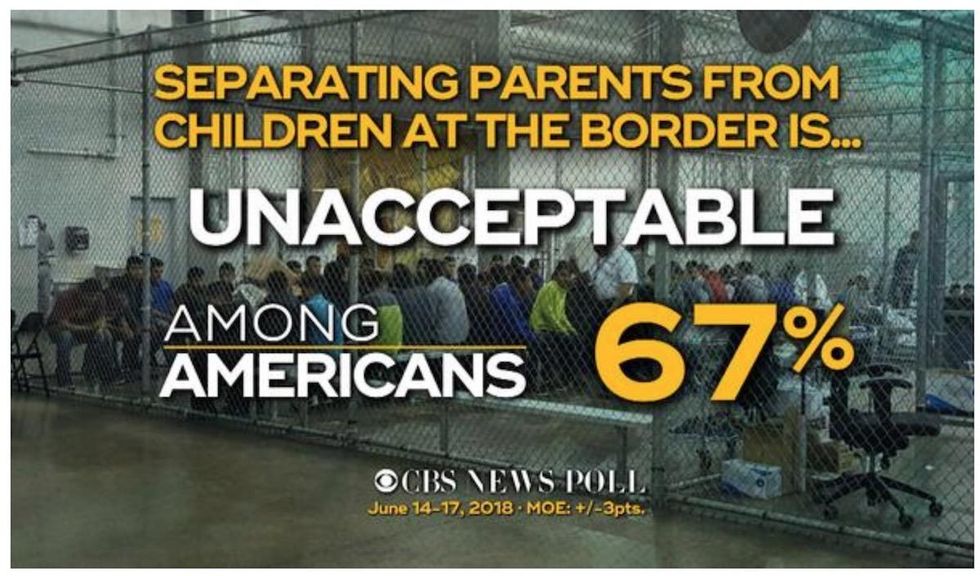 CBS News poll. (Image Source: The Hill website screenshot)
Overall approval of President Donald Trump's handling of immigration has fallen 5 percentage points from 40 percent approval in May to 35 percent approval currently.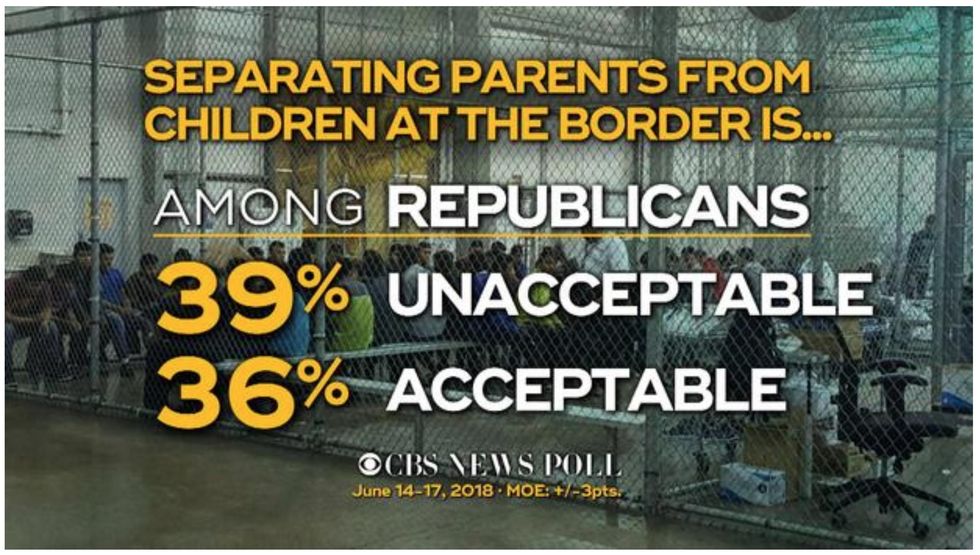 CBS News poll. (Image Source: The Hill website screenshot)
The controversy over the separation of children from their families at the border has exploded recently with the media putting the blame squarely on the Trump administration. But as Trump officials and allies have argued, the law specifically demanding separation of children from their parents has been in the books far longer than the current president has been in office.
The change in policy comes from the administration adopting a "zero tolerance" enforcement stance on everyone who crosses the border illegally being charged with a misdemeanor crime. That in turn has triggered the longstanding law of separating children from parents at the border.
While Americans appear to disapprove of this particular immigration policy, recent polling shows an improvement in the overall approval rating for Trump. A Gallup poll released Monday showed that 45 percent of Americans approve of the president, tying the highest level of approval rating Trump has had during his term in office.
How reliable is this poll?
The CBS News poll included responses from a random sample of 1,000 adults questioned between June 14 and 18. The poll carries a margin of error of +/- 3 percentage points.