Dashcam video just released by a Mississippi police department shows what a now-fired officer — accused of using excessive force — did to a shoplifting suspect.
What happened?
Meridian police on July 16 pursued a vehicle in connection with a shoplifting report from a Walmart and stopped the vehicle about 50 yards from the store, the Meridian Star reported.
In the video, an officer exited his patrol car and drew his weapon as he approached the driver's side door. Chief Benny Dubose told WTOK-TV it was within the officer's rights to draw his gun before placing it back in his holster.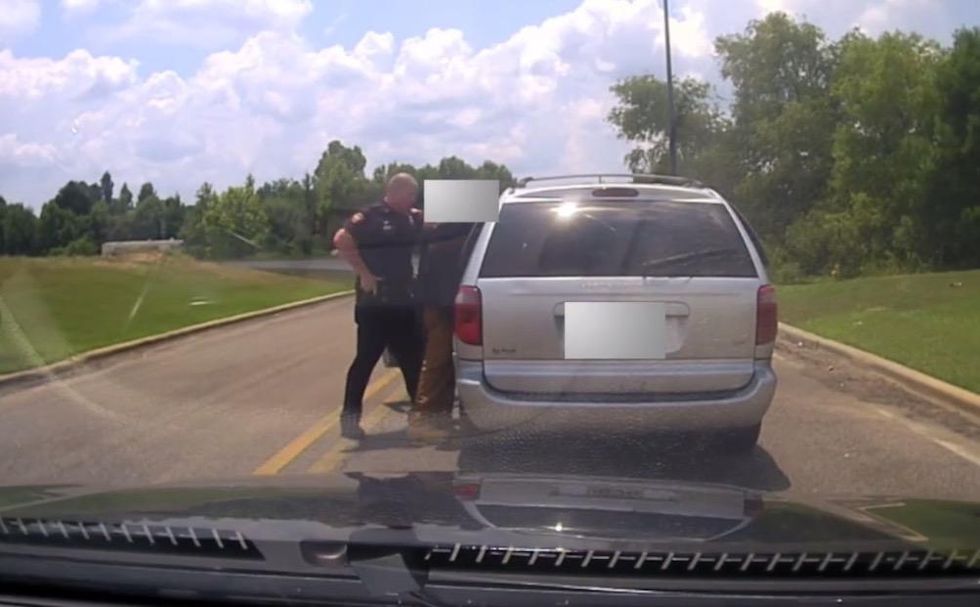 Image source: Meridian Star video screenshot
The officer then began handcuffing the suspect outside the vehicle.
Things were proceeding according to protocol until Officer Daniel Starks pulled up in another patrol car and walked toward the suspect, who was still being handcuffed and not resisting, WTOK reported.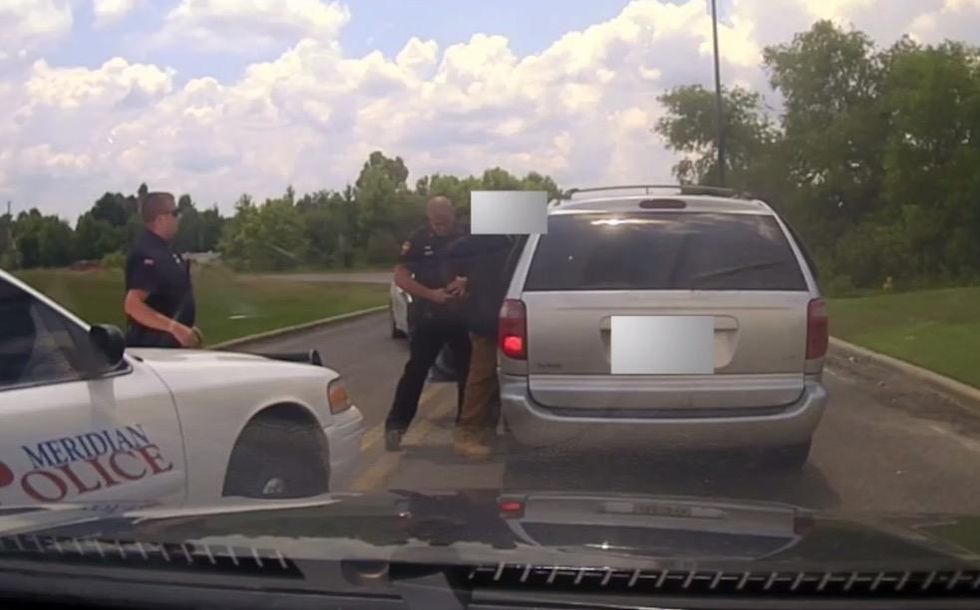 Image source: Meridian Star video screenshot
And Starks was seen suddenly lunging toward the suspect, making physical contact, the station said.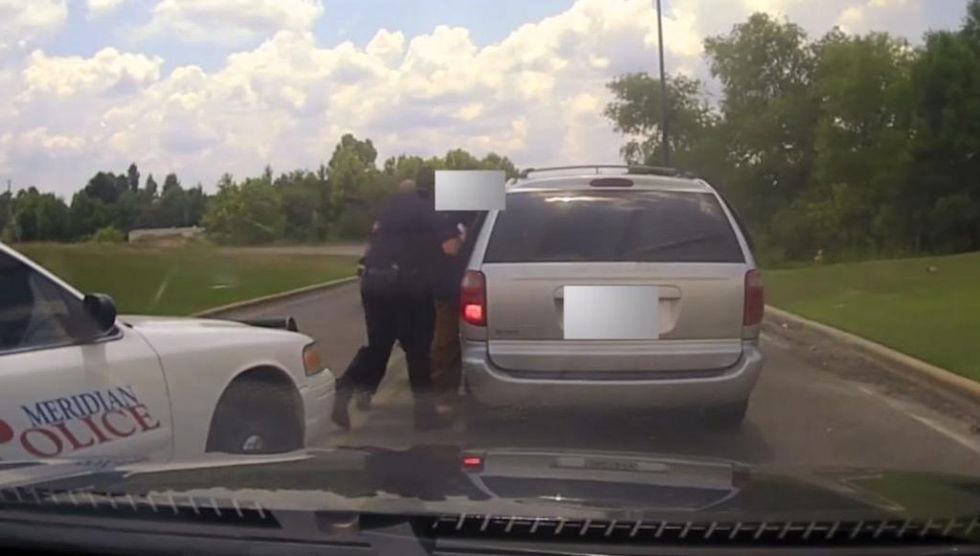 Image source: Meridian Star video screenshot
Starks then walked away from the suspect before turning around, walking back toward the suspect and striking the suspect in the neck with his forearm, WTOK reported.
Words were exchanged, the station said, before Starks pulled his taser, dropped it, picked it up, and then shocked the suspect on the back left shoulder.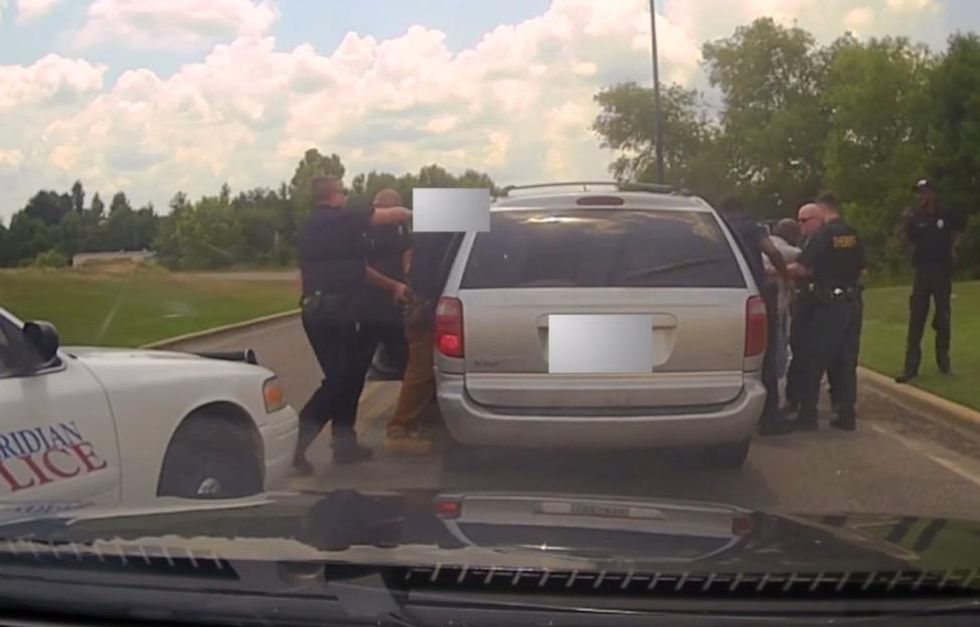 Image source: Meridian Star video screenshot
"You've got to understand this guy just got hit with several volts of electricity," Dubose told the paper, and that often "when a person is tased, they have to have a period of recovery."
More from WTOK:
The other officers help pick up the suspect, who appears to be in pain, off the ground. Captain John Griffith says this type of shock is considered a drive-stun. He says this type of stun has a more centralized pain when used.

Officer Starks appears agitated and paces back and forth before placing his hands around the suspect's neck and applies pressure. This is a police tactic commonly used by officers to force someone to stand up.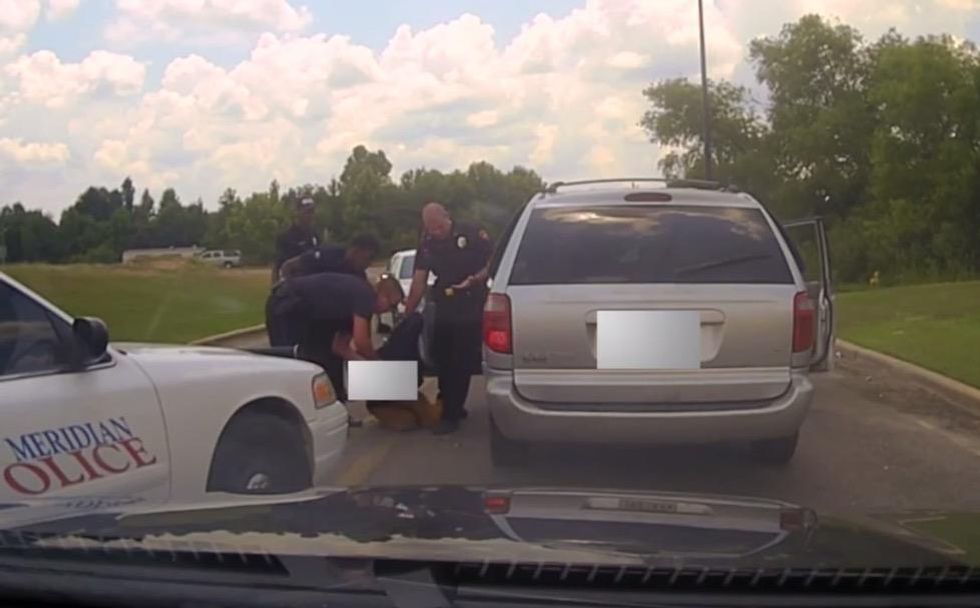 Image source: Meridian Star video screenshot
After the suspect gained his balance, Starks drew his taser again and aimed it at the suspect.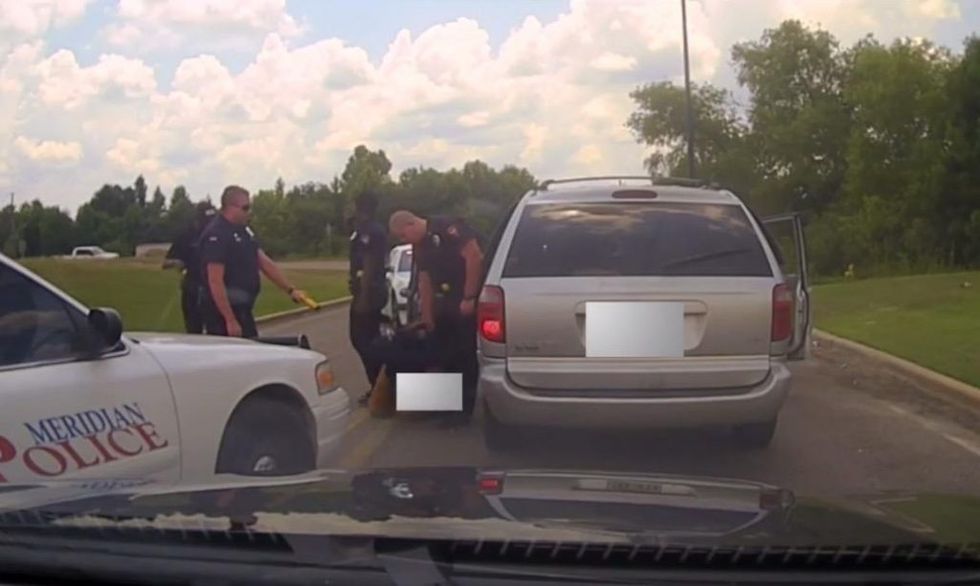 Image source: Meridian Star video screenshot
Dubose said the department has "zero tolerance" for this behavior from officers, the station said.
Starks was fired Monday, WTOK reported.
"It's not something I'm proud of that's connecting to the police department, by no means," Dubose told the station. "We attempt to be as transparent as we can. We tell the public what we will tolerate, what we will not tolerate, and that's basically what it boils down to. We have nothing to hide."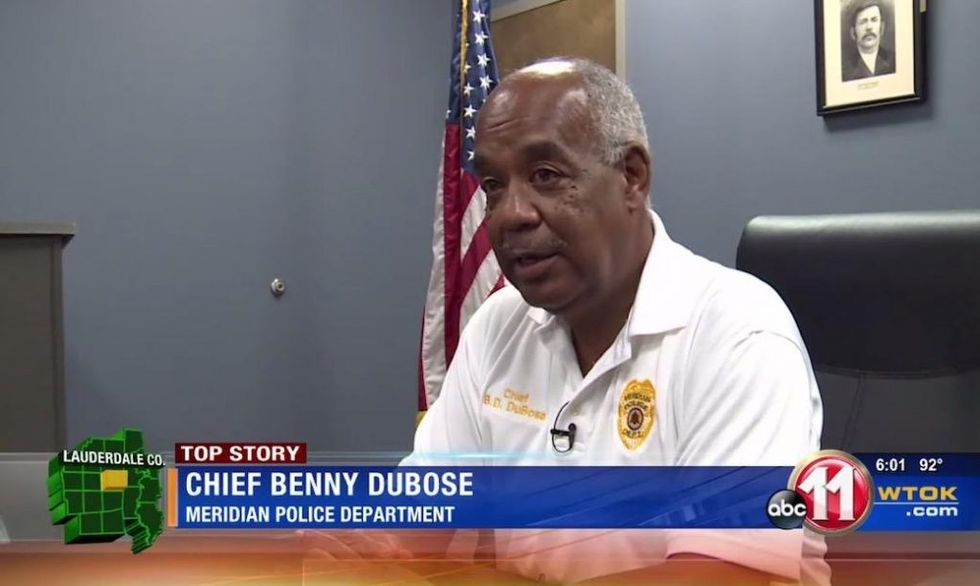 Image source: WTOK-TV video screenshot
It should be noted that prior to the dashcam incident, Starks attempted to arrest the suspect who managed to get away and flee in the vehicle, the Star reported.
Here's the dashcam video:

What did Starks have to say afterward?
"[Starks] just said he knew he did wrong," Dubose told the Star, adding that the former officer had been with the department for about a year and had a clean record "that we know of."
Dubose said Starks hasn't been charged criminally, but that could change if the shoplifting suspect decides to press charges, the paper reported.
How did Starks' actions come to light?
Dubose told the Star that other officers on the scene "chose to report" Starks' actions "because they were concerned."
The use of excessive force was reported to a supervisor, who passed it to police administration before getting the signature of Mayor Percy Bland, Dubose told the paper.
TheBlaze on Friday reached out to Meridian police to see if any charges were filed against the shoplifting suspect, but the message wasn't immediately returned.
(H/T: Reason)